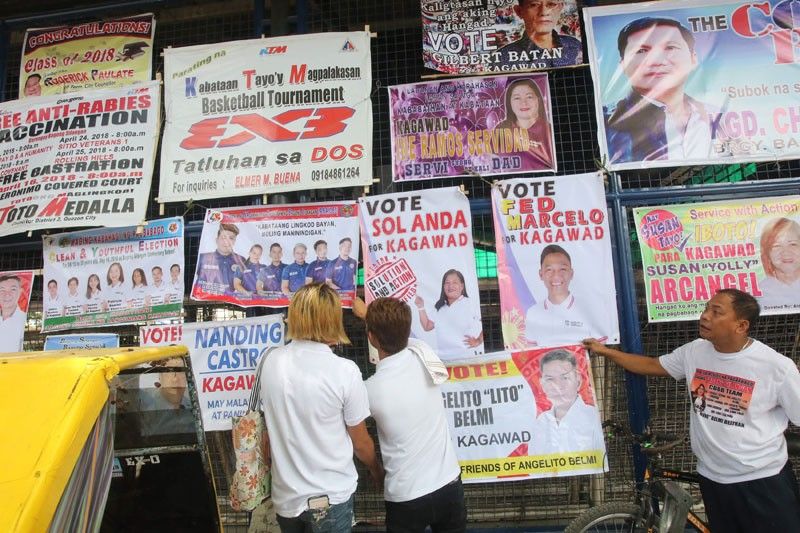 In this file photo, supporters put up campaign tarpaulins for the barangay elections in 2018. The Economist Intelligence Unit noted an increase in voter turnout and membership of political parties in 2018, reversing a recent trend.
The STAR/Boy Santos, File photo
Democracy improves in Asia despite 'dampeners,' think tank says
MANILA, Philippines — Rising political participation, chiefly through elections, raised Asia's score on the Economist Intelligence Unit's Democracy Index for 2018 but developments in some countries, including the Philippines, were described as "dampeners" of democracy.
Asia and Australasia scored 5.67 on the 2018 index "after a tumultuous two years during which the process of democratization appeared to be going into reverse." It had a score of 5.63 last year and was described as the worst-performing region on the index.
The EIU—the research and analysis division of The Economist Group and sister company to The Economist newspaper—bases its index on five areas: Electoral Process and Pluralism; Civil Liberties; the Functioning of Government; Political Participation and Political Culture.
The index is meant to provide "a snapshot of the current state of democracy worldwide for 165 independent states and two territories," EIU said in a release accompanying the report.
Elections last year improved Asia's score on the index, EIU said. "The improvement was most significant for Malaysia (currently ranked 52nd) and Afghanistan (143rd). Both countries successfully held major elections in 2018. Voter turnout for Malaysia's general election in May was close to 80 percent, and it delivered a surprise upset for the incumbent," it said.
It also noted a "healthy" turnout of three million of 8.8 million voters in Afghanistan "considering the extreme threat to security from terrorist groups that oppose the country's democratic institutions."
Globally, EIU said, political participation is on the rise. "At a global level, voter turnout and membership of political parties, for example, both bucked their trend of recent years and started to increase in 2018."
It said that this shows "voters around the world are in fact not disengaged from democracy." EIU said the rise shows voters are "clearly disillusioned with formal political institutions but have been spurred into action."
EIU also said that "a majority of countries saw their ranking improve in 2018, although regime types in all instances remained the same."
'Dampeners' and declines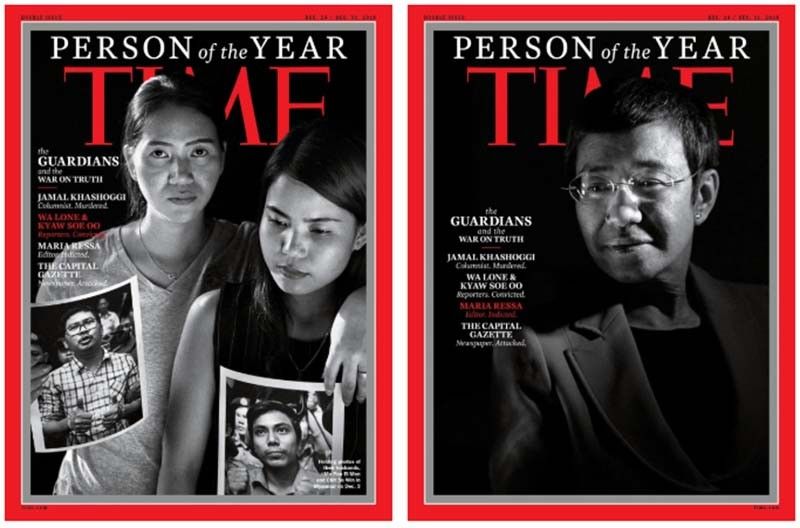 This file photo shows variant covers of TIME magazine, which named Burmese journalists Wa Lone and Kyaw Soe, and Filipina journalist Maria Ressa among those honored as the magazine's Person of the Year. Cases against journalists in Myanmar and the Philippines were among the "dampeners" of democracy in Asia and Australasia, EIU said.
EIU said that despite the "clear bright spots" like Malaysia, the region saw "dampeners" in 2018, which include an election controversy in Pakistan.
It also points out "the jailing of two local journalists belonging to the foreign press corps in Myanmar, and legal attacks made by the government of the Philippines against any form of opposition" are reminders that "there is still a long way to go for democratic values to be entrenched in Asia."
In 2018, the government launched an investigation that led to the cancelation of the business registration of online news site Rappler over foreign ownership issues—a move that the media company has questioned in court. The Court of Appeals has remanded the issue to the Securities and Exchange Commission after investor Omidyar Network donated its investment papers to Rappler.
RELATED: Palace: UN expert's call to drop charges vs Rappler assaults sovereignty
The company and its CEO also face tax charges stemming from the same investigation. The Palace has maintained that the government is merely enforcing the law in going after Rappler, which has published reports critical of the Duterte administration's policies, including its violent campaign against illegal drugs.
Also last year, President Rodrigo Duterte voided amnesty that was granted in 2011 to Sen. Antonio Trillanes IV, a vocal critic, for participating in mutinies against the government during the Arroyo administration.
The government said Trillanes failed to apply for amnesty and admit guilt, which are requirements for the grant of amnesty. It said it has no copy of the senator's application form. Trillanes now faces a revived rebellion case but has been allowed bail.
RELATED: Law 'catching up' with Trillanes, Panelo says
EIU also noted declines in Sri Lanka, which scored an overall 6.19 from 6.48 in 2017, because of "a worsening in the functioning of government and in civil liberties," two of the areas measured for the index.
Hong Kong also saw a decline, EIU said, noting: "The government banned the Hong Kong National Party, in a clear setback for Hong Kong's already weak democracy. The territory's election commission is now also screening candidates more aggressively and has barred several who support greater autonomy from mainland China from standing for office."
Philippines dips in ranking but retains score
The Philippines was at 53rd on the index of 167 from 51 on the 2017 index. In the region, it ranked ninth of 27—below Timor-Leste and above Malaysia—from eighth among 28 in the 2017 index.
The country retained its overall score of 6.71. It also retained its scores across all areas measured.
The EIU classifies the Philippines as a flawed democracy, or one that has free and fair elections and, even if there are problems (such as infringements on media freedom), basic civil liberties are respected." Flawed democracies also have "significant weaknesses in other aspects of democracy, including problems in governance, an underdeveloped political culture and low levels of political participation."
Of 27 countries in the region, including Australia and New Zealand, 13 fall into the flawed democracy category. Six are considered hybrid systems and another six are authoritarian.
The country's highest score, 9.17 out of 10, was in the area of Electoral Process and Pluralism, which looks into whether elections are free and fair and if "citizens can cast their vote free of significant threats to their security from state or non-state bodies." The area also looks into whether citizens "can form political and civic organizations, free of state interference and surveillance."
The Philippines scored a lower 5.71 for Functioning of Government, which deals with whether elected representatives determine government policy and whether there is "an effective system of checks and balances on the exercise of government authority."
The score for Political Participation—for example, in national elections—was 7.22. The area also looks into the inclusion of women in government and if "ethnic, religious and other minorities have a reasonable degree of autonomy and voice in the political process."
The Philippines' scored lowest in Political Culture at 4.38. This area takes into account the "proportion of the population that desires a strong leader who bypasses parliament and elections" and the proportion of the population that prefer military rule. It also considers how much support democracy has among the population.
RELATED: SC to hold oral arguments on petition vs martial law extension
The country scored 7.06 in Civil Liberties, which looks into media freedom, the freedom of expression and protest. This area also looks into whether citizens are free to form professional organizations and unions and if "institutions provide citizens with the opportunity to petition government to redress grievances."