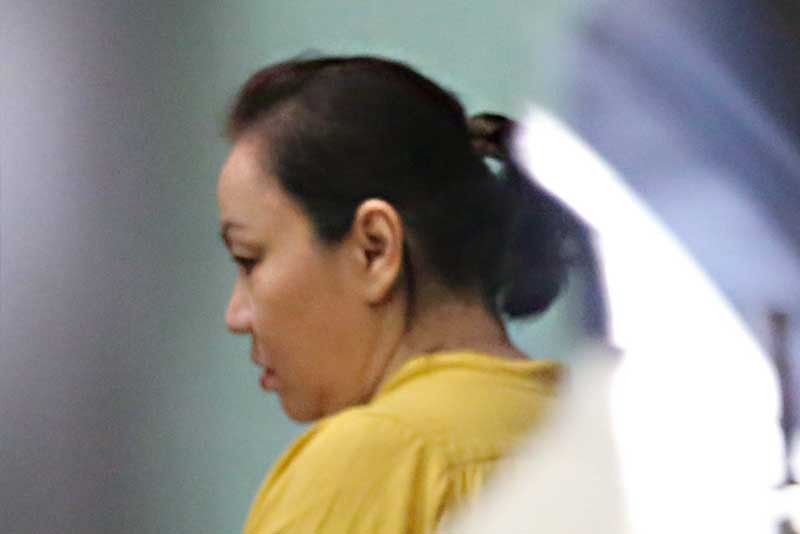 Pork barrel scam mastermind Janet Napoles transferred to Correctional
MANILA, Philippines — Pork barrel scam mastermind Janet Lim-Napoles was finally transferred to the Correctional Institution for Women (CIW) in Mandaluyong City a month after her conviction for plunder.
In a letter sent to the Sandiganbayan First Division, the Bureau of Jail Management and Penology informed the court that Napoles was transferred from the BJMP Female Dormitory at Camp Bagong Diwa in Taguig City to the CIW last Friday afternoon.
The letter was signed by BJMP Female Dormitory city jail warden Jail Chief Insp. Editha Roallo-Balansay.
BJMP spokesman Chief Insp. Xavier Solda said Napoles was moved at around 3:30 p.m.
"At around 4 p.m., she was already under the custody of the CIW," he said in a text message yesterday.
The BJMP said Napoles' transfer was in compliance with the First Division's mittimus issued on Dec. 27 committing Napoles' custody to the CIW, a national penitentiary under the Bureau of Corrections (BuCor).
Last Friday, the First Division denied in open court Napoles' urgent motion seeking to nullify the mittimus for supposedly being "invalid" as it was not signed by the court division's chairman Associate Justice Efren de la Cruz but by the division's junior member Associate Justice Edgardo Caldona.
It was revealed during the hearing that Napoles was still at Camp Bagong Diwa despite the court's Dec. 27 order for her transfer to the CIW. This prompted De la Cruz to reiterate that the mittimus must be enforced "immediately" by the BJMP.
"When that motion was denied, within the same day we immediately transferred her to the CIW," Solda said.
Napoles was convicted of plunder on Dec. 7 in connection with the alleged misuse of about P517 million in Priority Development Assistance Fund or pork barrel of former senator Ramon Revilla Jr.
Convicted with Napoles was Revilla's former staff member Richard Cambe.
Napoles and Cambe were sentenced to reclusion perpetua or a minimum of 20 years to a maximum of 40 years imprisonment.
Cambe was earlier transferred from the PNP Custodial Center in Quezon City, where he had been detained since June 2014, to the New Bilibid Prison in Muntinlupa City following his conviction. – With Emmanuel Tupas