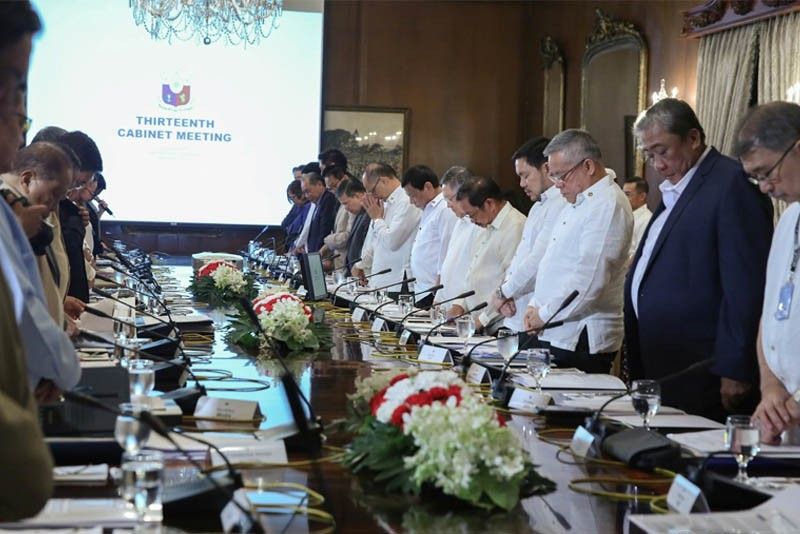 Thus, President Duterte would have to issue them new appointments if he wants to retain them.
PPD/Marcelino Pascua/File
3 Cabinet execs fail to get CA nod
Jess Diaz
(The Philippine Star) - December 23, 2018 - 12:00am
MANILA, Philippines — The Commission on Appointments (CA) bypassed three Cabinet members when it failed to confirm them before Congress adjourned its session for the Christmas holidays last week.
Bypassed were Secretaries Eduardo Año of interior and local government, Rolando Bautista of social welfare and development and Secretary-designate Gregorio Honasan of information and communications technology.
Also bypassed was Civil Service Commissioner Aileen Lizada, the controversial former member of the Land Transportation Franchising and Regulatory Board.
The appointments of Año, Bautista and Lizada were dated Nov. 5, Oct. 17 and Nov. 9, respectively, when Congress was on its Halloween recess.
They took effect immediately and remained in effect until last week's adjournment.
Thus, President Duterte would have to issue them new appointments if he wants to retain them.
The case of Honasan is different. He was nominated on Nov. 20, when Congress was in session. His appointment will take effect when the CA confirms it. He remains a senator, whose second term of office will expire on June 30, 2019.
Honasan's nomination as chief of the Department of Information and Communications Technology (DICT) comes at a time when the government is completing the process of awarding third telecommunications industry player status to the consortium of China Telecom and presidential friend Davao businessman Dennis Uy.
The Uy group was chosen in a bidding hailed as the most fair and transparent under the Duterte administration.
Acting DICT Secretary Eliseo Rio Jr. was largely credited for the success of the bidding.
On Nov. 22, the CA published Honasan's nomination and invited the public to submit any adverse information, complaint or opposition.
Some opposition congressmen, who did not want to be identified, are questioning President Duterte's alleged anti-corruption double standard in choosing the outgoing senator for the DICT post.
They said while the President has fired Cabinet members and their underlings on mere suspicion of corruption, he chose a nominee who is facing graft charges before the Sandiganbayan for allegedly misusing P30 million in pork barrel funds.
The Office of the Ombudsman filed the charges against Honasan in late 2017. Charged with him were officials of the National Commission on Muslim Filipinos (NCMF) led by former commission Mehol Sadain.
The NCMF was the agency to which Honasan gave the P30 million for projects implemented by non-government organization (NGO) Focus Development Goals Foundation Inc.
In its complaint, the ombudsman said Honasan endorsed the NGO to NCMF as project implementer. The senator has denied any wrongdoing.
Honasan's critics have also expressed doubts on whether he is qualified under criteria prescribed by the law creating the DICT.