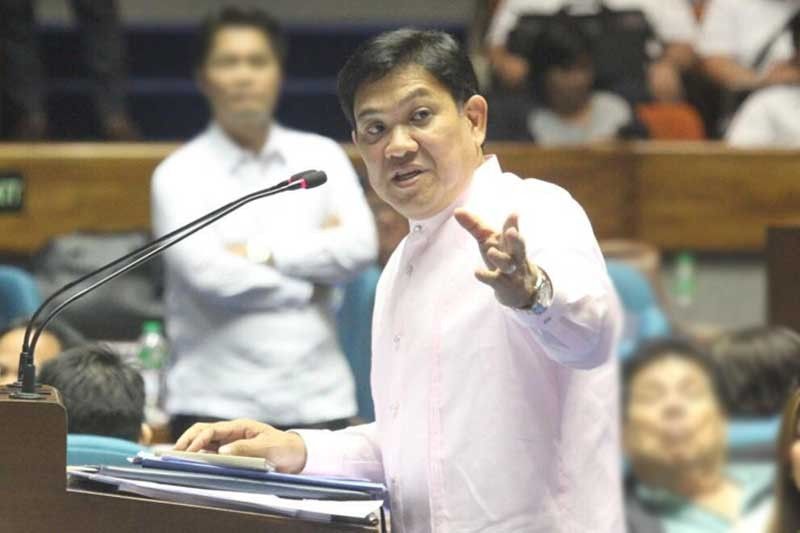 Andaya, a former Budget secretary, said he got the information from a mayor from the Bicol region.
Rolando "Nonoy" Andaya Jr Facebook
Andaya alleges ex-Cabinet member 'parked' P300M in infra projects
(Philstar.com) - December 16, 2018 - 5:46pm
MANILA, Philippines — House Majority Leader Rolando Andaya Jr. (Camarines Sur) said in a press statement on Sunday that he has received information that a former member of the Duterte Cabinet was allegedly involved in "parking" at least P300 million in infrastructure projects.
"Parking" refers to listing funding under the budget of a congressional district for use later on for a different project and in a different congressional district.
Andaya said he got the information from a mayor from the Bicol region.
"The mayor, who requested not to be named in the meantime, disclosed that the Cabinet member parked the allocation in flood-mitigation projects for the region," Andaya said in a statement to reporters.
Andaya said that the ex-Cabinet member, whom he did not name, is running for an "elective post" in the 2019 elections.
Six Duterte Cabinet members have resigned since filing their certificates of candidacy in October:
Ex-Cabinet Secretary Leoncio Evasco Jr., running for Bohol governor
Ex-Communications Assistant Secretary Margaux "Mocha" Uson, nominee for a party-list group.
Ex-Special Assistant of the President Christopher "Bong" Go, running for senator
Ex-Presidential Advisor for Political Affairs Francis Tolentino, running for senator
Ex-Foreign Affairs Secretary Alan Peter Cayetano, running for Taguig and Pateros' 1st District Representative
Ex-Spokesperson Harry Roque, running for senator
Andaya said the "parking" scheme, allegedly facilitated by the Department of Budget Management, may eventually explain the huge spike allocated to flood mitigation projects from 2017 to 2018.
Andaya, who was Budget secretary when House Speaker Gloria Macapagal-Arroyo (Pampanga) was president, said that the budget for flood mitigation projects ballooned to P133 billion from P79 billion in 2017.

Last week, Andaya accused Budget Secretary Benjamin Diokno of inserting P75 billion in the proposed 2019 budget for the Department of Public Works and Highways next year and linked him to an alleged "shady" contractor in Bulacan.
Diokno denied these links.
READ: Diokno in-laws bag P550 million infra projects — Andaya
House Resolution No. 2365 was filed on Wednesday by House Minority Leader Danilo Suarez (Quezon), calling on Duterte to fire Diokno.
Both Suarez and Andaya are Arroyo allies.
READ: Cabinet secretaries slam House resolution calling for Diokno's firing
Presidential Spokesperson Salvador Panelo said that he was "dismayed" at the House Resolution filed by Suarez.
Finance Secretary Carlos Dominguez wrote a letter of support for Diokno last week, which was co-signed by eight other Cabinet members.
"Together with the Build, Build, Build team, I have carefully examined the records and conclude that Secretary Diokno's actions have all been legitimate and in the interest of the nation," Dominguez said in the letter. "We believe in and vouch for Secretary Diokno's honesty, integrity and competence."
This is Andaya's second allegation of corruption in a week, after he and Arroyo were accused themselves of cornering the biggest congressional insertions at a combined P4.3 billion in the 2019 budget, an accusation the Palace said they should answer for.
Both Arroyo and Andaya denied having the biggest allocations and said that they were both unfairly "singled out."
The national budget bill—delayed for the first time in nine years—is based on the National Expenditure Program prepared and submitted by the executive branch but is subject to the scrutiny of Congress, which will be on recess until January. — Ryan Macasero