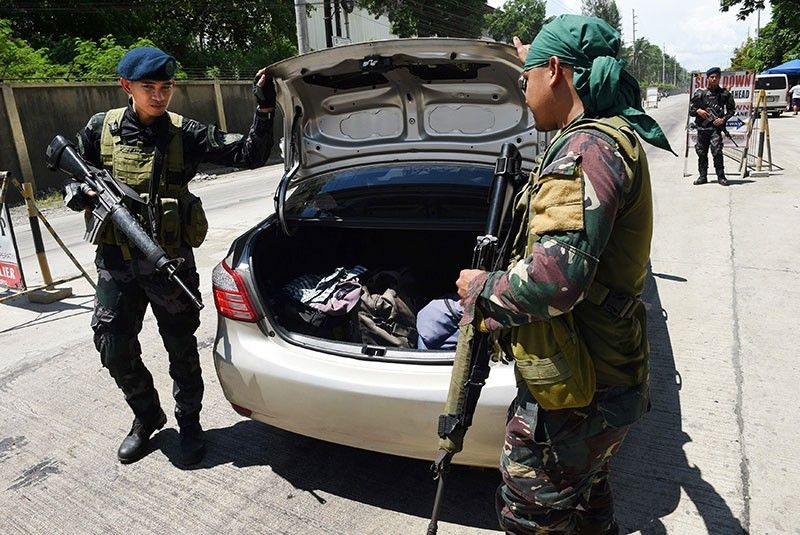 In this file photo, soldiers inspect vehicle's trunk at a checkpoint in Iligan City following President Rodrigo Duterte's declaration of martial law in Mindanao.
AFP, File
Prolonged martial law in Mindanao a danger to human rights, ASEAN lawmakers warn
MANILA, Philippines — Lawmakers from across Southeast Asia maintained that the proposed extension of martial law and suspension of the privilege of writ of habeas corpus in the entire Mindanao would pose threat to human rights.
The 17th Congress is currently conducting a joint session, tackling President Rodrigo Duterte's request to extend martial law in Mindanao for another year. If approved by a majority vote in Congress, the extension is expected to last until Dec. 31, 2019.
"The continued imposition of martial law threatens to facilitate a culture of impunity in Mindanao and intensify human rights violations already taking place there," ASEAN Parliamentarians for Human Rights Chair Charles Santiago said.
Instead of proposing to extend military rule in Mindano, the Philippine government must take steps to end the alleged abuses in the island.
"Crucially, authorities must conduct effective investigations into all allegations of human rights violations, including by military personnel," Santiago, a member of Malaysian Parliament, said.
According to the tally of local rights group Karapatan, 88 individuals killed by state forces and paramilitary groups since the declaration of martial law in Mindanao on May 23, 2017.
At least 1,450 individuals have been illegally arrested, while around 346,940 people were affected by bombings of communities by the military, Karapatan also said.
Last year, United Nation special rapporteurs Victoria Tauli-Corpuz and Cecilia Jimenez-Damary said the militarization in Mindanao has "massive and potentially irreversible" impact on human rights of some Lumad.
In his letter submitted to the Senate and the House of Representatives, Duterte said that security assessment by the police and military indicated that rebellion still persists in Mindanao.
But opposition lawmakers maintained that the extension is unconstitutional due to the absence of actual rebellion.
"Should martial law be extended, the Philippine authorities must ensure that its implementation does not prevent legislators from campaigning or carrying out other duties necessary for a functioning parliament and democracy," Santiago said.
File cases in court
Malacañang earlier dared individuals opposed to martial law to bring their concerns about alleged human rights violations to court.
"The president wants cases filed if there are abuses. He does not allow abuse of power. Those who were given powers should use it to protect our countrymen. They should just implement the law," Panelo said in a radio interview.
Martial law was declared on May 23, 2017, within hours of the Maute attack in Marawi, Lanao del Sur.
Congress, dominated by Duterte's allies, approved the extension of martial law in Mindanao twice. The first extension lasted until Dec. 31, 2017, while the second one will expire at the end of the year.