Imelda Marcos posts P300,000 bail as she appeals graft conviction
December 5, 2018 | 1:23pm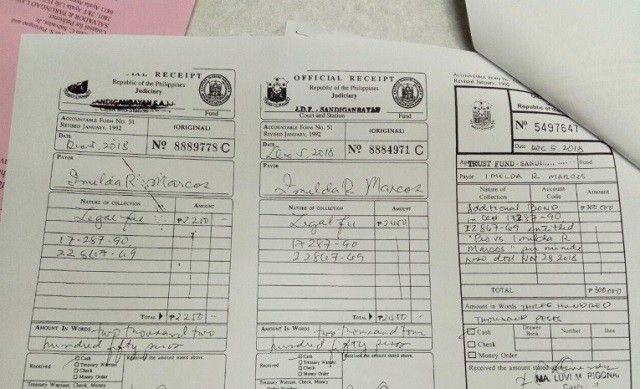 MANILA, Philippines (Update 1:53 p.m.) — Former first lady and graft convict Imelda Marcos posted the P300,000 bail bond on Wednesday for her provisional liberty while she appeals her conviction on seven counts of graft.
According to a report in The STAR, Marcos posted the bond through her lawyer. Receipts also show Marcos paid P4,500 in legal fees in addition to the bail bond.
She also filed another notice of appeal requesting her records of the case be forwarded to the Supreme Court for further proceedings.
Marcos' first appeal to elevate the case to the Supreme Court was denied on November 28.
"The notice of appeal filed by Marcos is premature as the court has not yet resolved her motion for leave to avail herself of post-conviction remedies," the Sandiganbayan said then. "Therefore, the court cannot take action on the same."
READ: Sandigan to Imelda Marcos: Too early for Supreme Court plea
On November 16, the court allowed Marcos to post a P150,000 bail bond for her provisional liberty while the court was deciding if she would be allowed a post-conviction bond.
The Sandiganbayan allowed Marcos to appeal her graft convictions on December 1–either through a motion for reconsideration before the anti-graft court or through a notice of appeal directly before the Supreme Court.

READ: Sandiganbayan allows Imelda Marcos to post bail, avail of legal remedies
She was, however, directed to double her bond to P300,000 to enjoy temporary liberty.
The 89-year-old Ilocos Norte representative was convicted on November 9 by the Sandiganbayan on seven counts of graft over stolen public funds between 1978 and 1984.

READ: Imelda Marcos found guilty of 7 counts of graft
Marcos, widow of ousted dictator Ferdinand Marcos, was the minister of human settlements from 1976 to 1986 and concurrent Metro Manila governor from 1978 to 1984, during her husband's term. — Ryan Macasero with reports from Elizabeth Marcelo/The STAR