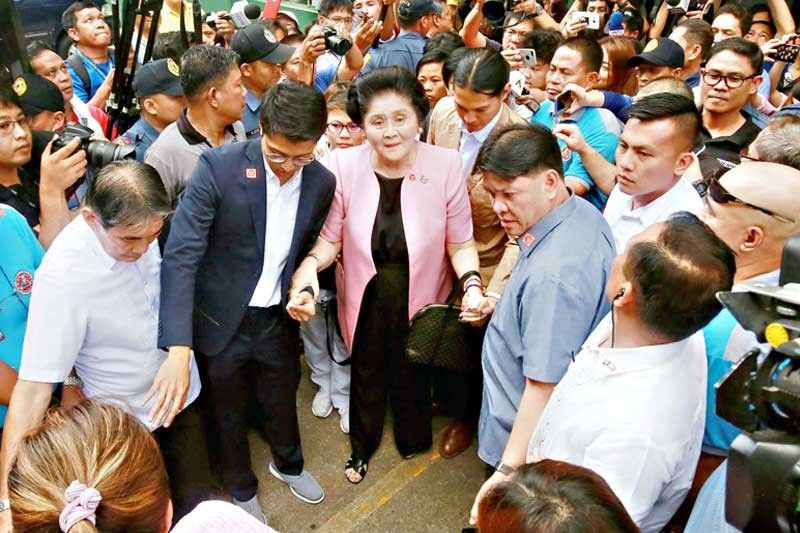 Former first lady and Ilocos Norte Rep. Imelda Marcos is escorted out of the Sandiganbayan in Quezon City after a hearing at the anti-graft court yesterday.
Michael Varcas
Sandiganbayan allows Imelda Marcos to post P150,000 bail
MANILA, Philippines — A week after her conviction on seven counts of graft involving $200 million, Ilocos Norte congresswoman and former first lady Imelda Marcos was allowed yesterday to remain free on P150,000 bail by the same court that had ordered her arrest after finding her guilty.
The Sandiganbayan's Fifth Division allowed the widow of the late strongman Ferdinand Marcos to post bail while the court decides on her "motion for leave of court to avail of post conviction remedies."
"If we approve (the motion), we will order her to post another bail double the amount. If we deny, then wala na (that's it), we will issue a warrant," Fifth Division chairman Associate Justice Rafael Lagos said. He did not say when the court would resolve Mrs. Marcos' motion.
She stayed inside the courtroom for more than an hour while her bail bond was being processed at the Sandiganbayan cashier's office.
She and her retinue immediately left the Sandiganbayan premises after posting bail, without granting interviews.
With her were her lawyer retired Court of Appeals justice Manuel Lazaro, her children Ilocos Norte Gov. Imee Marcos, former senator Ferdinand Marcos Jr., and Irene Marcos-Araneta, as well as grandchildren Borgy, Mike and Matthew Manotoc and Luis Araneta.
The Fifth Division on Friday last week ordered the forfeiture of bail bond that Mrs. Marcos posted when the cases were filed in 1991. The Fifth Division also ordered the issuance of an arrest warrant against Mrs. Marcos but this was not enforced.
The court's order came after Mrs. Marcos failed to attend the promulgation of the decision on her cases on Nov. 9.
In her motion, Mrs. Marcos asked the Fifth Division to allow her "to question or challenge" her conviction.
But before she was allowed bail, Mrs. Marcos was questioned about her conflicting excuses for failing to attend the promulgation on her case.
Mrs. Marcos claimed that she was not aware of the promulgation date and only learned about it upon watching television news. She said she even woke up later than usual on that day as she was feeling ill.
"If I knew about it promulgation, your honor, I would have been here right away. Even If I was sick, I would have come here," Marcos told the court.
Marcos explained that it was her cook who received the notice of promulgation served by the Sandiganbayan Sheriff at her house at the Pacific Plaza in Makati.
Mrs. Marcos said her cook placed the notice on the desk of her secretary, a certain Shirley Torio.
Marcos said she tried to call her then lawyer Robert Sison but was not able to reach him as the latter was confined at the Asian Hospital in Muntinlupa City due to high blood pressure.
But Lagos pointed out that in her motion filed on Monday, Mrs. Marcos claimed she was "indisposed" during the promulgation date as she was suffering from "multiple organ infirmities" caused by her existing ailments and was under "strict orders" from her physician "to refrain from stressful conditions that will put her at risk for heart and brain attack and recurrence of seizure."
"So, what it is now, you did not know the promulgation date or you were indisposed?" Lagos inquired.
Marcos replied that apart from not knowing the promulgation date, she was indeed "indisposed" on that date due to "high blood pressure, pain and dizziness."
This prompted Lagos to confront Marcos about reports that she still attended the birthday party of her daughter Imee at their ancestral house in San Juan City a few hours after her conviction.
"I attended because she is my daughter, it was her birthday. She was crying and begging saying it is her birthday and all the guests are there," Mrs. Marcos said.
Filed by the Office of the Ombudsman in December 1991, the cases against her stemmed from her creation of seven private foundations in Switzerland into which funds were funneled.
As the Fifth Division was hearing her case, militant groups and Marcos supporters gathered outside the Sandiganbayan jeering at each other.
Supporters of the Marcos family decried the supposed "political persecution" of Mrs. Marcos, questioning the timing of the release of the Sandiganbayan decision.
Human rights lawyer and former congressman Neri Colmenares slammed the Sandiganbayan's grant of bail to Marcos.
"Being convicted of graft means you have accountability. You should face imprisonment. This grant of bail only sends a message that you can steal huge amount of public funds and get away with it," Colmenares said in Filipino.
Members of the Campaign Against the Return of the Marcoses to Malacañang (CARMMA) called Mrs. Marcos a "seasoned liar" for claiming that her sickness had prevented her from attending court proceedings.
The National Union of People's Lawyers (NUPL) also slammed the grant of temporary bail to Marcos.
"And so it came to pass that by a mere motion of a convicted plunderer, the Philippine court 'deferred' and bid its time in the actual issuance of the arrest warrant against an accused who has lost all legal remedies by reason of her failure to attend the promulgation," the NUPL said.
Former solicitor general Florin Hilbay cited double standard in the enforcement of laws in the country.
"This is clearly anti-poor and there is really double-standard in the justice system in our country. If you are rich you can avoid jail but if you are poor you will rot in prison," Hilbay, one of the senatorial candidates of the opposition coalition in 2019, said.
Hilbay cited the conviction and imprisonment of an old man for stealing a bar of chocolate.
"Marcos, who was convicted for stealing people's money, still walks free," he said.
Congressmen also criticized the granting of bail to Mrs. Marcos. "Very double standard! Very shameful of the high magistrates of the Sandiganbayan bowing down to the high and mighty Marcoses for the whole world to see," Anakpawis Rep. Ariel Casilao said.
Rep. Tom Villarin of Akbayan said the grant of post-conviction bail "is not a matter to be taken lightly and dismissed on account of her age and health conditions.
"It is history judging her and this is no ordinary case that we just let pass without a whimper," he said.
Albay Rep. Edcel Lagman said Marcos' bail, though it gave her temporary freedom, did "not liberate her as a prisoner of her own conscience."
"No conscience is so callous as not to be afflicted by guilt and remorse. The massive human rights atrocities and pillage during Marcos' martial law will perpetually haunt the Marcoses and condemn them to the prison of history," he said. – With Jess Diaz, Helen Flores