Marijuana, EJKs and cursing: 5 times Duterte was 'just kidding'
December 4, 2018 | 4:30pm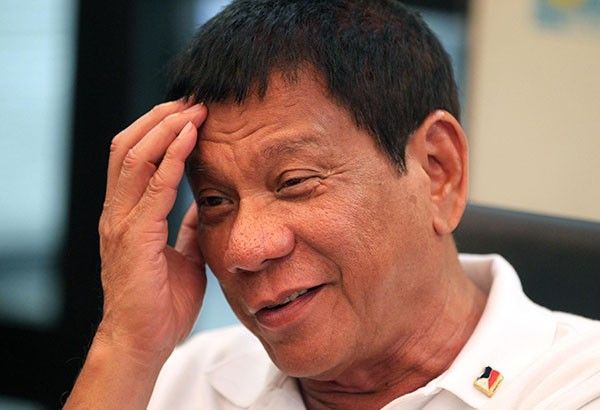 MANILA, Philippines — "You have to respect to the joke, you cannot deprive any person [the right] to crack jokes," presidential spokesperson Salvador Panelo said Tuesday after President Rodrigo Duterte cracked a joke about smoking marijuana to stay awake.
"It's a killing activity and I think my age, ako — hindi masyado — kasi nagma-marijuana ako para magising, sa iba hindi na kaya," Duterte said in remarks he later said were part of a joke to keep his speech from getting boring.
(Me— not so much — because I smoke marijuana to stay awake, others can't)
Media outlets picked up the comments after his comments were streamed live on the internet and televised. When asked by reporters on the sidelines of the Association of Southeast Asian Nations National Organizing Council if his comments were just a joke, Duterte told them "of course."
READ: Blunt joke: Duterte only kidding about using marijuana
This isn't the first time that Duterte or his subordinates and spokespersons have explained away statements as jokes. The president himself said last night that it is part of his style and that it is too late to change that now.
"Alam mo naman ako, nagpapatawa talaga (You know me, I tell jokes)," he said.
Here are some other times Duterte's comments and remarks
Jet Ski-dding!
"I will ride a jet ski while bringing the Philippine flag. I will not commit the Filipino soldiers [to war] kaya ako na lang pupunta doon," Duterte during the presidential debates when he was a candidate in 2016.
While the comment was made more than two years ago, Duterte walked back the comment in March this year, saying he wasn't serious when he said it.
"When I said I would go to China on a jet ski, that's nonsense. I don't even have… It's just talk. I'm surprised you believed it," the president — who is often described as "tough talking"— said, addressing members of the Philippine National Police's elite SWAT units.
While the jet ski comment may have been a joke, Duterte's South China Sea policy has been criticized for not asserting a 2016 ruling by the Permanent Court of Arbitration on China's sweeping nine-dash-line claim over much of the South China Sea has no legal basis.

The Duterte administration has suggested the choices for the Philippines are limited to shelving the ruling indefinitely and provoking war. The governmen has also focused on diplomatic and trade ties with China.
READ: Consistency in asserting rights crucial in Philippines' sea claim, says expert
Duterte swears he'll stop cursing
Duterte, who made international headlines for reportedly cursing United States President Barack Obama in 2016, has said twice over the past two years that he would stop using what are sometimes referred to as "bad words."

The first time he promised to stop cursing was the same year he cursed Obama.
"I was looking at the skies as I was coming over here. And I... everybody was asleep snoring. A voice said that you know 'If you don't stop, I will bring this plane down now.' And I said, who is this? Of course, it's God. Oh, OK. So, I promised God not to express slang, cuss words," Duterte said in October 2016.
He broke that vow less than a week later warning police not to engage in the illegal drug trade. "Wag kayong (police) magkamali pumasok diyan (drugs) t**g**a, tatapusin ko talaga kayo," Duterte said.
READ: Duterte breaks his 'no curse' vow
February this year, Duterte — again — promise not to curse. "Good boy na ako. Wala na kayong marinig na mura (I am now a good boy. You won't hear any curses anymore)," Duterte said during the 20th anniversary of the Chinese-Filipino Business Club.

"I had a dream two months ago and my mother appeared before me and said, 'Hoy, g***. Tama na 'yang pagmumura mo (Hey, stupid. Enough of your cursing)," he added.
READ: Duterte vows to stop cursing — again
But he's cursed in dozens of speeches since then.
Although the president has not cleaned up his speech, he has followed through on a related promise to donate P1,000 for every curse word he utters. The STAR reported in July that Sister Rose Duhaylungsod, Caritas Davao head, said the president has consistently donated certain amounts to Caritas Davao, which is under the Archdiocese of Davao.
Duterte says he tossed alleged kidnapper from helicopter
Prior to Duterte addressing the allegations on having thrown a suspected kidnapper out of a helicopter in the past, the story was an urban legend in Philippine politics.
READ: Duterte: I tossed out kidnapper from helicopter
"If you are corrupt I will fetch you with a helicopter and I will throw you out on the way to Manila," Duterte said in December 2016. "I have done that before, why should I not do it again?"
But later that week, he backtracked on his comments.
"We had no helicopter. We don't use that," he said in an interview with CNN Philippines. He described the incident as "just the creative imagination of Tulfo."
Duterte agrees to stop fighting Catholic Church
After frequent tirades against the Catholic Church, on July 9, then presidential spokesperson Harry Roque released a statement saying, "PRRD (President Rodrigo Duterte) agreed to a moratorium on statements about the Church after the meeting."
READ: Duterte agrees to stop talking about Catholic Church in meeting with CBCP

This was the second time Duterte was supposed to be quiet about the Catholic Church.
On June 28, Duterte said in Bohol, "I said there is time to talk I will not...I will shut up. I just shaked the tree."
READ: Duterte to shut up on tiff with Church

On July 11, two days after agreeing to a "moratorium" on statements against the church, Duterte threatened to "kill" those who use God to criticize him, and said no one could impose their views on God on him.

"There is a separation of power between any church and state. Huwag mong isali ang Diyos mo doon sa (do not include your God in) platform of your criticism or your attack because when I answer, kapag sinali mo sa issue, sinali mo ang Diyos, p***** i** patayin kita (if you include it in the issue, if you include God, son of a b****, I will kill you)," the president said during a business in Pampanga.

READ: Duterte breaks moratorium on statements vs Church
More recently, on November 26, Duterte cursed Caloocan Bishop Pablo Virgilio David, a critic of his war on drugs. He also made an unsubstantiated claim that David was involved in the illegal drug trade.

"I'm telling you, David. Nagdududa nga ako bakit sige ikot 'yan ng gabi. Nagduda tuloy ako p***** i** nasa droga ka (I am puzzled as to why you always go out at night. I suspect, son of a b****, you are into illegal drugs)," the Duterte said during an event in Davao City.
READ: After donation theft slur, Duterte now says he thinks Bishop David into drugs

The Caloocan bishop responded in a Facebook post shortly after the comments were made: "Into drugs? No sir, I'm not into drugs of any sort, whether legal or illegal. Never been. I only help in rehabilitating people addicted to drugs."
Duterte says EJK his 'only sin'
"What are your sins? Me? I told the military 'what are my sins?' Did I steal money? Even just one peso? Did I prosecute somebody I sent to jail? Ang kasalanan ko lang yung mga extrajudicial killing (My only sin is extrajudicial killings)," Duterte said on September 27.
His critics took the comment as an admission of guilt in the war on drugs — a war that has resulted in over 22,000 deaths under inquiry, and more than 4,900 deaths of "drug personalities" during anti-narcotics operations.
READ: Duterte says EJKs are his only sin
Roque explained then that the president was just being "playful."

"You know the president. He wasn't serious. He was just saying that because that's what [critics] always say he does, no?" the former spokesperson said then.

While Duterte's latest statements on marijuana caused a stir on the internet, he did say this about how the public should receive his comments back in February 2017: "Eh sa limang salita, dalawa lang 'yung tama niyan, 'yung tatlo puro kalokohan 'yan. (In every five statement I make, only two are true while three are just jokes)."
READ: Duterte admits only 2 out of 5 of his statements are true

"And so I'm just fond of doing it. Gusto ko lang tumawa (I just want to laugh). Well, at the expense also of myself sometimes," he added.
Related video: