Duterte: I tossed out kidnapper from helicopter
December 28, 2016 | 12:00am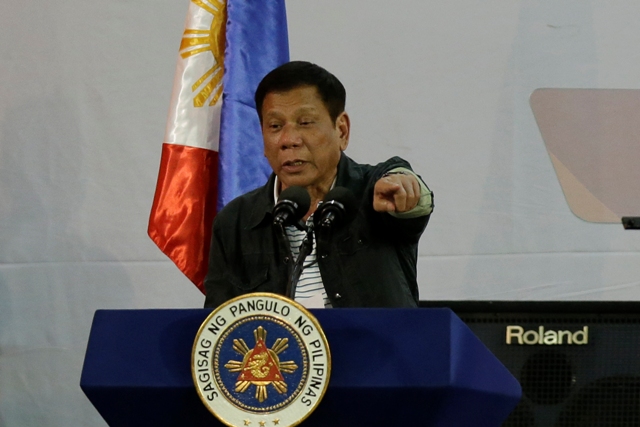 MANILA, Philippines – Is this another joke or hyperbole?
President Duterte vowed yesterday that corrupt officials would suffer the same fate as kidnap suspects he claimed to have thrown off a helicopter in mid-flight when he was mayor of Davao City.
Duterte made reference on how he dealt with criminals in the past to drive a point that he is serious about his government's anti-corruption drive.
"If you are corrupt I will fetch you with a helicopter and I will throw you out on the way to Manila," he said in Filipino yesterday in a speech at the Camarines Sur provincial capitol after he visited disaster-stricken areas affected by Typhoon Nina.
"I have done that before, why should I not do it again?" said Duterte after he announced that he was giving between P50 million to P100 million in financial assistance for disaster-stricken areas, in addition to a standby P1-billion calamity fund.
Duterte stressed that his anti-corruption drive, like his anti-drug campaign, will remain the main focus of his six-year term.
He has already gotten flak from international human rights groups over summary executions and his recent admission that he personally hunted criminals and killed them when he was Davao mayor.
Duterte narrated an incident when he had to go after kidnappers of a Chinese who mercilessly abused their victim even after the parents paid ransom.
Duterte recalled ordering the pilot to fly at the proper height, indicating the helicopter must be at the right distance from the ground so the body's splatter won't cause a commotion.
'Take it or leave it'
Duterte offered no apologies for his harsh language, which had in the past triggered outrage from US President Barack Obama, members of the United Nations and the European Union. He said it is just the way he speaks. "I am that person, take it or leave," he said.
In a previous interview during the campaign, Duterte admitted killing three kidnap suspects during an encounter.
He cited also a Chinese kidnap victim was involved in that operation which happened in 1988.
There was a report of Duterte killing a drug dealer by dropping him off a helicopter when he was mayor, but it is not clear whether the President was referring to this incident in yesterday's speech.
In the same speech, Duterte even mentioned in passing that he did not spare two of his fraternity brothers for accepting P50-million bribe from a Macau-based online gambling operator of the Fontana Leisure Parks and Casino in Pampanga.
After announcing his assistance to the disaster victims, Duterte reiterated anew his seriousness in the anti-drug campaign.
This time, Duterte said he is faced with a tough problem on how to deal with four million drug users.
"Out of the four million, at a liberal computation, just give me one million who had gone crazy. What will I do with them? Turn them into fertilizer? I can do that in Mindanao, but here you'll just report it. But that's our problem," he said. In criminal lingo, only rotten bodies turn up as fertilizers.
Duterte also slammed the Catholic Church for criticizing him over the extrajudicial killings attributed to his brutal campaign against illegal drugs.
He said he believes there is a God, he believes in Allah, but that he does not believe in religion, particularly the Catholic Church.
"My statement's full of sarcasm because they (priests) have been criticizing me," the President told the gathering of Davao City barangay captains and kagawads last night.
Duterte said he does not intend to follow any religious practice once he dies. "Cremate me within 24 hours when I die," he said. – With Edith Regalado