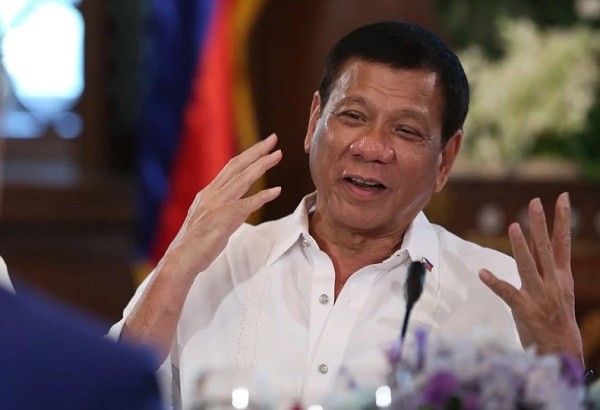 "You know me, I tell jokes," President Rodrigo Duterte said after the event.
File photo
Blunt joke: Duterte only kidding about using marijuana
MANILA, Philippines — President Rodrigo Duterte was only trying to keep things lively when he said he uses marijuana to stay awake, the chief executive said on Monday.
Asked in a chance interview after the conferment of awards on Association of Southeast Asian Nations National Organizing Council officials Monday afternoon, Duterte said "of course" he was just kidding.
"I want to shake the tree in the middle of a... boring pag wala (if none)," Duterte, speaking in incomplete sentences, told reporters. "Alam mo naman ako, nagpapatawa talaga." (You know me, I tell jokes)
"It's a killing activity and I think my age, ako hindi masyado kasi nagma-marijuana ako para magising, sa iba hindi na kaya," Duterte said during the event.

READ: Duterte says he uses marijuana to cope with hectic schedule
He then asked a reporter, "do you really believe I smoke marijuana? Do you really believe me? Using marijuana?"
The reporter said it was not for her to say.
Duterte further complained that ASEAN meetings started at 8:30 a.m., which was too early for him, and had 30-minute intervals.
"Maybe the ASEAN secretariat thinks we are boy scouts?" the president said, during the speech, complaining that ASEAN meetings started at 8:30 a.m. which was too early for the president, a known night owl.
In an interview with ANC, Presidential Spokesperson Salvador Panelo confirmed that the president was just joking. "Obviously it was just a joke, he was only jesting. The president's style is to make jokes to lighten the mood."
The marijuana joke is a departure from other speeches that mention killing drug lords and addicts.
The Philippine National Police has counted at least 22,000 deaths under inquiry since Duterte launched the war on drugs in 2016. According to official government data, more than 4,900 "drug personalities" have been killed in ant-narcotics operations. All of them allegedly forced law enforcement to kill them by violently resisting arrest.

READ: PNP: 22,983 deaths under inquiry since drug war launched

Pres. Duterte on marijuana joke: Kung maniwala kayo, g*** kayo @PhilippineStar @PhilstarNews pic.twitter.com/7l8EcOFwaK

— Alexis B. Romero (@alexisbromero) December 3, 2018