Duterte says EJKs are his only sin
September 27, 2018 | 8:14pm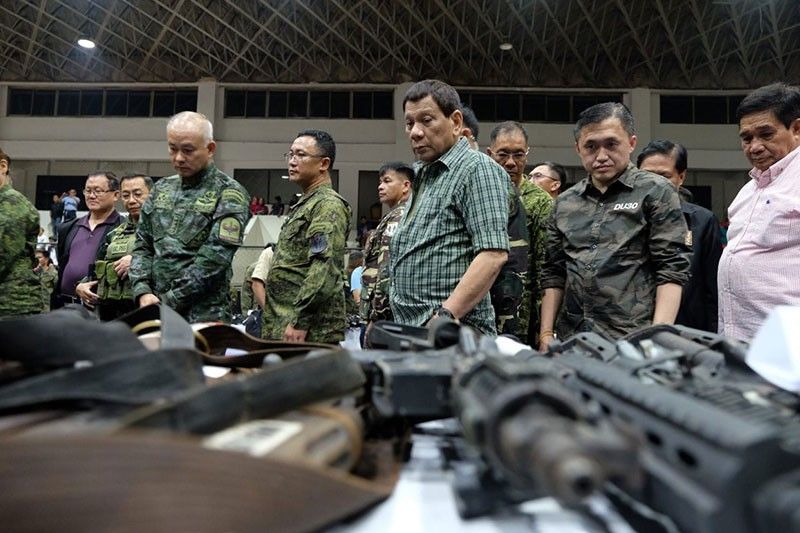 MANILA, Philippines — His critics find a lot of fault in him but as far as President Rodrigo Duterte is concerned, he just committed one sin.
"What are your sins? Me? I told the military 'what are my sins?' Did I steal money? Even just one peso? Did I prosecute somebody I sent to jail? Ang kasalanan ko lang yung mga extrajudicial killing (My only sin is extrajudicial killings)," Duterte said during the oath-taking of career government officials Thursday in Malacañang.
Duterte made the remark as he was criticizing Liberal Party president and opposition Sen. Francis Pangilinan, whom he said talks as if he is faultless.
Duterte, whose controversial war on illegal drugs has left more than 4,000 people dead, went on to justify the killings, saying they were directed at "fools."
It was not certain whether Duterte was serious when he made the statement, which came months after his critics filed a complaint against him before the International Criminal Court over the death of thousands of drug suspects.
The ICC has started its preliminary examination on the deaths tied to Duterte's war on drugs. Duterte responded by withdrawing the Philippines' ratification of the Rome Statute, the international treaty that created the ICC.
The president justified his controversial crackdown on illegal drugs, saying the problem has contaminated several Filipinos.
"There are things that I have to do because I have to do it. Who will do it? You know, the police them, they said, before you Duterte, there was really no killing, no extrajudicial (killings). Look what happened," Duterte said.
"When I became president, I insisted in opening the records. Many thousands — hundreds of thousands came out. They are thin, all of them are thin, you saw them on TV," he added, referring to drug addicts who surrendered to the police during the early months of his presidency.
Duterte described as "ulol (fools)" critics who raise concerns on the anti-narcotics campaign.
"E yang extrajudicial killing naman, itong mga ulol, lalo na yung, itim na sino yon (those fools, that black, who was that)? Sabi ko wag ka, ihampas ko sa ulo mo yung prosecutor na yan (I will strike your head with that prosecutor)," the president said, referring to Fatou Bensouda, the ICC prosecutor who announced that the tribunal would look into the alleged extrajudicial killings in the Philippines.
Despite claims that the campaign encourages extrajudicial killings, Duterte's war on drugs remains popular in the Philippines, based on the latest surveys.
A Social Weather Stations poll conducted from June 27 to 30 indicated that 78 percent of Filipinos are satisfied with the campaign while only 13 percent are not for a net satisfaction rating of +65.