Consistency in asserting rights crucial in Philippines' sea claim, says expert
November 23, 2018 | 5:22pm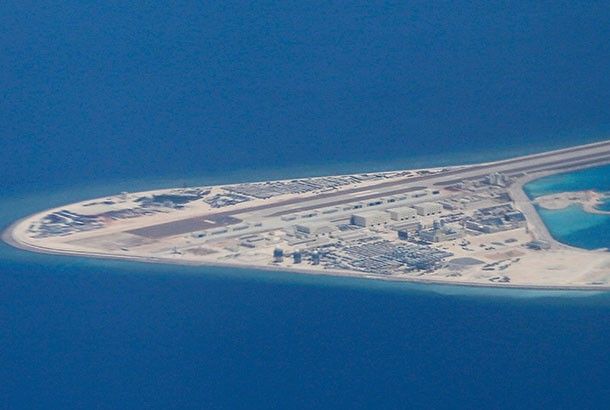 MANILA, Philippines — While the arbitral tribunal might not have enforcement powers to help the Philippines assert its rights in the South China Sea over China, its strength comes from "confirming or conferring" international legitimacy to actions of states.
Maria Ortuoste, associate professor at California State Universty, East Bay, and an analyst on international security and Southeast Asian maritime issues, told Philstar.com in an interview that asserting rights does not necessarily equate to waging war, as the administration has often viewed the ruling.
"Panelo's statements reflects a misunderstanding, hopefully not a willful one, of the value of international law," Ortuoste said.
Ortuoste was the head of research of the Center for International Relations and Strategic Studies of the [Philippine] Foreign Service Institute, before moving to the United States.
The US-based analyst was reacting to a November 20 statement where Panelo called the 2016 ruling "useless."
"Our position is the arbitral ruling says it is ours but, meanwhile, cannot be enforced," Panelo said during the press conference.
READ: South China Sea ruling useless 'as of now' — Palace
Ortuoste said that while it's probably a misunderstanding of Panelo's of international law, she hopes it is not a "willful one."
Panelo, who was named Duterte's spokesperson last October, is also Duterte's chief legal counsel.
The government has pursued an "appeasement policy" toward China, in hopes of wooing the Asian giant for investments and funding.
Panelo's statements are reflective of Duterte's previous statements on his outlook of the Philippines' chances in the maritime dispute, suggesting that his choices were limited to shelving the ruling indefinitely and provoking war.
Ortuoste highlighted that the strength of international courts comes from "confirming or conferring international legitimacy to particular actions." She said, "conversely the courts can declare certain actions as contrary to international law and also illegitimate."
While Duterte cites the Philippines' military weaknesss as a reason not to assert the 2016 ruling, Ortuoste said that the country "can have the law on their side. And that is extremely important."
This is similar to Supreme Court Justice Antonio Carpio's position, who critized those who equate asserting rights over West Philippine Sea to waging war, calling it a "false option."

Ortuoste said: "Electing not to build on the Philippines' legal gains, means that it would be more difficult for allies or would-be allies to take the Philippines' side in a conflict. Why? Almost all states do not want to be seen as aggressors, but rather as defenders; of not engaging in wars of aggression but only in just wars"

Similarly, Greg Poling, director of the Washington D.C.-based Asia Maritime Transparency Initiative, pointed out in a series of tweets that "most countries were ready to pressure China on teh ruling until the Duterte government basically told them not to worry about it.

READ: For South China Sea observers, 'useless' Hague ruling view is baseless
"The government's current approach not only shows a lack of understanding of international law but also a very narrow conceptualization of international relations," Ortuoste said. She emphasized that international relations is "not always a zero-sum game."
She added, "it doesn't mean that even if there are disputes with China that there cannot be trade or investments."
While former foreign affairs secretary Alan Peter Cayetano claimed—but failed to disclose—that the Philippines has been filing "silent protests" against China every time there is an incident in the Philippines' exclusive economic zones via note verbales, Ortuoste says the Philippines has lost momentum by not pursuing a more assertive diplomatic action.
She said that the "onus is on the Philippine government [to have] vision, hard work, patience, a dash of Machiavelli and preparedness."
But she said, "sadly, except for a few officials, all of those are lacking when it comes to the tribunal's decision. The Philippines lost so much momentum and cache of international approval that I do not think it can recover. The government wasted its one best, hard-won, card."
Related video: