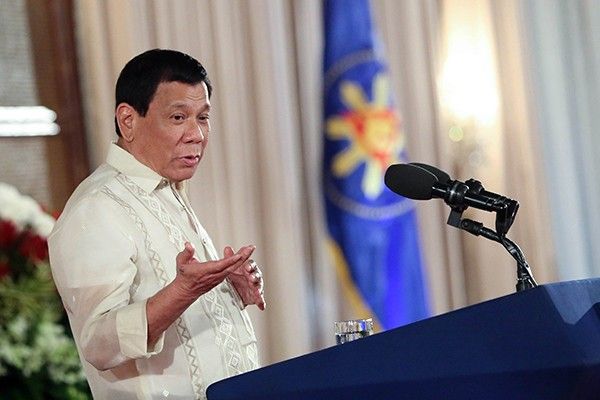 President Rodrigo Duterte has ordered the Armed Forces of the Philippines to go after police officers who are involved in illegal activities during the oath-taking ceremony of the newly appointed AFP officers at the State Dining Room of Malacañan Palace, Jan. 31, 2017.
Richard Madelo/Presidential Photo
Duterte admits only 2 out of 5 of his statements are true
MANILA, Philippines — His spokespersons claim that he is often misinterpreted but President Rodrigo Duterte himself admitted Wednesday that only two out of every five of his statements are true while the rest are mere wisecracks.
"Eh sa limang salita, dalawa lang 'yung tama niyan, 'yung tatlo puro kalokohan 'yan. (In every five statement I make, only two are true while three are just jokes)," the president said during the 115th anniversary of the Bureau of Customs in Manila.
"And so I'm just fond of doing it. Gusto ko lang tumawa (I just want to laugh). Well, at the expense also of myself sometimes," he added.
Duterte cited his joke about talking to God, which was picked up by both local and international media. After his trip to Japan last October, the president claimed that God had told him to stop cursing or his plane would crash.
"They said that, 'You know Duterte is a little bit off his rocker because he claims to have talked to God.' Well, that is not really a problem. The problem would be if God starts to talk to me," the president said.
"But you talk to God. You can always communicate verbally even verbose. There is nothing wrong with it and if you say that God said that, well, nagloloko lang talaga ako (I was just joking)."
Duterte lamented that members of the media "are not really attuned to his character."
The president has stirred controversies for his provocative statements, many of which were later on dismissed as jokes by his officials. Duterte's spokespersons even blamed the media for supposedly taking some of his statements out of context and even suggested that they talk to Davao-based journalists so they can understand him better. Duterte served as Davao City mayor for 23 years.
Last August, Duterte threatened to pull the Philippines out of the United Nations (UN) after the international group raised concerns over his bloody war against drugs. The president, later on, claimed that he was just joking when he made the statement.
He also joked about throwing a kidnapping off a helicopter, driving a jet ski and planting a Philippine flag in a disputed area in the South China Sea and undergoing a circumcision in a hospital in China.
Before assuming office, Duterte advised journalists not to take his statements seriously if they are ridiculous or outlandish.