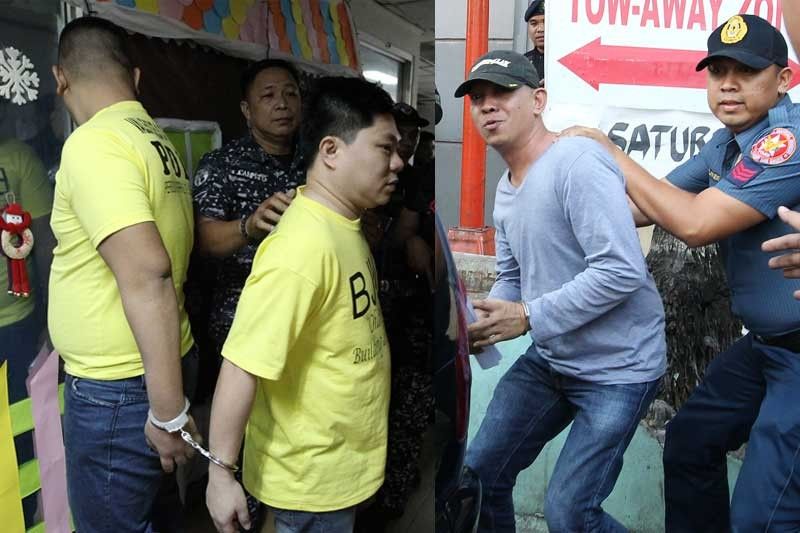 On his previous statements, he clarified: "What I said was I will defend to death my soldiers and policemen if they commit acts which would be considered criminal but done in the performance of their duties. I won't leave them, otherwise my soldiers and policemen would kill me."
Michael Varcas
'Pardon for Kian delos Santos killers? Only in a billion years'
Duterte: I don't protect murderers
MANILA, Philippines — The three police officers convicted of murdering teenager Kian Lloyd delos Santos in a supposed anti-drug operation in Caloocan City will not get pardon, President Duterte assured the public yesterday.
"Of course not. Maybe (in) one million years from now, one billion years it would be OK," Duterte said.
On his previous statements, he clarified: "What I said was I will defend to death my soldiers and policemen if they commit acts which would be considered criminal but done in the performance of their duties. I won't leave them, otherwise my soldiers and policemen would kill me."
"But for you to murder," he stressed, "that's not covered."
Duterte said his promise of protection covers only law enforcers who are "in the performance of their duties."
On Nov. 29, the Caloocan City Regional Trial Court (RTC) Branch 125 found Police Officer 3 Arnel Oares, PO1 Jeremias Pereda and PO1 Jerwin Cruz guilty of killing Delos Santos during an anti-narcotics operation in Baesa on Aug. 16, 2017.
The policemen were sentenced to up to 40 years in prison without eligibility for parole.
The Caloocan police previously claimed that Delos Santos fought off arresting officers, prompting them to shoot him.
But closed-circuit television footage showed the teenager was dragged to the Tullahan River, where he was found dead.
Witnesses said they saw policemen hand Delos Santos a gun and told the teenager to run before firing shots at him to make it appear that he was killed by the operatives in self-defense.
Autopsy results showed that Delos Santos sustained fatal gunshots to the head while he was on the ground kneeling and turning away from police.
Some sectors fear that Duterte will pardon the policemen, noting that the President had vowed to protect law enforcers involved in the war on drugs.
But Duterte said he would not defend those who violated the law.
Malacañang described the guilty verdict as a "triumph of justice," saying the court ruling proved that the justice system in the Philippines is working.
Illegal search
The legal woes of Cruz and Pereda are far from over as they face arraignment today – this time for violation of domicile and illegal search.
Caloocan Metropolitan Trial Court Judge Gloria Santos Jr. earlier found probable cause to try Cruz and Pereda for violation of domicile filed against them by Delos Santos' parents when they allegedly conducted a search of the household without the owners' consent after accosting the teenager.
The policemen and their asset, Renato Loveraz, were found guilty of shooting Delos Santos during an anti-illegal drug sweep. Loveraz remains at large.
The domicile charge was refiled before the lower trial court last March after Caloocan RTC Judge Rodolfo Azucena Jr. dismissed the case for lack of jurisdiction.
In the domicile charge, Cruz and Pereda were accused of entering the Delos Santos house without consent after Loveraz tagged the teenager as a drug runner, an allegation the family has denied.
The police officers also allegedly pointed their guns at Delos Santos' siblings while they were conducting an unwarranted search.
In a commitment order dated Dec. 3, Azucena ordered the three policemen to serve their life sentence at the New Bilibid Prison in Muntinlupa City .
Sen. Leila de Lima described as "false and illogical" the claim of Public Attorney's Office chief Persida Acosta that there are no state-sponsored killings following the conviction of the three policemen for the death of Delos Santos.
De Lima made the statement after Acosta said the verdict handed down by the court on the policemen proved that there are no extrajudicial killings in relation to the administration's war on drugs.
The senator said the conviction of the police officers "does not make the more than 23,000 summary executions committed by police and vigilante death squads any less state-sanctioned killings."
De Lima also called for the creation of an independent commission to look into the alleged police complicity in the killing of Delos Santos. – With Marc Jayson Cayabyab, Cecille Suerte Felipe