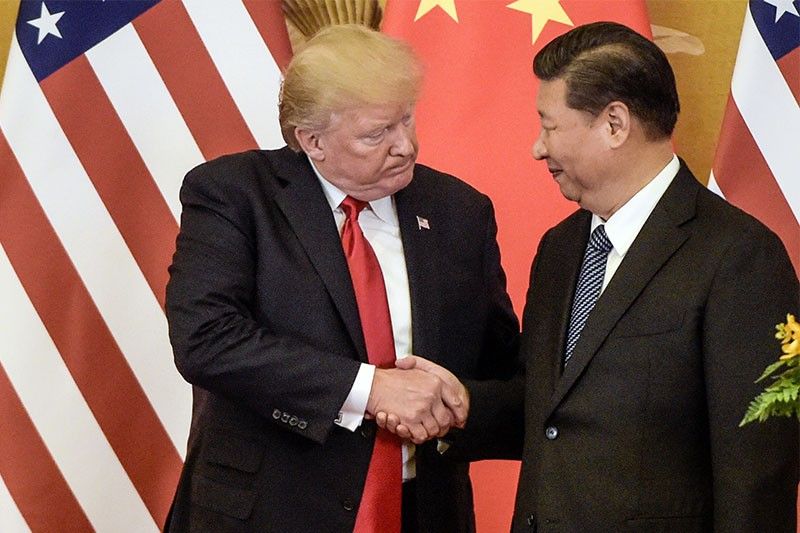 In this file photo taken on November 9, 2017, US President Donald Trump (L) shakes hand with China's President Xi Jinping in Beijing. US President Donald Trump and Chinese President Xi Jinping will discuss trade on the sidelines of a Group of 20 summit in Argentina this month, a senior US official said November 13, 2018.
AFP/Fred Dufour
Filipinos still trust US the most, distrust China — poll
MANILA, Philippines — Despite the Duterte administration's efforts to move closer to China, Filipinos still trust long-time ally United States the most, according to the latest Social Weather Stations survey.
The poll showed that among five specific countries tested for public trust in September, the US scored a "very good" rating, "moderate" for Japan, Malaysia and Israel, while China obtained a "poor" score.
The US obtained a net trust rating of +59, which is six points lower than its +65 score in June. Washington has always scored a positive trust rating since the first survey in December 1994, the poll firm said.
Japan obtained a net trust rating of +28 while Malaysia and Israel registered +15 and +13, respectively.
China, meanwhile, posted a net trust score of -16 in September, an improvement from its -35 rating in June.
The survey also showed that distrust was higher among those who were aware of West Philippine Sea issues before the survey was conducted.
Net trust rating was a poor -22 among those aware that Chinese coast guard personnel have been taking away the catch of Filipino fishermen in the West Philippine Sea.
"Distrust in China was higher among those who already knew that the Philippines is unable to prevent Chinese fishermen from fishing in the West Philippine Sea before the survey, compared to the neutral -3 among those who just learned about it," SWS said.
Distrust was also higher among those aware that Beijing has transformed Manila-claimed features in the Spratly Islands into military outposts.
SWS considers net trust ratings of +70 and above as "excellent," +50 to +69 "very good," +30 to +49 "good," +10 to +19 "moderate," +9 to -9 "neutral," -10 to -29 "poor," -30 to -49 "bad," -50 to -69 "very bad," and -70 and below "execrable."
The survey was conducted from September 15 to 23 using face-to-face interviews among 1,500 adults nationwide with sampling error margins of ±3 percent for national percentages.
"The Social Weather Survey items on people's opinion about the West Philippine Sea conflict were non-commissioned. They were included on SWS's own initiative and released as a public service," the survey firm said.