Duterte urges lawmakers anew to bring back ROTC
November 24, 2018 | 12:00am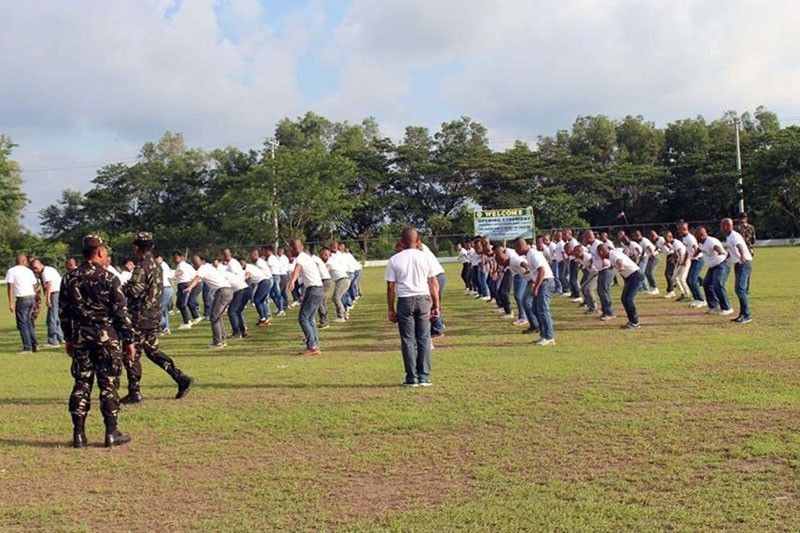 MANILA, Philippines — President Duterte has renewed his call for the revival of mandatory Reserve Officers' Training Corps (ROTC), urging Congress to enact a law or he will just issue an executive order to require it for students.
ROTC training used to be mandatory for college students but Duterte wants it for Grade 11 and 12 to instill patriotism among the youth.
Duterte made the call in a speech during the 35th founding anniversary of the Army Reserve Command (ARESCOM) at Camp General Mariano Riego de Dios last Thursday.
"Let me take this opportunity to ask Congress to expedite the passage of the Reservist Employment Rights Act that is currently pending in both houses of Congress," he said, referring to the law that will ensure proper training and compensation for reservists, on top of protection from discrimination in job hiring, reintegration, promotion or any benefit of employment.
"I likewise encourage Congress to enact a law that will require mandatory ROTC for Grades 11 and 12, so we can instill patriotism... love of country among our youth," Duterte added.
Without any law, Duterte said he might simply issue an EO to make it obligatory, noting that every citizen is mandated by the Constitution to defend the homeland.
During the event, Duterte asked the reserve officials to remain committed to their call to provide crucial support to the Armed Forces of the Philippines every time it is needed.
"Together, let us build and defend the foundations of a stronger, safer and truly progressive Philippines, where our children can thrive and become productive members of our society," he said.
He also commended ARESCOM's role in disaster response when earthquakes and storms hit the country, as its personnel are always ready to respond.
Last year, Army reservists from Lanao del Norte Ready Reserve Infantry Battalion and Misamis Oriental Ready Reserve Infantry Company were instrumental in successfully liberating Marawi City.
It was the first time for a commander-in-chief to engage in such event at the Army reserve camp.
Over 2,000 regular and reservist personnel and ROTC command from the National Capital Region and Region 4A joined the event.
In the last three decades, Malacañang said the reservist command has geared up to develop, organize, train, equip and administer reservists to become a capable and responsive reserve force.
Aside from training ROTC personnel for defense and security, ARESCOM has incorporated disaster response in their training, given the vulnerability of the Philippines to natural calamities.
Senate President Vicente Sotto III and Sen. Sonny Angara expressed their support for Duterte's proposal.
"We all went through that. I am wondering why it was stopped," Sotto said.
Angara sees no problem with ROTC training too but he said authorities must make sure it will not be used for hazing or any form of abuse.
Angara said the training for students is necessary not only to prepare them for time of war but during disasters and calamities as well. – With Cecille Suerte Felipe