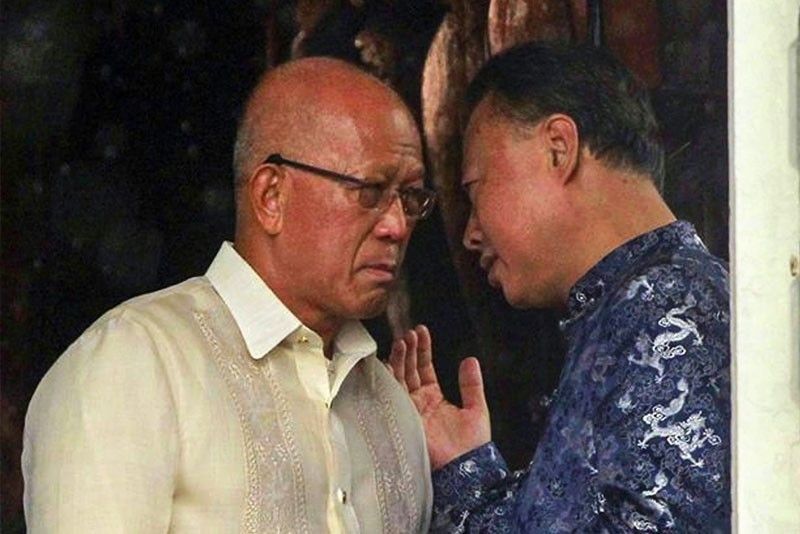 In this June 12, 2018 photo, Defense Secretary Delfin Lorenzana talks to Chinese Ambassador Zhao Jianhua during the Independence Day rites in Kawit, Cavite.
STAR/KJ Rosales
China tried to block Pag-asa Island repairs — Lorenzana
MANILA, Philippines — Defense Secretary Delfin Lorenzana revealed Friday that China tried to block the Philippine government's plan to repair structures on Pag-asa Island, one of the biggest islands in the Spratlys in the West Philippine Sea.
"When he learned that we're going to repair our runway in Pag-asa, he came to me and said, 'No,'" Lorenzana said, referring to Chinese Ambassador to the Philippines Zhao Jianhua.
In response to Zhao, Lorenzana stressed that it was proper for the Philippines to improve the runway and every facility in Pag-asa Island as China already developed Subi Reef.
Subi Reef is one of the three features in the Spratly Islands that Beijing has transformed into military outposts and installed with missile systems and electronic jammers.
Lorenzana also recalled how the Chinese envoy tried to dissuade him from visiting Pag-asa Island.
"When he learned that I was going to Pag-asa he came to me and tried to deceive me from going there. He gave a lot of reasons — some countries might follow me to go to the islands," the defense chief said.
In April 2017, Lorenzana visited Pag-asa to assert the country's claim to the island, which is under the jurisdiction of the municipality of Kalayaan in Palawan. The secretary inspected the runway on the island, as well as the reefs and atolls in the area that have been partly eroded.
Beijing expressed concern and dissatisfaction on Lorenzana's trip to the island, claiming that he went against the consensus between Manila and Beijing "to properly deal with the South China Sea issue."
Chinese Foreign Ministry spokesperson Lu Kang called on the Philippines follow the consensus, "maintain general peace and stability in the South China Sea" and "promote the sound and steady development of China-Philippine relations."