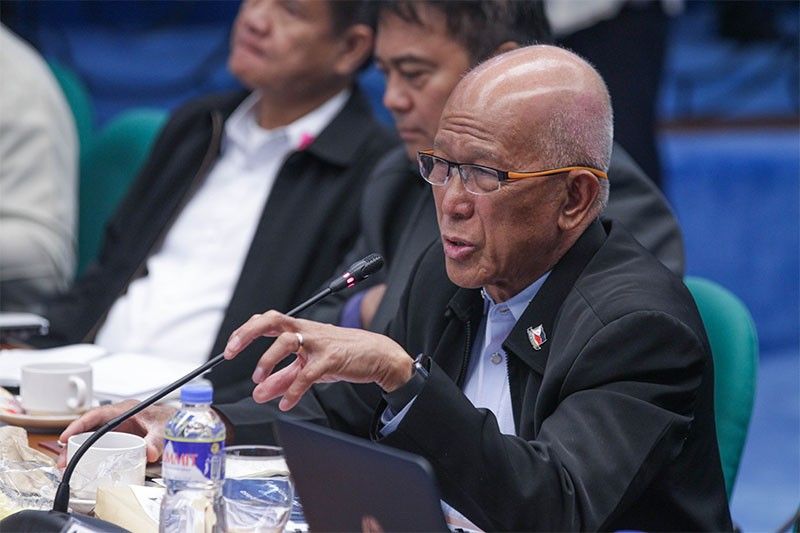 In this October 2 photo, Defense Secretary Delfin Lorenzana attends the Senate hearing on the proposed budget for the Armed Forces of the Philippines. In a maritime forum on Friday, Lorenzana revealed that he planned to send the Philippine Navy to drive away the Chinese in Scarborough Shoal two years ago but he was advised to exercise restraint.
STAR/Geremy Pintolo, file
Lorenzana bares Duterte's order not to 'overly celebrate' Hague ruling
MANILA, Philippines — The Philippine Navy was supposed to drive away the Chinese from the Scarborough or Panatag Shoal two years ago but President Rodrigo Duterte had other plans, Defense Secretary Delfin Lorenzana revealed Friday.
Lorenzana, in a speech at a forum on maritime disputes in Makati City, recalled the events when the July 12, 2016 arbitral ruling was released. The landmark ruling favored the Philippines, invalidating China's nine-dash line claim over the South China Sea, part of which is the West Philippine Sea.
"When the arbitral ruling was about to be announced, we were all in Malacañang so when it came out, we had this meeting with the president... He said we should not be overly, what they call overly celebrating because we might offend China so that's what happened," Lorenzana said.
The defense chief added that he was planning to ask the Philippine Navy to send a small force to Scarborough Shoal prior to the ruling.
"Maybe we can drive away the Chinese there and maybe we can move forward to Scarborough Shoal," he added.
US interference
The defense chief further recalled that then US Defense Secretary Ash Carter called him a week before the arbitral ruling came out.
According to Lorenzana, the Pentagon chief advised him to "exercise restraint" ahead of the ruling, adding that Carter's call was "very significant" as he was already planning to send the navy over the traditional fishing ground among Chinese, Filipino and Vietnamese fishermen.
"What he (Carter) said was the ruling will come out soon and we think it is in your favor and he said please exercise restraint... Don't do anything in the South China Sea that will provoke some trouble there and I was thinking to myself, what does he mean by that?" Lorenzana said.
'Somber' Yasay
Following Duterte's directive not to "overly celebrate" the arbitral award, then-Foreign Affairs Secretary Perfecto Yasay Jr. made the announcement on national television.
"The secretary of foreign affairs, Jun Yasay, went on TV and announced that we won that ruling... In that announcement he was very somber and very serious," Lorenzana said.
Lorenzana was referring to the official statement that Yasay read to the press when the ruling was released.
Yasay welcomed the landmark ruling and then said that government experts were studying the award "with care and thoroughness that this significant arbitral outcome deserves."
"In the meantime, we call on those concerned to exercise restraint and sobriety," Yasay said.