Minority senators want probe into Sagay 9 killings
November 8, 2018 | 11:27am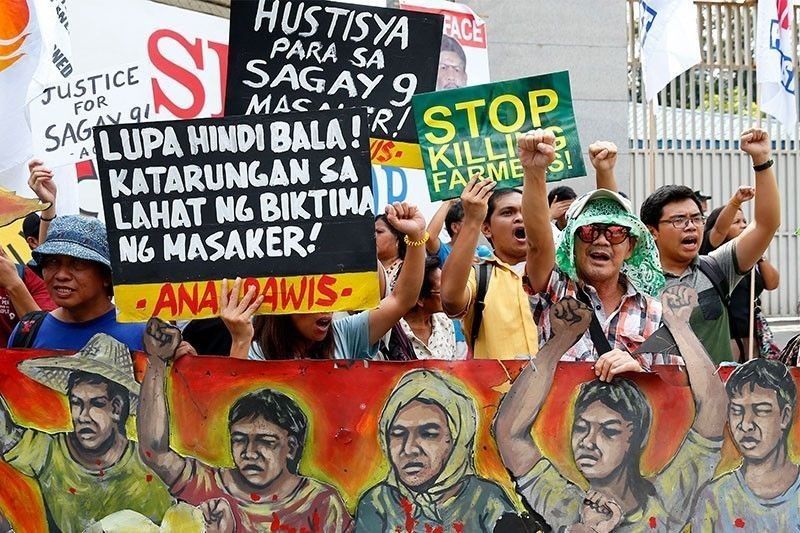 MANILA, Philippines — Minority senators urged a legislative inquiry into the killing of nine sugarcane workers in Sagay City, Negros Occidental last October.
Sens. Leila De Lima, Franklin Drilon, Paolo Benigno "Bam" Aquino, Risa Hontiveros, Francis "Kiko" Pangilinan and Antonio "Sonny" Trillanes IV filed Resolution 929, urging the government to "address the plight of farmers with respect to agrarian reform."
The lawmakers urged the Senate body to find "remedial legislative measures to help ensure that same incidents will not happen again, while supporting efforts towards genuine rural development and agrarian reform in our country."
Last October, nine sugarcane workers—including three women and two minors—were killed on October 20 by some 40 unidentified armed men.
The Armed Forces of the Philippines linked the killing of the National Federation of Sugarcane Workers members as part of the so-called "Red October" plot, while some reports pointed to private armies and paramilitary groups as perpetrators of the killing.
The solons, meanwhile, pointed out that fact-finding missions carried out by human rights group claimed that Hacienda Nene lessor Allan Simbingo and other clans known as landowners were involved in the massacre.
EXPLAINER: A closer look at 'bungkalan', the supposedly sinister plot
"This (incident) is not an isolated case as it only reflects the prevailing situation in many farm lands around the country, necessitating immediate attention of government to address the plight of our Filipino farmers," the resolution filed on November 7 read.
The senators said that other than the investigations by various government agencies and the pursuit of justice, "the government...should probe and swiftly respond to the primal causes of the continued landlessness of many Filipino farmers that shackle them and their families to the chains of poverty and social injustice and engender the almost endless agrarian unrest throughout our countryside."
"The aforementioned massacre exhibits the decades-old failure of the government's agrarian reform program to accord the farmers their right to till their lands, and extricate their families from the vicious cycle of poverty," the senators said in the resolution.
RELATED: 'Bungkalan' caused by unaddressed social injustice, land rights group says
A human rights lawyer who was among the first to extend legal assistance to the kin of the victims was slain on Tuesday night.
Justice Secretary Menardo Guevarra said that he has directed the National Bureau of Investigation to determine whether the killing of lawyer Benjamin Ramos is linked to the Sagay 9 massacre.
The Philippine National Police and the Commission on Human Rights are also looking into the incident. — Kristine Joy Patag