State forces to arrest, shoot groups occupying land, Duterte warns
October 29, 2018 | 1:52pm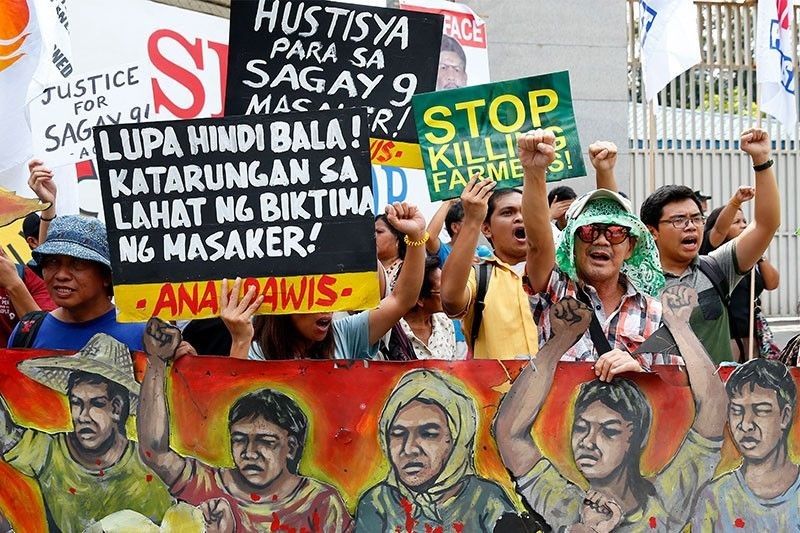 MANILA, Philippines (Updated 4:13 p.m.) — State forces will arrest groups occupying land and idle housing units if they continue to do so, President Rodrigo Duterte warned.
"I will tell the Left, the communists, 'Do not do it ever again because I have issued an order to the police and to the Armed Forces. If you continue to occupy a property just what happened in Bacolod, I said, this time I will order your arrest," Duterte said in a speech Sunday.
He was apparently referring to an incident in Sagay City in Negros Occidental, where nine sugar workers were killed during a "bungkalan" or land cultivation in a hacienda there on October 20.
The chief executive even threatened that the groups will be shot if they resist violently.
"My orders to the police and the soldiers, shoot them. If they resist violently, shoot them. If they die, I do not care," he said.
Duterte called on groups to stop "confiscation of other people's or somebody else's property," claiming the act is "sowing anarchy."
Sagay killings
The victims, who included four women and two minors, were resting in makeshift tents at Hacienda Nene in Purok Firetree, Barangay Bulanno when unknown armed men opened fire.
Multiple murder charges were filed against Rene Manlangit and Rogelio Arquillo, members of the National Federation of Sugar Workers, last Friday.
Chief Superintendent John Bulalacao, Western Visayas police director, accused the two of conspiring with an armed group in planning the attack.
He also claimed the victims were manipulated by communist insurgents into occupying a private property as part of its Oplan Bungkalan and Okupasyon.
NFSW secretary general John Milton Lozando decried the filing of charges, calling it a dangerous precedent against mass-based groups.
Kadamay
Duterte also slammed militant urban poor group Kalipunan ng Damayang Mahihirap, which had occupied government housing project intended for soldiers and police officers.
"The Left has many fronts. One of these is Kadamay. What these monkeys are doing is occupying vacant lands," the president said of the group, which is composed of the homeless and of informal settlers.
"The unfinished condominiums there for the soldiers and for them, they occupy them. They are not from there," Duterte said.
The president added that he will just give government lands "except the reservations of the military and the police."
"And in some cases, 'yung mga industrial estate but you can have all of the mountains there. I will give it to you. You just wait. You do not have to abuse other people by just going there swaggering as if you are owner," he also said.
The government earlier awarded some 6,000 housing units in Pandi, Bulacan, which the group took over last year.
However, the National Housing Authority estimated that at least 600 houses awarded to Kadamay members were up for rent. But the militant group accused the NHA of setting them up.
Last June, 500 members of Kadamay tried but failed to occupy idle housing units in Rodriguez, Rizal.
This prompted Malacañang to say that the president will not allow another takeover by Kadamay of housing units for soldiers and policemen.
'Genocide' of Filipino farmers
Danilo Ramos, chairperson of Kilusang Magbubukid ng Pilipinas, condemned Duterte's statement, saying the president virtually issued a "shoot to kill order" against farmers cultivating land and doing cultivation activities.
"Duterte is encouraging the mass murder and even the genocide of Filipino farmers. We will continue to hold him accountable for peasant killings and human rights violations in rural communities," Ramos said.
There have been 172 farmers killed under the current administration, according to Tanggol Magsasaka.
He added that land occupation and cultivation activities are collective efforts to assert genuine land reform—a demand of farmers for decades to address their landlessness.
"Farmers demanded for genuine land reform and free land distribution and held many dialogues with the Department of Agrarian Reform and Duterte himself but the government turned these down by siding with landlords and oligarchs," Ramos said.