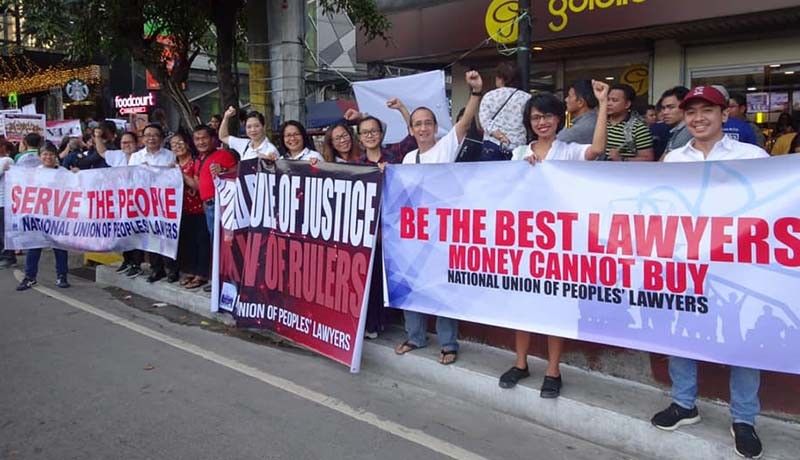 Members of NUPL hold up streamers at the start of Bar exams on November 4, 2018. The exams are held at the University of Santo Tomas on the four Sundays of November.
NUPL Facebook
Kidnapping raps vs lawyer of 'Sagay 9' witness's mother baseless, Karapatan says
(Philstar.com) - November 4, 2018 - 10:51am
MANILA, Philippines — Charges of kidnapping and serious illegal detention against a lawyer who assisted a witness and survivor of the October 20 killings of nine sugar workers in Sagay City, Negros Occidental are malicious and baseless, rights group Karapatan said Saturday.
"These charges, which we can only presume to have been wildly concocted by the Negros police and other forces who want to divert the accountability of paramilitary forces and private armies of landlords, have no legal and factual basis, and are ill-intentioned and manufactured," the group said of the charges reportedly filed against lawyer Katherine Panguban, head of the National Union of People's Lawyers Women and Children's Committee.
According to reports, Vic Pedaso, father of the 14-year-old witness filed the charges on October 30. Chief Inspector Robert Mansueto, chief of the Sagay City police, said Pedaso received a call from his wife claiming they were under tight watch in the area where they were brought after the boy, whom Karapatan and NUPL refer to as "Lester", was turned over by the city's Social Welfare and Development Office.
READ: Lawyer faces raps for taking custody of massacre witness
"For the record, NUPL and Karapatan, in the course of our fact-finding mission and support for the victims and their relatives in Sagay, assisted Lester's mother in obtaining custody of her child from the Sagay City Social Welfare and Development Office on October 25, 2018," the group said. It also said that Pedaso was present when the child was turned over to the boy's mother.
"Attorney Panguban properly represented Lester's mother. There is absolutely no truth to allegations of Pedaso and the police that mother and son are being held against their will by Attorney Panguban, NUPL and Karapatan," the group, which conducted a fast-finding mission into the killings, said.
NUPL, in a separate statement on Thursday, said the charges were "malicious, contrived and have no legal and factual basis to stand on." It said that the child's mother had engaged them as lawyers "after Mr. Pedaso, cavalierly and unilaterally, without consulting Lester's mother, turned over the child to them."
"We regret we cannot humor the PNP because this legal representation and turnover of custody are duly documented and are perfectly legal and in order," the group also said.
It also said Lester "chose to be with his mother since he barely knows his biological father because the latter abandoned them for 10 years."
NUPL also said Lester's mother has executed an affidavit attesting that she and her child are not being held against their will.
A report by state-run Philippine News Agency, quoting the Negros Occidental Provincial Police Office, said "the boy was sent to the custody of the Social Welfare and Development Office in Sagay City with the consent and in the presence of his own father."
RELATED: Look at private army angle in 'Sagay 9' killings, rights group urges
Communist rebels blamed
President Rodrigo Duterte has blamed the killings of the nine sugar workers who were shot during a "bungkalan", or land cultivation, on a portion of Hacienda Nene in Sagay City on communist rebels.
"Why would you let yourself be fooled with that? Who is your God? Sison? Everything that you died for, the idea, your theology and politics, all of it came from Sison's brain," the president said last week, echoing claims by the military and police that the Communist Party of the Philippines and New People's Army are involved in the killings.
"The communists are acting up now. The federation, the one where children were shot, they are the ones who brought with them new recruits. This means if they see a vacant lot, they occupy it. They forced some people to join their federation but the group said, 'Don't bring us because there are already many of us here,'" he said.
"They didn't reach an understanding and so they shot them."
Duterte's version of events does not coincide with what police and the military earlier said may have happened. — Jonathan de Santos