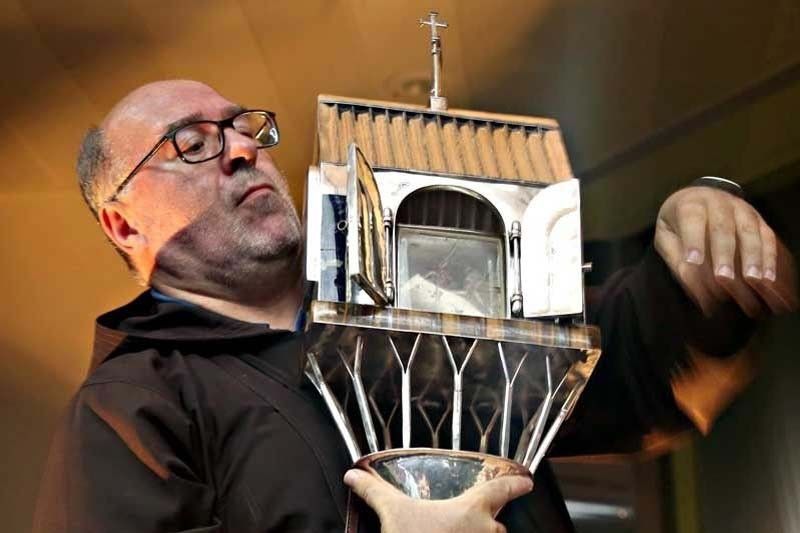 The incorrupt heart relic of Saint Padre Pio of Pietrelcina arrives at NAIA, where a brief veneration was held the other night before the relic was brought to Batangas.
The STAR/Rudy Santos
Public veneration of St. Padre Pio's relic in UST only 'overnight'
MANILA, Philippines— The University of Santo Tomas's Santisimo Rosario Parish on Monday advised the public that it will only hold an overnight public veneration of the heart relic of Saint Padre Pio of Pietrelcina.
In its advisory, UST church reminded the public that there will be no veneration of the relic before 4:30 p.m. on Monday.
The church added that the overnight veneration starts at 7:00 p.m. and will end at 5:30 a.m. on Tuesday, October 9.
"It will also be temporarily stopped during the celebration of the Mass in the parish church. The Church will remain OPEN OVERNIGHT," the advisory read.
For its Monday schedule, Padre Pio's relic will be brought to the UST Plaza Mayor in front of the main building for a mass to be led by Kalookan bishop Ambo David. The relic is slated to be carried back to the parish church in a solemn candlelight procession.
UST church said that there will be no mass at the Parish Church at 5:15 p.m. on Monday.
It added that half of the plaza will be reserved for the sick and for persons with disabilities. Concerned indivuals may register at the booth of the Center for Campus Ministry, also located at the Plaza Mayor, starting 3 p.m. of Monday.
Devotees of St. Padre Pio may enter the UST premises via the Lacson Street gate near UST hospital while pedestrians may pass through both Lacson and P. Noval gates.
Relic to be brought to Cebu, Davao
The relic of Padre Pio arrived at the Ninoy Aquino International Airport Terminal 1 on board Qatar Airways past 10 p.m. last Friday. It was carried in a hard case by a priest.
Over the weekend, the relic was transported to the National Shrine of St. Padre Pio in Santo Tomas, Batangas, also to pave way for devotees' veneration.
On Tuesday, the relic will be carried to the Manila Cathedral for the public veneration. The iconic church will open its doors for 24 hours from October 9 to October 11 morning.
Aside from Batangas and Manila, Padre Pio's relic will be brought to Cebu and Davao and will be in the country until October 26.
Padre Pio, who was canonized on June 16, 2002, was a Capuchin priest who bore the stigmata of Jesus Christ. Several miracles were attributed to the saint after he died on Sept. 23, 1968.