EJK in Philippines? Duterte gives contradicting answers
October 19, 2017 | 2:28pm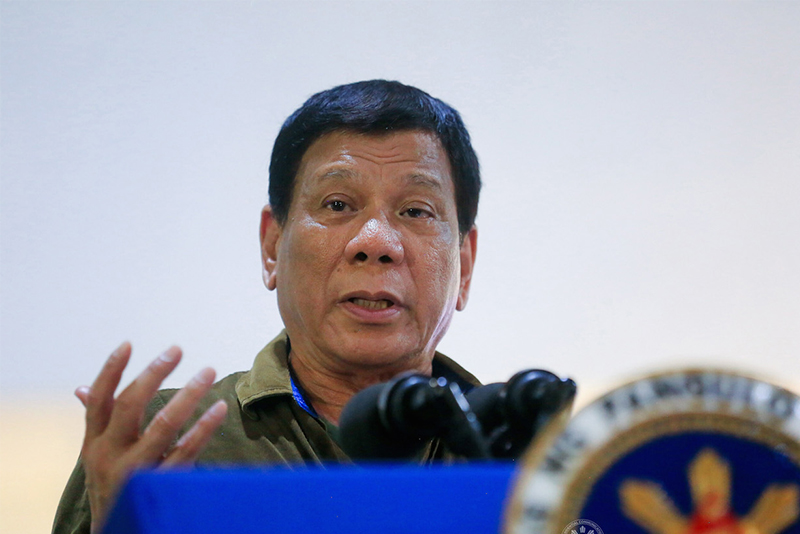 MANILA, Philippines — Are there extrajudicial killings in the Philippines?
President Rodrigo Duterte on Thursday gave contradicting answers to the question as he continued to defend his brutal campaign against illegal drugs that had been criticized by human rights groups and foreign governments.
Speaking to business groups, Duterte said foreigners could not impose the term "extrajudicial killings" on the Philippines because it had its own Constitution.
READ: 'No death penalty means no EJK'
He claimed that Philippine laws were "pretty mixed up" since the Revised Penal Code used Spanish words but the procedures were American.
"That is what we got from the colonizers. That is why we do not even know how to define extrajudicial killing. There is no such animal here. And other countries cannot force that term on us because we are a sovereign nation, we have a Constitution," Duterte said.
Duterte explained that based on the foreign countries' definition of extrajudicial killings no incident in the Philippines could be considered as such.
"Now, extrajudicial killing is simply homicide or murder. Period. There is no such thing as extrajudicial killing in this country because if you use this definition, there will be less conviction and more acquittal," he added.
READ: Cayetano uses restrictive EJK definition, experts say
However, Duterte admitted later that there may be extrajudicial killings in the country when he was talking about the death of 17-year old teenager Kian Delos Santos, who was killed in Caloocan in August.
Policemen claimed that Delos Santos was shot dead after violently resisting arrest, but witnesses said the teenager was killed even if he was already begging for his life.
"Now are there extrajudicial killings? Yes, that is why on the day I saw (it on) TV, I ordered the police to detain the three policemen," Duterte said.
READ: Philippines: Drug war deaths classified as murder, not EJK
"Why would the police do that? But I would admit that there are s** of a b****** policemen who really… But there is a story behind. That teenagers, Kian, you just wait until the trial begins," he added.
Duterte said he would not divulge the information about the death of Delos Santos and would just let the trial proceed.
"I told the policemen, 'You tell me the truth or I'll shoot you. What really happened?'" he said. "'This is what really happened, sir,'" he added.
READ: No EJK under Duterte — PNP
Duterte then talked about the signs that someone was using illegal drugs but it was unclear if it was related to the case of Delos Santos.
"He's smelly, he does not take a bath, he does not sleep, and he keeps on grinding his teeth in front of you. So most of the addicts have lost all their teeth. That's one indication. Then, 'Yes, Mayor, that's the way it is. We are not using shabu.' But they are eating their teeth at the same time," the President said.
"There was this guy who appeared on TV. I do not want to attribute to any of the particular killings. But if you are there, somehow with the network, review it, and you will see the father grinding…At that time I knew somehow there was a different story," he added.
"But the sensationalism…That is why when you only begin to count the dead, at least the evil once and forget to count the children killed and everything."
Delos Santos' death has sparked outrage and raised questions on how law enforcers were carrying out the drug war.
Duterte has barred the police and the military from joining drug raids and tasked the Philippine Drug Enforcement Agency to lead the campaign against narcotics.
Duterte said he managed to maintain high survey ratings despite the criticisms against his drug war.
"Actually, the biggest number came because they know the problem. They know that corruption and drugs and criminality has (sic) stymied out growth," he added.