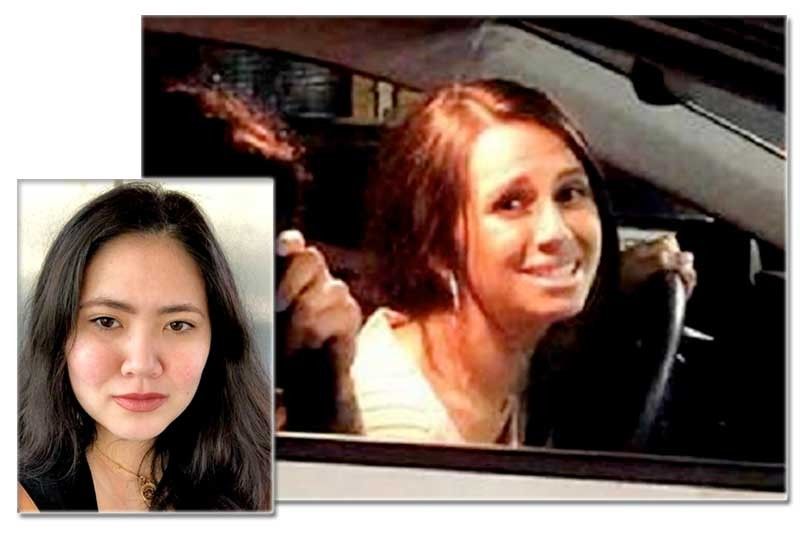 ASIANS CAN'T SEE, CAN'T DRIVE? Screen grab from a Facebook video shows Sierra Measelle making racial taunts from her car in Portland, Oregon. Filipina Selina Cairel (inset), the target of the rant, posted the video online so others may see 'this kind of behavior and how people of color encounter this all the time.'
Oregon woman apologizes for racist rant vs Filipino driver
Janvic Mateo
(The Philippine Star) - September 20, 2018 - 12:00am
MANILA, Philippines — An American woman from Beaverton, Oregon has apologized after her racist remarks against a Filipina went viral online.
Local network KATU reported that the woman, identified as Sierra Measelle, has apologized for her remarks directed at 22-year-old Filipina Selina Cairel.
"I'd like to again offer my sincere apology to Ms. Cairel and I am sorry for the ignorant, hateful comments I made to her and her friend," Measelle was quoted as saying.
"I'm ashamed that I let my emotions get the best of me and I reacted in such a hurtful manner that goes completely against my beliefs and morals. I'm extremely disappointed in myself and my lack of empathy," she added.
The apology was reportedly posted on Measelle's Instagram account that has since been turned private.
She said she plans to transform the negative situation into a positive learning opportunity.
"I hope that people who casually and carelessly use racist language will learn from my mistakes, as I have learned that these words and actions cause others much pain," she said.
"I also want to say I'm sorry to all the people affected by my comments and especially my friends, family and place of employment for the harassment they've received over this. This incident has definitely allowed me to see how my behavior contributes to racism and how I can and need to do better going forward," added the Oregon woman.
Measelle drew criticism after Cairel posted on Facebook last week a video of her issuing racist rants against Asians.
Cairel, from Washington state, said she went out with friends in Portland when she had a "terrible encounter" with Measelle.
"It started when she had said in the most demeaning poor excuse of a supposed 'Asian' accent that 'she's Asian, she can't see that's why she can't drive.' I was parked next to her and I did not instigate this at all," wrote Cairel.
"She was the one to pull out her phone first saying 'this should go on Instagram' and started recording me. I never let this pass and wanna make sure this kind of behavior is seen and how people of color encounter this all the time. I wanna make sure she gets seen and her racist, ignorant behavior is exposed," she added.
In the video, Measelle also appeared to insinuate that Cairel was illegally staying in the US.
Reports said the Filipina and her family immigrated to the US when she was 11.
The video had over 16,000 reactions and was shared more than 20,000 times.