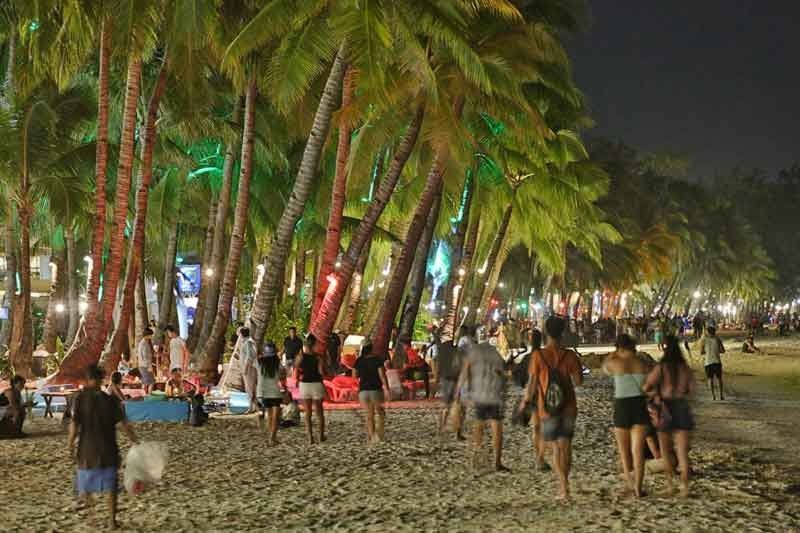 Some two months before the reopening of Boracay, the Department of Tourism (DOT) said there will be no more "Laboracay" parties in the island resort.
FIle
DOT bans parties, smoking, drinking in Boracay
MANILA, Philippines — No more beach parties.
Some two months before the reopening of Boracay, the Department of Tourism (DOT) said there will be no more "Laboracay" parties in the island resort.
To promote an environment-friendly atmosphere, smoking and drinking will also be strictly prohibited.
Tourism Secretary Bernadette Romulo-Puyat said the rehabilitated Boracay could no longer accommodate a huge number of tourists who will flock there during "Laboracay" parties.
Puyat said the inter-agency team tasked to rehabilitate Boracay has decided to put a carrying capacity on the island, which means tourist arrivals will be limited.
"No more 'Laboracay' parties, why? Because, first we have a carrying capacity, and with 'Laboracay' we have about 60,000 to 70,000 tourists in three days. Definitely, Boracay island cannot accommodate that number of people," Puyat said.
She said they could not yet determine the exact number as far as the carrying capacity is concerned.
She said Department of Environment and Natural Resources (DENR) Secretary Roy Cimatu will determine the number of people that the resort island could accommodate at any given time.
The DENR and the DOT are the national government agencies tasked to rehabilitate Boracay along with the Department of the Interior and Local Government (DILG).
Aside from putting an end to "Laboracay" parties, Puyat said smoking and drinking in public places and on the beach will also be prohibited as soon as the island opens to the public.
"No more drinking and smoking in the white sand, why? Because this is a public beach; do you want your children, your family to walk around the beach with broken glass and cigarette butts?" she said.
She said both foreign and local tourists will be allowed to smoke and drink only in designated places.
Puyat, meanwhile, urged all tourists to observe sustainable development as soon as Boracay will be opened to the public to ensure that it will not suffer the same problem that led to its temporary closure.
President Duterte ordered the holiday destination off-limits to tourists last April, saying the tiny island has become a "cesspool" tainted by dumped sewage.
Boracay was known as the crown jewel of Philippine tourism with its world-famous powdery white sand, but unchecked tourism and environmental degradation made it far from the tropical paradise it was decades ago.
Authorities said some of the hundreds of tourism-related hotels and restaurants use the island's drainage system to send untreated sewage into its surrounding turquoise waters.
Officials said they would complete the rehabilitation of the island resort and launch the opening on Oct. 31.
The DOT said it would launch a worldwide advertising campaign and strengthen promotions of various Philippine destinations, including Boracay, to lure more visitors to the Philippines this year.
"This campaign is projected to entice more travelers to visit more destinations in addition to Boracay, as trainings and workshops for better sustainability practices are now being disseminated to industry players all over the country, guaranteed to provide better services to future clients," the DOT said in a statement yesterday.
The DOT added the campaign would be launched in the following months.
Tourism Undersecretary and spokesman Benito Bengzon Jr. said a better and more sustainable Boracay is set to welcome back visitors on its soft opening on Oct. 26 and is expected to usher in newer and bigger markets awaiting the island's full recovery. – With Catherine Talavera