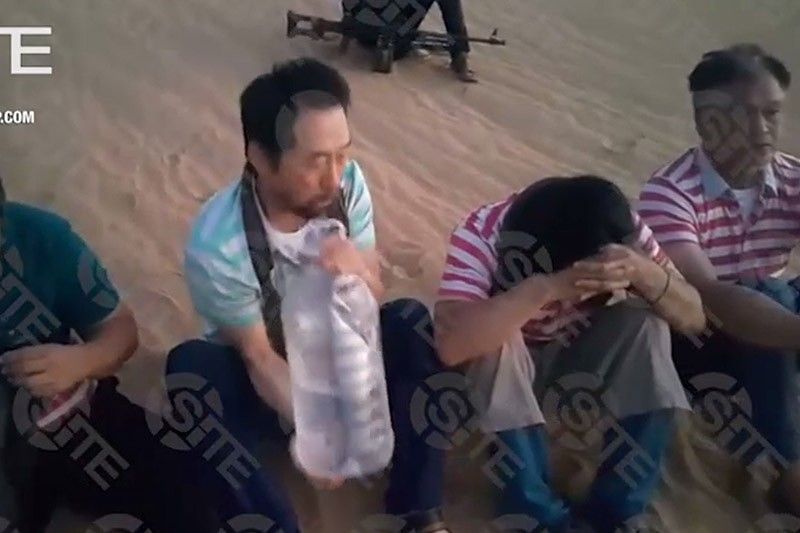 This screen grab image taken from video released on Aug. 1, 2018 and provided courtesy of the SITE Intelligence Group shows four hostages, one from South Korea and three from the Philippines, who are foreign employees of an engineering company in Tripoli, pictured sitting in the desert at an undisclosed location, according to SITE. Seoul said on August 2 it had deployed a warship to Libya in an apparent show of force to secure the release of a South Korean national kidnapped along with three Filipinos in the North African country.
AFP photo/Site Intelligence Group
Philippine Navy readies 'force package' to save Filipino captives in Libya
(Philstar.com) - August 4, 2018 - 6:11pm
MANILA, Philippines — The Philippine Navy on Saturday said its fleet-marine unit is preparing an "appropriate force package" following the kidnapping of three Filipino engineers and one South Korean in Libya.
This was after President Rodrigo Duterte on Friday said he was planning to send a frigate to Libya to help rescue the abducted Filipinos.
"As your Philippine Navy completes the facts on the ground, it is also preparing for the deployment of a Naval Task Group to assist the Department of Foreign Affairs in the situation in Libya," the Navy said.
"The Libyan authorities have been exerting all efforts for the past month to ascertain the identity of the perpetrators and for the recovery of the kidnapped nationals," they added.
The Filipino engineers and the South Korean were taken in an attack on a water project site in western Libya on July 6. A video posted on social media earlier showed the four hostages being held by armed men.
South Korea deployed to Libya earlier this week the 4,000-ton warship Munmu the Great, which will take part in anti-piracy operations in the Gulf of Aden.
Since former Libyan dictator Moamer Kadhafi was ousted from power and killed in 2011, foreign workers and diplomatic missions have frequently been targeted by militias or jihadists such as the Islamic State group. — Ian Nicolas Cigaral with AFP