Duterte mulls sending frigate to Libya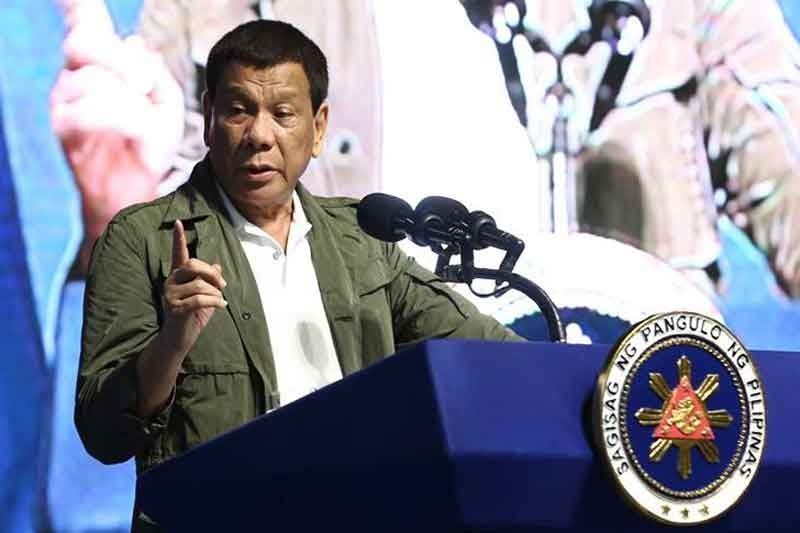 DAVAO CITY, Philippines — President Duterte vowed to send a frigate to Libya in an effort to secure the release of three Filipino engineers who were kidnapped along with a South Korean national in the North African country early last month.
"You know, I am not joking. I would also send a frigate, three of our countrymen are there. I would order them to fire at the kidnappers if you see them, they are getting used to kidnapping. (South) Korea has sent one, I would also send mine," the President said in Filipino during the inauguration of the Northern Mindanao Wellness and Reintegration Center in Malaybalay, Bukidnon early last night.
He added that he would consider "within the night" if he would send two frigates instead.
However, he also said that he would discuss the matter during the command conference of both the Armed Forces of the Philippines and the Philippine National Police commanders after the scheduled Cabinet meeting on Aug. 7.
South Korea deployed to Libya earlier this week the 4,000-ton warship Munmu the Great, which will take part in anti-piracy operations in the Gulf of Aden.
Seoul said that in addition to "carrying out its duty of protecting commercial vessels, (the warship) is also preparing for all possibilities, including the need for military support."
The three Filipino engineers and a South Korean were taken in an attack on a water project site in western Libya on July 6. A video posted on social media earlier showed the four hostages being held by armed men.
The Philippines is also in close coordination with other countries with regard to the rescue of the hostages.
Duterte said there is no point in kidnapping people who are just working on ships.
Presidential spokesman Harry Roque Jr. said the government is working on the release of the kidnapped Filipinos although a plan to send a high-level mission was aborted due to security concerns. He was supposed to join the team led by Labor Secretary Silvestre Bello III that was supposed to leave for Libya to make proper representation.
"You know, truth to tell is Secretary Bello and I were supposed to fly to Libya. But it was cancelled because there were security considerations; but we took steps to prepare for the trip and it was expressly to rescue the Filipino captains kidnapped by bandits in Libya," he said.
At the press briefing in Malaybalay, Roque assured the public that the government is doing its best to secure the Filipino victims.
"So your question is: are there efforts? Yes, and it involves very high-level members of government to rescue our nationals in Libya," he said. – With Christina Mendez