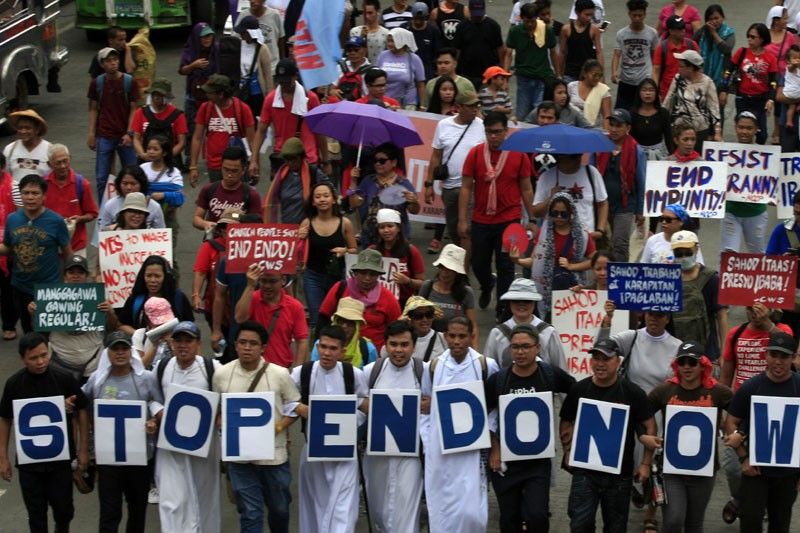 Partido ng Manggagawa (PM) members yesterday said they expect the struggle for security of tenure to be more difficult before Congress.
Edd Gumban
Workers see tougher fight over 'endo' in Congress
MANILA, Philippines — Workers see a tougher fight ahead after President Duterte tossed to Congress the ultimate resolution of their call to end contractualization.
Partido ng Manggagawa (PM) members yesterday said they expect the struggle for security of tenure to be more difficult before Congress.
"A bigger question, consequently, is bothering our workers now: will Congress, which is known for greasy political horse-trading, stand stronger than the mightiest President this country ever had?" PM chair Renato Magtubo said.
"After more than two years of protest actions, negotiations and labor groups' dutiful drafting of five drafts of an EO, big business and their captured officials in Department of Trade and Industry and Department of Labor and Employment won the heart of the President. The die is cast here and in this episode of class battle, it is the side of capital that gained momentum with their effective capture of the executive, including the President," he added.
Magtubo pointed out that the President admitted that the yet unnumbered executive order is limited only to what is provided under the Labor Code, but he never mentioned that such limitation is surmountable by the grant of executive powers to the President and the labor secretary (Article 106) to prohibit contracting and subcontracting.
The five drafts that labor groups submitted to Duterte have addressed that concern by providing exemptions to allowable forms of contractualization upon consultation with the tripartite council.
"The President said he cannot be a legislator to correct the Labor Code's constraints. That, to us, sounded so legalese and diplomatic for a President known for unorthodox political brinkmanship," Magtubo said.
The Associated Labor Unions (ALU) is hoping the Senate will be sympathetic to the plight of the abused and exploited workers.
"We hope the Senate will not be influenced by unscrupulous employers or businessmen," ALU spokesman Alan Tanjusay said.
Leftist lawmakers yesterday expressed dismay over Duterte's executive order banning "endo" or end of contract practice of many employers, saying the issuance is a piece of garbage.
"It's useless because the Labor Code already prohibits labor-only contracting. What is needed is a ban on all forms of job contracting," Bayan Muna Rep. Carlos Zarate said.
Zarate pointed out that by issuing the order, the President tried to mask his turnaround on his campaign promise to stop all types of labor contracting and to ensure workers' security of tenure.
Anakpawis Rep. Ariel Casilao said the EO contains no new prohibition and only reiterates what the labor law already provides.
He said what labor groups are demanding is a total ban on labor contracting, except in cases where jobs are seasonal or project-based.
Kabataan Rep. Sarah Elago said Duterte's issuance "does not live up to its promise of strengthening workers' security of tenure."
She said many employers go around the law to avoid regularizing their employees and "evade providing higher wages and benefits" by hiring workers from job contractors.
Party-list group Gabriela said Duterte's EO merely reiterates provisions of the Labor Code "that do not in any way mandate the regularization of all workers."
"There's nothing new in the EO except the fact that it represents Duterte's desperation to douse the wrath of Filipino workers with cold water. But women and the workers will not be duped with this useless piece of paper," the group added.
Labor groups also expressed disgust over Duterte's order, saying it is a mere publicity stunt to appease restive workers.
"The EO is practically useless in solving the gravest problem of workers today. Rather than reverse the institutionalization of labor contracting under Department Order 174, it only affirmed the exploitative practice," Nagkaisa labor coalition said.