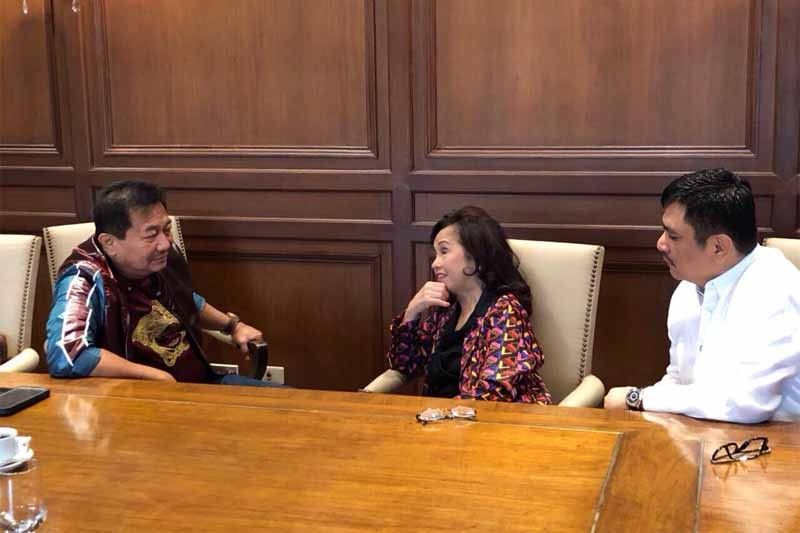 For the first time after Pampanga Rep. Gloria Macapagal Arroyo unseated Davao Del Norte Rep. Pantaleon Alvarez, the two lawmakers personally met.
Rep. Aurelio "Dong" Gonzales/Released
Arroyo, Alvarez meet after House leadership change
(Philstar.com) - July 25, 2018 - 4:41pm
MANILA, Philippines — Two days after the sudden transfer of House speakership, new House Speaker Gloria Macapagal-Arroyo and predecessor Davao Del Norte Rep. Pantaleon Alvarez personally met for the very first time.
A television report said Arroyo met with Alvarez after the former speaker expressed interest to see in her office.
The new speaker also reportedly offered her current office to Alvarez.
"It was good, very cordial," Arroyo said of the meeting in a recorded chance interview.
Asked if Alvarez made a concession during their meeting, Arroyo replied that she would rather not talk about their privilege conversation.
"I'm not talking about our privilege conversation," Arroyo reiterated when she was asked to detail the meeting.
Arroyo also said met with ruling party PDP-Laban and laid out the priority measures.
"I repated what I said that our job is to carry out the work of the legislative agenda of President Rodrigo Duterte and then as I said--- that looking at the legislative agenda he talked about in his new SONA," Arroyo said.
Among the legislative agenda Arroyo enumerated was the coconut farmers' fund, National Land Use Act, and the proposed disaster management department. She said the first two measures mentioned were already with the Senate while the disaster management department is still in the technical group.
"This morning I had a meeting with Joey Salceda he said that he's done [with Disaster Management Department proposal] but he had not reported it out because there are issues raised by the PMS (Presidential Management Staff)," the speaker said.
Arroyo took oath as House Speaker twice on Monday. She was sworn in for the first time hours before the president's third State of the Nation Address causing power struggle at the lower chamber and was formally sworn in again in a session held after the State of the Nation Address.
On Wednesday, House adopted a resolution entering into the record the July 23 proceedings that installed Arroyo as house speaker. A total of 184 lawmakers elected Arroyo during the Monday session. — Rosette Adel
READ: Arroyo takes oath as speaker; Alvarez welcomes Duterte | House formally elects Arroyo as speaker