Arroyo takes oath as speaker; Alvarez welcomes Duterte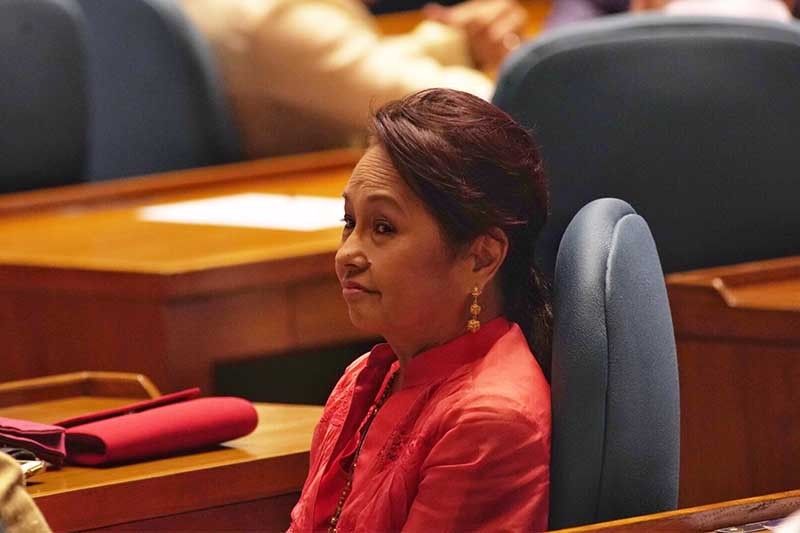 MANILA, Philippines (Updated 4:47 p.m.) — Rep. Gloria Macapagal- Arroyo (Pampanga) on Monday took her oath as the House of Representatives' new speaker, apparently replacing Rep. Pantaleon Alvarez (Davao Del Norte) during a crucial time in government efforts to amend the constitution.
Talk about the ouster of Alvarez had been rife in recent months, most especially after his public rift with the daughter of President Rodrigo Duterte, Davao City Mayor Sara Duterte-Carpio, who has formed a regional party in Mindanao.
Pampanga Rep. Gloria Arroyo appears to have taken her oath as new House Speaker. #SONALive | via @ipcigaral pic.twitter.com/lT2wPBfVCF

— Philstar.com (@PhilstarNews) July 23, 2018
As of Monday afternoon, close to an hour past the time President Rodrigo Duterte was supposed to give his State of the Nation Address, it is unclear whether Arroyo's election is valid. It was Alvarez who met Duterte when he arrived at the House.
According to multiple media reports, the plan to oust Alvarez and install Arroyo was finalized over the weekend, with the surrogates of the president's daughter working for her.
The session hall of the House of Representatives was tense on Monday as lawmakers from both camps worked to secure the needed 147 votes to secure the position for Alvarez or unseat him and elect Arroyo.
The session was abruptly adjourned a few minutes after noon on Monday following an hour of talks among lawmakers.
This adjournment basically allowed Alvarez to dodge a bullet but only for a few minutes.
After the adjournment, a manifesto of support for Arroyo's election as House speaker circulated in the plenary.
Support for Arroyo gradually gathered until her supporters got the needed majority votes, paving the way for her ascension to the third fourth highest position in government.
At one point, Rep. Rolando Andaya (Camarines Sur), who was the Budget secretary of Arroyo, was speaking and questioning the decision of the leadership to abrupty adjourn when the audio feed of the proceedings was cut.
Camsur Rep. Andaya was speaking at the plenary when his audio was abruptly cut. #SONALive | via @ipcigaral pic.twitter.com/cpF1OKxxs1

— Philstar.com (@PhilstarNews) July 23, 2018
This is a dramatic political rehabilitation for Arroyo, who was jailed for allegations of corruption during the time of President Benigno Aquino III. She has since been acquitted of charges.
Arroyo became chief executive in 2001 after a popular military-backed revolt ousted former President Joseph Estrada over allegations of corruption in his government. Estrada was later convicted of plunder only to be pardoned by Arroyo.
LOOK: Rep. Arroyo's oath-taking as House speaker.

Sen. Koko Pimentel has called on other members of PDP-Laban, the party of President Duterte, to rally behind Rep. Alvarez amid the power struggle, a report says.

Pimentel is president of PDP-Laban. #SONALive pic.twitter.com/Fu91pLA7Cd

— Philstar.com (@PhilstarNews) July 23, 2018
In 2004, she won a presidential election that was marred by cheating allegations, despite her initial pledge in December 2003 not to seek another term.
In 2005, allegations of cheating, known as the "Hello, Garci" scandal, exploded, and Arroyo's hold on power never looked so brittle.
Now that she is speaker, she holds a considerable amount of power and is given the task to steer the legislative agenda of the president in the House.
UPDATE:
The House of Representatives has formally elected Rep. Gloria Arroyo as speaker. Read the story
here
.
Related video: