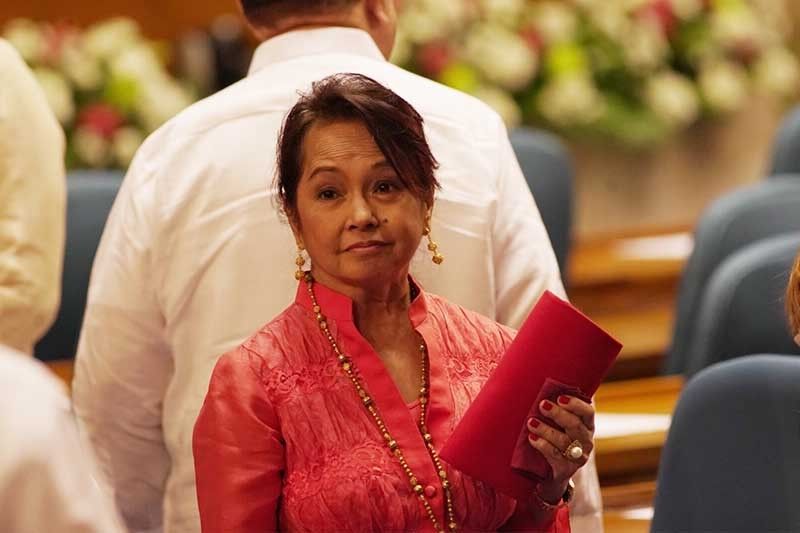 Allies of Rep. Gloria Arroyo (Pampanga) are gathering signatures to elect her speaker.
Philstar.com/AJ Bolando
Arroyo allies call for leadership change at House
MANILA, Philippines — A document calling for the election of Rep. Gloria Macapagal-Arroyo (Pampanga) is circulating in the House of Representatives, as a showdown between the former Philippine leader and Speaker Pantaleon Alvarez continues to loom over the first day of a new session of Congress.
Should Arroyo, a former president, succeed, she will be the first woman to hold the leadership of the chamber.
Before Monday's rumors of a reshuffle, talk of the election of a replacement for Alvarez had been swirling for months.
Alvarez said that he would not resent being replaced as the leader of the chamber, adding that this would even be favorable to him as this would reduce his work load.
The Davao Del Norte representative, secretary-general of the ruling PDP-Laban party, is a political ally of President Rodrigo Duterte and was his handpicked leader of the House when he became president in 2016.
Alvarez said in recent weeks that the postponement of the 2019 midterm elections was needed in order for Congress to focue on the proposed changes to the constitution.
It was an intense day for members of the House, whose session was abruptly adjourned a few minutes after 12 noon after almost an hour of talks among members of the majority caucus.
Minutes later, some House members were asked to return to the session hall where a petition asking for the replacement of Alvarez by Arroyo as speaker.
"We, the elected members of the House of Representatives of the 17th Congress,...have formed a coalition to endorse and support the election of our colleague Representative Gloria Macapagal-Arroyo as speaker of the House of Representatives," a draft of the manifesto read.
The document said that there was a need for a "credible and competent House leadership" to guide the discussions on the pending issues that would strengthen the country including the proposals to amend the 1987 Constitution.
The manifesto said that there was a need for a more proactive legislative agenda that would safeguard the economic growth and security of the country as Duterte entered the mid-point of his term.
Arroyo became president in 2001 after a popular military-backed uprising ousted former President Joseph Estrada over allegations of corruption in his government. Estrada was later convicted of plunder and then pardoned.
In 2004, despite initial promise not to seek another term, Arroyo ran and won a six-year term as president amid accusations that she committed massive cheating to defeat actor Fernando Poe Jr., her main rival for the presidency.
Her presidency was marked allegations of corruption, and during the time of her successor, Benigno Aquino III, she was incarcerated over allegations of graft.