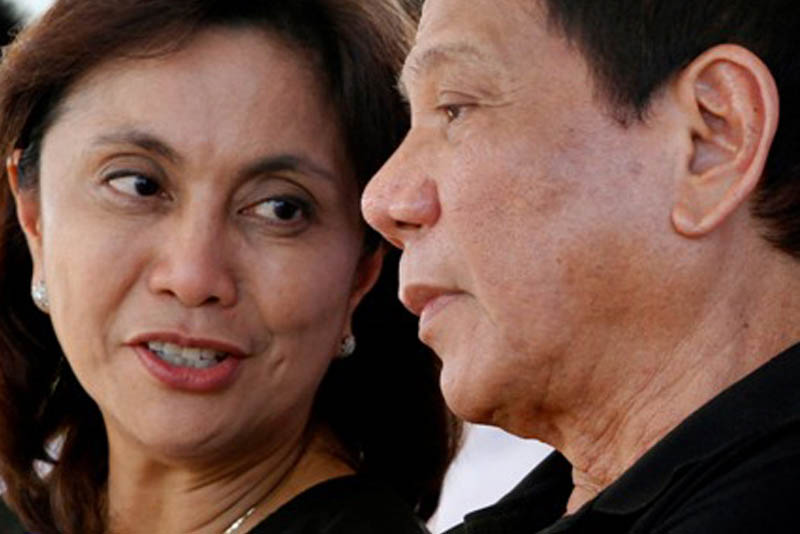 In this Nov. 8, 2016 photo, President Rodrigo Duterte chats with Vice President Leni Robredo on the sidelines of the commemoration of Typhoon Yolanda in Tacloban City.
PPD/Exequiel Supera
Robredo fires back at Duterte: Mind economy instead of insulting God, me
MANILA, Philippines — Vice President Leni Robredo on Wednesday shot back at President Rodrigo Duterte for saying that she could not lead the Philippines because she is incompetent, saying the chief executive should pay attention to the economy first.
This is one of the few instances in which Robredo directly engaged the president in an exchange of words, and this comes a day after the vice president said she was ready to unite and lead the political opposition.
Discussing the possibility of truncating his term if the country shifts to a federal form of government, Duterte said that he would not step down from power just to make Robredo the president.
He claimed that Robredo is "incompetent" and did not have the ability to lead the nation.
"I will not resign because it will make her president. My resignation is addressed to the people for them to choose whom they want. I don't think she will ever be ready to govern a country. Reason? Incompetence. She's not capable of running a country like this Philippines," Duterte claimed in a press conference with reporters in Pampanga on Tuesday.
Duterte himself promised to resign should he fail to eradicate illegal drugs in the country in three to six months only to renege on this after assuming the presidency.
In response, Robredo advised the president to mind the problems hounding the economy instead of issuing tirades against her or God.
"I did not want to dignify this but perhaps what I can say is instead of insulting me or God, the problems of the economy should be attended to first," the vice president said in Filipino.
Last month, the Philippines recorded an inflation rate of 5.2 percent from May's 4.6 percent, the highest in five years. This pushed the year-to-date inflation to 4.3 percent.
The peso also continues to be weak against the dollar, but Duterte's economic managers said that this was not a cause for concern.
Duterte also received a whirlwind of criticism after he called God "stupid" only to take back his comment and clarify that he was referring to the God of his critics.
Barry Gutierrez, a spokesperson for the vice president, also clarified that Robredo had always been willing to cooperate with the government to help Filipinos after presidential spokesman Harry Roque said that she tried to apply for a government post.
"Willingness to cooperate is very different from 'applying' for a post," Gutierrez said.
Liberal Party senators also came to Robredo's defense and said that the vice president had shown her leadership competence through her efforts to help the poor.