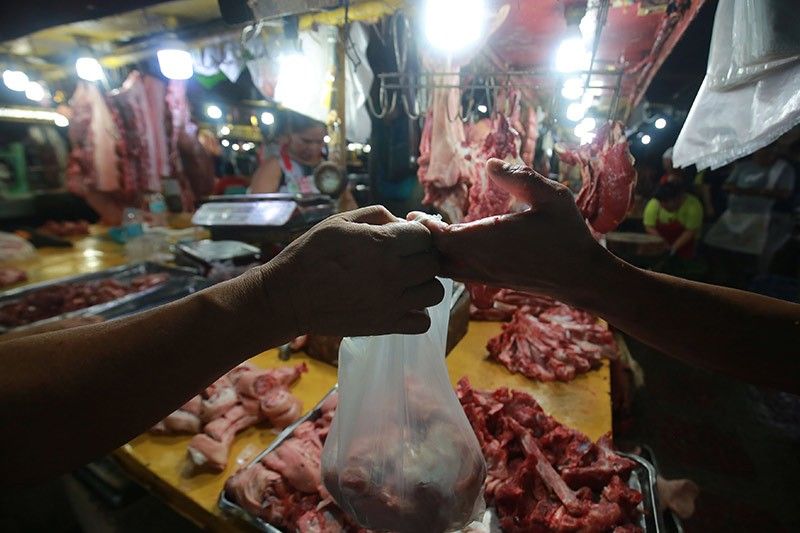 A vendor hands over chopped meat to a customer at Nepa Q Mart market in Kamuning, Quezon City on Tuesday, July 3, 2018.
The STAR/Michael Varcas
Inflation jumps to new 5-year high in June, beats forecasts
BSP chief: June inflation a 'setback'
MANILA, Philippines — The overall increase in prices of key consumer items spiked to a fresh five-year high in June, beating the central bank's forecast for the month and market estimates.
Inflation accelerated to 5.2 percent in June from May's 4.6 percent. Year-to-date, inflation averaged 4.3 percent, above the Bangko Sentral ng Pilipinas' 2-4 percent target range.
The central bank had expected inflation to settle within 4.3-5.1 percent range in June while market watchers had projected an inflation rate of 4.8 percent.
Broken down, the higher-than-expected price hikes in June was driven by a surge in prices of alcohol and tobacco (20.8 percent), transport (7.1 percent) and food (6.1 percent).
In a statement, BSP Governor Nestor Espenilla said the central bank "reaffirms" its commitment to bring inflation back on target "as soon as possible."
"Higher-than-expected June inflation outcome is a setback. We will review and update our situational assessment and forecast inflation path," Espenilla said.
"This will shape the strength and timing of our next monetary policy response to firmly anchor inflation expectations," he added.
People have blamed soaring prices on the Duterte administration's Tax Reform for Acceleration and Inclusion law, which lowers personal income taxes while raising excise levies on fuel and "sin" products, among others.
Supply-side factors like higher global oil prices—worsened by the continuing depreciation of the peso—are also pushing up commodity prices.
Rate hike calls mount
In a bid to fight inflation and strengthen the local currency, the BSP has introduced back-to-back rate hikes this year. But analysts say more monetary policy actions are necessary to temper inflation.
The central bank has admitted it might miss its target as inflation is projected to average 4.5 percent in 2018, amid risks posed by "second-round" pressures from expected higher minimum wages and public transport fares. But policymakers have vowed to put inflation back on target next year.
"The BSP is behind the curve. Inflation accelerated past target, again. Meaning that it needs to do more to cool an overheating economy," Trinh Nguyen, senior economist at Natixis, said in a commentary.
"Not only do we have loose monetary policy (real rates low), fiscal policy is also lax. Trade deficit wider," she added.
Separately, Ruben Carlo Asuncion, chief economist at Union Bank, said the BSP may adjust key rates anew in its next meetings.
"I expected a 4.7 percent on the back of slowing month-on-month momentum. However, I have not discounted another rate hike by next meeting and possibly another one by the end of the year based on how inflation eventually behaves," Asuncion said.
"This 5.2 percent is higher-than-expected. Nobody in the survey I think expected this. Moving forward, inflation expectations must be anchored accordingly," he added.
Meanwhile, analysts at Nomura said headline inflation will likely peak only around August or September, before gradually easing from there.
"That said, we believe the risks around our CPI (consumer price index) forecast may now be tilted more to the upside because of upcoming supply-side factors, such as impending increases in power rates and the impact of a higher coal tax," Nomura said in a research note.
"We believe inflation expectations are also likely to rise further, as evident in rising demand for wage increases," it added.
Monetary authorities will meet again in August to review policy settings. — with a report from BusinessWorld
As It Happens
LATEST UPDATE: July 18, 2018 - 10:22am
The Philippines is the third largest remittance recipient in the world in 2017 with $33 billion, a World Bank report states.
Topping the list were India with $69 billion, followed by China ($64 billion), the Philippines, Mexico ($31 billion), Nigeria ($22 billion) and Egypt ($20 billion).
The report adds that payments from immigrants back to their home countries reached a new record in 2017 but the costs of transferring funds also increased.
In a release April last year, the Philippine Statistics Authority said there were an estimated 2.2 million overseas Filipino workers abroad at any time during the period April to September 2016. — AFP
July 18, 2018 - 10:22am
Global debt watcher Fitch Ratings has kept the Philippines' "BBB" rating, one notch above minimum investment grade, with a stable outlook.
"The Philippines' sovereign ratings balance a favourable growth outlook, government debt levels that are below peer medians, a net external creditor position and policies geared towards maintaining macrostability against lower income per capita and weaker governance and business environment indicators compared with its rating category peers," Fitch says in a statement.
A higher rating can lower the cost of borrowing in foreign currencies and can increase the country's ability to attract foreign investment.
July 5, 2018 - 9:15am
Philippine inflation accelerates to 5.2 percent in June from May's 4.6 percent, beating the central bank's forecast and market estimates.
June 20, 2018 - 4:08pm
As widely expected, the Bangko Sentral ng Pilipinas has raised its benchmark interest rates anew following a similar move last May as inflation expectations "remain elevated" for 2018.
At its policy meeting, the BSP's Monetary Board raises interest rate on RRP by 25 basis points to 3.50 percent effective June 21. Interest rates on overnight lending and deposit facilities are likewise lifted accordingly.
June 5, 2018 - 9:07am
Philippine inflation in May 2018 accelerates to 4.6 percent, a fresh five-year high for the country.
May 10, 2018 - 4:14pm
For the first time in nearly four years, the Bangko Sentral ng Pilipinas on Thursday finally lifts key rates to tame rising inflation.
During the Monetary Board's third policy review for this year, the central bank decides to raise overnight reverse repurchase rate by 25 basis points from record-low 3.0 percent. Interest rates on overnight lending & deposit facilities are likewise hiked accordingly.
"In deciding to raise policy interest rate, the Monetary Board noted that latest forecasts have further shifted higher indicating that inflation pressures could become more broad-based over the policy horizon," Governor Nestor Espenilla says.
"The Monetary Board believes that a timely increase in the BSP's policy interest rate will help arrest potential 2nd round effects by tempering the buildup in inflation expectations," he adds.