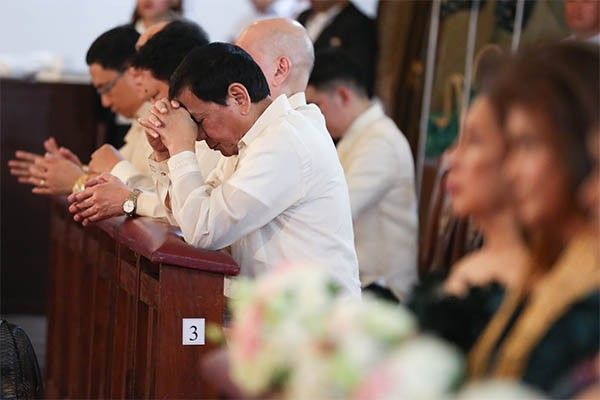 President Rodrigo Duterte prays during the mass at the wedding of Waldo and Regine Carpio at San Agustin Church in Intramurous, Manila on September 16, 2017.
King Rodriguez/PPD, file
'Your God is stupid. Mine has a lot of common sense,' Duterte says
MANILA, Philippines — President Rodrigo Duterte on Monday stuck to his guns on his comment that God is "stupid" but clarified that he was insulting the God of his critics.
The president was widely criticized for questioning the Genesis creation story and saying that God was "stupid" for allowing temptation to corrupt his creation.
This was Duterte's latest attack on the Catholic Church, whose priests he has criticized for corruption and hypocrisy. He also questioned the teachings of the Catholic church, which has been critical of his administration's human rights violations.
In an attempt to clarify his remarks, the chief executive said that he was not talking about his God and was instead insulting the God of his critics.
According to Pew Research Center data, there were an estimated 86.79 million Christians in the Philippines in 2010. Of that number, 75.94 million were Catholic, around 10 million were Protestant, and around 820,000 were classified as "other Christian." Christians believe there is only one God.
"Wala akong sinabing torpe ang Ginoo ko (I did not say that my God was sheepish)," the president said, without clarifying whom he meant.
"What I said was your God is not my God because your God is stupid. Mine has a lot of common sense," Duterte added.
During his speech at the oath-taking of newly-elected village chairpersons, Duterte again questioned the logic behind the Genesis creation narrative.
At one point, he even called the creation of the first woman, Eve, as "the greatest mistake of God."
RELATED: Duterte: I'm not a chauvinist, I just really like girls
Duterte again questioned why God had to tempt mankind and destroy his creation by falsely claiming that God had sent the serpent to tempt Eve.
He also labeled the Catholic belief in the concept of original sin as an "idiotic proposition."
Duterte also challenged his critics to prove that their God was perfect and offered to kneel down and ask for forgiveness if they were able to do so.
The Catholic Church does not teach a literal interpretation of the creation story and stresses that the story employed "figurative language [but] affirms a primeval event, a deed that took place at the beginning of the history of man."
Palace counters with Church scandals
Malacañang, in an effort to defend the president, brought up the issue on the child abuse scandal that rocked the Catholic Church.
Presidential spokesperson Harry Roque said that the president's comments stemmed from his bad experience with priests when he was younger. Duterte claimed that he was abused by an American priest when he was still studying at Ateneo de Davao.
Roque, a lawyer, also sidestepped the issue on the president's remarks and instead urged the Catholic Church to apologize for the abuses of some of its priests.
Several senators and religions groups have panned the president for his remarks, with one lawmaker labeling his statement as the "height of arrogance of power."
The president meanwhile accused his critics of taking advantage of the issue and riding on the wave of criticism over his comments.