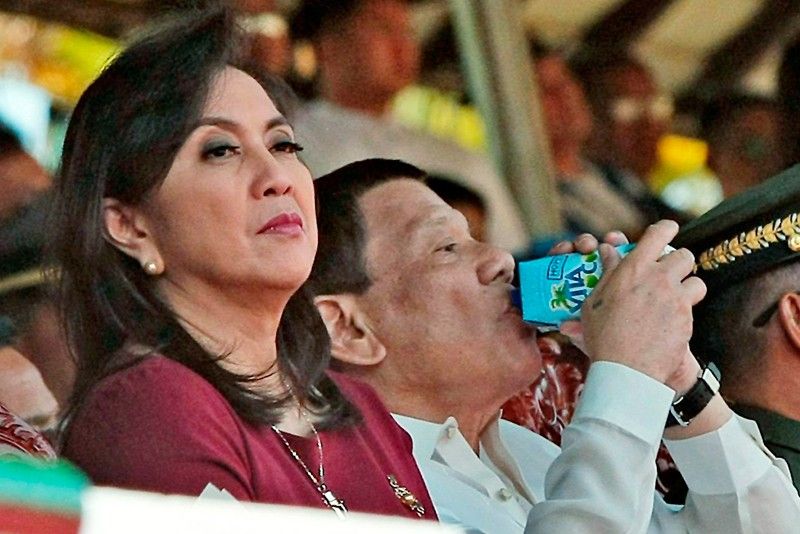 Vice President Leni Robredo sits beside President Rodrigo Duterte during the commencement exercises of the Philippine Military Academy's Alab Tala Class of 2018 in Baguio City.
The STAR/Andy Zapata Jr.
Duterte: I won't resign to make 'incompetent' Robredo president
MANILA, Philippines — Vice President Leni Robredo is "incompetent" and incapable of leading a country such as the Philippines, President Rodrigo Duterte claimed on Tuesday.
Discussing about the possibility of shortening his term to pave the way for a transition to a federal form of government, Duterte said that he would not resign to make Robredo the president.
"I will not resign because it will make her president. My resignation is addressed to the people for them to choose whom they want. I don't think she will ever be ready to govern a country. Reason? Incompetence. She's not capable of running a country like this Philippines," Duterte claimed in press conference with reporters in Pampanga.
"I will not agree with a succession. Would you think that the other guy would be better than (me)?" he said.
Robredo and Duterte belong to opposing sides of the political fence, and the vice president has been sidelined in most of the government's affairs and activities.
Despite this and the small budget of her office, Robredo has launched three projects to make the Office of the Vice President "more relevant."
In a press conference in Quezon City on Tuesday, Robredo said that her Angat Buhay initiative, a project where the OVP partners with private groups to bring help to communities, had already extended around P252 million worth of assistance to 155,000 Filipinos families.
Aside from Angat Buhay, Robredo has also launched the Metro Laylayan program to extend aid to poor Filipinos in Metro Manila and the Istorya ng Pag-asa project to highlight stories that would promote hope among our countrymen.
Aside from reporting her office's achievements, Robredo also said that she was already ready to lead a united opposition against Duterte and his policies.
Robredo said that she had accepted the invitation of several groups seeking her leadership
Presidential spokesman Harry Roque said that this decision was "hardly surprising" as she is the highest government official from the erstwhile ruling Liberal Party.
Roque said they expected the opposition to promote a higher level of "political debate" and offer alternative platforms of governance.
"Our people deserve no less," said Roque, who in the past has tried to explain away many of Duterte's controversial statements on many sectors and groups unrelated to governance.
Duterte also said that it was up to Congress to act on his wish to have his term cut short.
"That is up to Congress to decide. It already with the Bicam and of course the consultative [committee] out of respect for Justice Puno and his colleagues. But I already told them yesterday I'm willing to step down, call for an election, elect a new leader and go on with the transition," he said.
Duterte said that he could be out of office as soon as a stable and working transition government was in place.