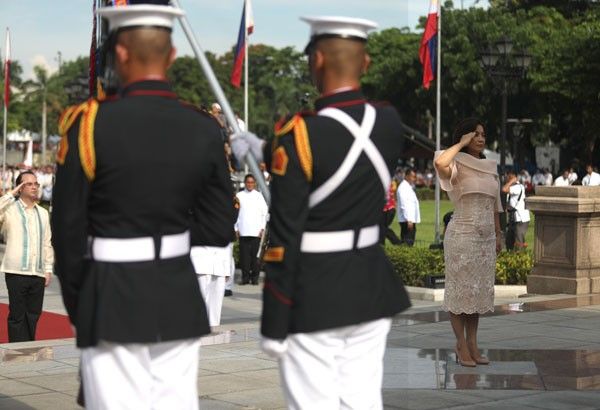 In this June 12, 2017 file photo, Vice President Leni Robredo leads the Independence Day rites at Rizal Park after President Rodrigo Duterte failed to attend due to personal issues.
Office of the Vice President, File
Liberal Party senators defend Robredo from Duterte's 'incompetent' comment
MANILA, Philippines — Two Liberal Party allies of Vice President Leni Robredo on Wednesday defended her from President Rodrigo Duterte's comment that she was incompetent to lead the country.
In separate statements, Sen. Francis "Kiko" Pangilinan and Sen. Paolo Benigno "Bam" Aquino IV said Robredo had demonstrated her leadership competence through her efforts to help Filipinos, especially the poor.
Pangilinan, who is the president of the Liberal Party, said Robredo had shown her competence through "compassionate, empowering and responsible leadership."
He said that Duterte's remarks were simply a digression from the issues hounding his administration such as the rising prices of goods and services, police abuse, street violence and Chinese encroachment on Philippine territory in the South China Sea.
"Without a Cabinet position, she has marshaled partners from the private sector to extend P252-million worth of aid for 155,000 families through her Angat Buhay program," Pangilinan said of Robredo.
Duterte, whose administration is trying to arrest a five-year high inflation rate and combat rising violence as shown by attacks on local government officials, said on Tuesday that he would not step down from power just to make Robredo president.
He said that the reason for this was the vice president's incompetence.
"I don't think she will ever be ready to govern a country. Reason? Incompetence. She's not capable of running a country like this Philippines," said Duterte, who vowed at the beginning of his term to step down should he fail to eradicate illegal drugs in the Philippines.
He has since admitted that it would take more time to combat the problem.
This statement prompted Robredo's legal adviser, Barry Guitierrez to enumerate the issues facing the administration and retort in Filipino: "Incompetent? Look who's talking."
Aquino meanwhile said that Robredo had already proven her compassion for the poor and the oppressed even before her stint in government.
Robredo was a lawyer who provided free legal assistance to poor Filipinos before she became a member of Congress.
"For me, the real standard of a leader's competence is her ability to find solutions to the problems of the people," Aquino said.
"The communities that VP Leni helped are proof of her abilities," he added.
Robredo and Duterte belong to different political parties, and this led to her being sidelined in many of the government's affairs and activities.
Despite this and her office's small budget, Robredo launched three projects to make the Office of the Vice President "more relevant."
Robredo, in a press conference in Quezon City on Tuesday morning, said that her Angat Buhay project had already extended around P252 million worth of assistance to 155,000 families.
She also launched the Story of Hope project and the Metro Laylayan initiative to help poor communities in Metro Manila.