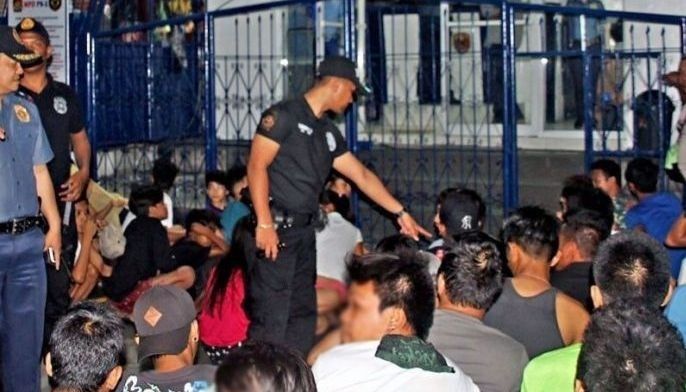 Police have arrested thousands of loiterers in Metro Manila during the past week. The president has been criticized for the roundup of loiterers, which is perceived to target mainly the poor.
Edd Gumban/File
Duterte: Drive vs 'tambays' legal unless SC says otherwise
MANILA, Philippines — The crackdown against loiterers or "tambays" will continue unless declared illegal by the Supreme Court, President Rodrigo Duterte said Monday.
Duterte said the campaign, which has been criticized for allegedly being prone to abuse by law enforcers, is part of the police power of the state.
"That (campaign) to me is legal, until the Supreme Court says it is illegal. Until the Supreme Court says they cannot do it. I am now invoking the police power of the state to establish order safety [and] that is not subject to a legislation," the president said during the oath-taking of barangay chiefs in Cagayan de Oro City.
"The president can order, the mayor can order, the barangay can order, issue regulations to protect public health, public safety public order and to protect the general welfare of the country," he added.
Duterte ordered the police to continue frisking people and to disregard the criticisms against the campaign.
"Do not believe in the criticisms, do not read it. It is none of your business to be reading what they are talking about, it is our business to follow what we are ordered to do," he said.
PNP: Enforcement of ordinances to continue
The president's statement came hours after Philippine National Police Director General Oscar Albayalde said that police will continue to arrest violators of city ordinances.
He said, however, that police should make sure that they will coordinate with village officials.
In a press conference, Albayalde stressed that there was no misinterpreation of Duterte's earlier directive to the Philippine National Plice.
The PNP chief said that loafers who had been accosted by policemen were approached because they were violating city ordinances and not because they were loitering.
"Let me clearly emphasize that there was never any misinterpretation of our president's earlier directive to the PNP to do everything within the bounds of the law. Loiterers were never targetted, only those violating local ordinances," Albayalde said.
During the National Information and Communications Technology Summit in Davao City on Friday, Duterte said that he never ordered the arrest of loiterers and loafers.
He said that he only directive the police to accost these individuals, claiming that he knew that loitering had already been decriminalized.
Concerns over the crackdown erupted after a Genesis Argoncillo, 22, died in his detention cell following his arrest during an anti-loitering operation.
Argoncillo was allegedly beaten up by two inmates although his family said that it was unconvinced of the explanation.
The PNP chief described Argoncillo's death as "tragic and unfortunate" and vowed to extend support to his family to achieve justice.
READ: NCRPO: No more arrest of tambays
He said that the PNP was already looking into the possible liability of police officers on duty when Argoncillo was beaten by inmates.
Cops should also exercise good judgment in accosting individuals on streets and should be led by their station commanders during their anti-ordinance violators operations, Albayalde said.
He also blamed village officials for their failure to implement city ordinances on drinking on streets and walking shirtless in the neighborhood.
"If only the village officials will do this religiously, implementing city ordinances, then the police need not conduct the operations themselves," Albayalde said.
He said that only a small percentage of those accosted were arrested, charged and detained while the rest were released to village officials and fined.
The PNP chief underscored that the campaign against ordinance violators is not anti-poor and is meant to prevent crimes and improve the sense of safety and security of people in the community. — with Alexis Romero