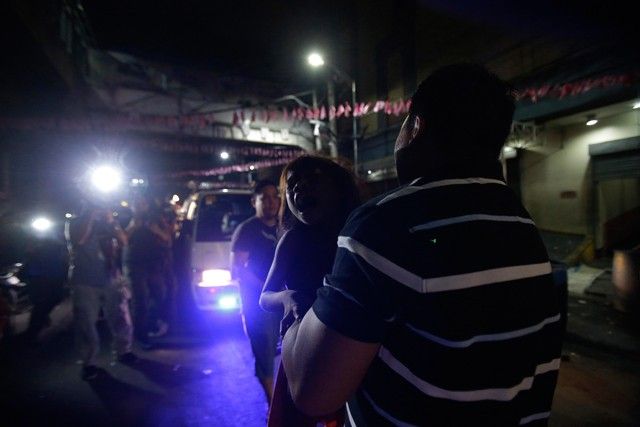 The directive covers people loitering in the streets but who have not committed any violation of ordinances such as drinking or smoking in public places and walking around half-naked on the streets.
File
NCRPO: No more arrest of tambays
MANILA, Philippines — National Capital Region Police Office (NCRPO) director Chief Supt. Guillermo Lorenzo Eleazar ordered yesterday all policemen not to arrest tambays or loiterers who are not violating any city or municipal ordinance, a day after President Duterte claimed that he did not order the arrest of loiterers.
"We issued guidelines that we will not arrest or bring to the police station those without violations," Eleazar told reporters in Quezon City.
The directive covers people loitering in the streets but who have not committed any violation of ordinances such as drinking or smoking in public places and walking around half-naked on the streets.
Minors violating the curfew will not be accosted provided they are accompanied by adults, said Eleazar.
Eleazar made the statement after Duterte said during the National Information and Communications Technology Summit in Davao City last Friday that he never ordered the arrest of tambays.
Duterte said he only ordered the police to accost and not arrest tambays, noting that loitering is not a crime.
A 22-year-old man identified as Genesis Argoncillo who was accosted in an anti-loitering operation in Barangay Sauyo, Quezon City last week died at the detention cell of the Novaliches police station 4 after the victim was allegedly beaten up by two inmates.
Eleazar said an investigation is ongoing to determine the administrative liabilities of five police officers, including Novaliches police station 4 commander Supt. Carlito Grijaldo, who were relieved from their posts.
Last week, Makati City policemen mistakenly arrested a group of men who were just waiting for a taxi to bring them to a pub.
The incident went viral on Facebook and the public outcry prompted top police officials to relieve two police officers responsible for the wrongful arrest.
Eleazar said he issued the new directive in the wake of allegations that some policemen have committed human rights abuses in compliance with Duterte's directive.
More than 7,000 alleged tambays have been rounded up in Metro Manila for offenses related to local ordinances.
While an individual who violated an ordinance can be arrested, Eleazar said policemen could exercise their sound discretion whether to just issue a verbal warning.
"As long as there is a violation you can be arrested, but it's up to the discretion of the police. They can just caution you," he said.
Eleazar also called on people who felt their rights were violated to file a formal complaint for them to start an investigation.
Duterte, according to Eleazar, has been consistent in his directives on anti-crime prevention measures.
"We will follow his orders based on existing laws," he said.
"When he said apprehend tambays, that is already an instruction for us to intensify our campaign against violators of ordinances," added Eleazar.
Meanwhile, Eleazar said the families of at least four detainees who died at Novaliches police station 4 in Quezon City could file complaints.
Eleazar also clarified yesterday that there is no anti-tambay campaign or a crackdown against vagrants and the recent operations were part of the intensified campaign against violators of city ordinances.
Eleazar insisted that there was never an anti-tambay campaign.
"Never nagkaroon ng Oplan Tambay, there is no directive against tambays. Ang ginagawa natin (What we're doing) is a campaign against violators of the local city ordinances," Eleazar told The STAR.
Noting Duterte's statement, Eleazar said the NCRPO will not stop with its campaign against violators of city ordinances, as he emphasized the provision of "warrantless arrest" granted to members of the Philippine National Police (PNP).
Eleazar explained the police are authorized to arrest persons who are clearly violating city or municipal ordinances in the absence of any warrant of arrest, which the police have been doing all along.
He said the ongoing operations are part of the police crime prevention campaign.
Eleazar said he has already instructed district directors in Metro Manila not to use the term "tambay" in their crackdown against violators of local ordinances.
The operations will be renamed "Oplan Disiplina" instead.
Change tambays to violators
Southern Police District (SPD) Director Chief Supt. Tomas Apolinario said he has changed the term tambays to violators of ordinances.
"Tuloy ang huli ng (We continue to arrest people for) violation of the city ordinances. Hindi tambay 'yan, pinabago na yung (It's not tambay; we've changed the) term. Nahuli (Arrested) because of local city ordinances," Apolinario said.
Asked if there was an order from the NCRPO to change the term in their campaign for peace and order, Apolinario said there was no such order, but they are now discussing it.
He added that the term tambay is no longer suitable for their campaign.
The police launched its crackdown against tambays a few hours after Duterte said on June 13 that those who will be caught loitering in the streets should be sent home or face apprehension.
Since then, the PNP has arrested nearly 10,000 street idlers nationwide.
In a forum with the consultative committee reviewing the Constitution (Concom) last week, Human Rights Commissioner Gwen Pimentel-Gana said that the public should know if the arrested persons have truly violated city ordinances.
"The police should state the legal basis for such operations and they should be very transparent so we have to know, are the 7,000 cases in accordance with city ordinances?" she said.
Gana also said the police should provide guidelines in implementing such campaign, as she emphasized that it should not be done based on a "general policy" that they can easily arrest a person.
Former chief justice and Concom chairman Reynato Puno said the PNP's campaign against street idlers is "a matter of the exercise of the power by the President to execute our laws."
"So the first question, is there a law which shall be executed? I understand you have existing ordinances against these practices and the ordinances do not necessarily call this practice as standby," he said.
Puno added that authorities should also look into the parameters of the existing ordinances and the parameters of the law "and adjust whether the execution of these ordinances would be in accord with these ordinances and with these laws."
The Bulacan police together with barangay officials continue to implement Oplan RODY (Rid the Streets of Drunkards and Youths) and rounded up 101 persons Friday night and early yesterday morning.
Senior Supt. Chito Bersaluna, acting Bulacan police director, said the policemen did not arrest any tambay but Oplan RODY in the last two days resulted in the arrest of 52 curfew violators, 39 persons drinking in public places, two for not wearing shirts in public place, eight others for other violations.
Fourteen of those rounded up were minors and the rest of legal age, who were given stern warnings before being turned over to barangay officials, Bersaluna added.
Public Attorney's Office (PAO) chief Persida Acosta ordered their field lawyers to assist individuals arrested for being a tambay.
Acosta said that since last Friday she has directed their PAO-National Capital Region (NCR) regional director Marlon Buan to provide assistance to apprehended loiterers.
"I told Atty. Buan to pay the fine of those who were arrested for loitering, to represent them in court and to pay the fine so they could be released. I will be the one who would look for sponsors who would be willing to shoulder the fine," said Acosta.
Their PAO-NCR should also ask the court to impose a lower fine for the apprehended person.
Another option is for the PAO is to take the vagrants into the custody of the PAO.
She is hopeful that those who are in prison for loitering would be released by Monday.
She also questioned why the PNP would imprison these individuals when their only offense was loitering and that the law against vagrancy has already been decriminalized.
Acosta recommended the police should only warn first time offenders and send them home, while recidivists should be brought to their barangay halls for counseling.
The barangay should also do its best to provide livelihood for their constituents who are tambays.
On Friday afternoon, the Bulacan police information office said all chiefs of police in the province were advised that the PNP would turn over the operations to local government and barangay officials, who should take the lead in the campaign with the active support of the police.
A drunk man is facing charges of frustrated murder and violation of Republic Act 10591 or illegal possession of firearms after he tried to shoot a policeman but the gun jammed when the lawmaker found several men drinking liquor at a sari-sari store yesterday in Barangay Francia Sur, Tubao, La Union.
Chief Insp. Silverio Ordinado Jr., La Union's police information officer, identified the suspect as Richard Talamayan, 42, of Barangay Francia West, Tubao, La Union, who shot Police Officer 1 Francisco Geneta of the La Union Provincial Mobile Force Company.
Investigators said the suspect and several other tambays or vagrants were drinking at the store when Geneta arrived.
Talamayan pulled out a gun and allegedly pulled the trigger but the gun jammed, prompting Geneta to seek assistance from a nearby police outpost and arrested the suspect.
Seized from the suspect's possession was a handgun .45 caliber Colt MK 4 pistol with one magazine and six live ammunitions.
Talamayan is now detained at the Tubao municipal jail. – With Robertzon Ramirez, Evelyn Macairan, Marvin Sy, Jun Elias, Ramon Efren Lazaro