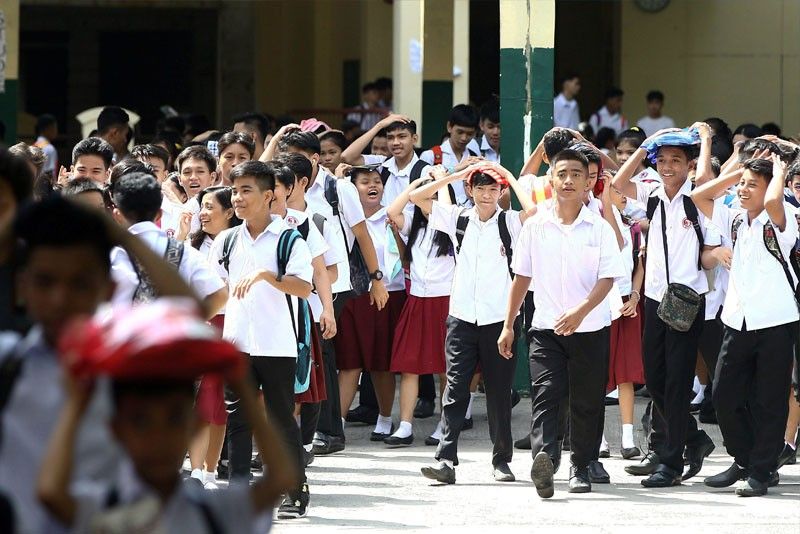 Students of Araullo High School in Manila participate in an earthquake drill on Thursday.
Miguel De Guzman
'School drug tests need Congress nod'
Janvic Mateo
(The Philippine Star) - June 23, 2018 - 12:00am
MANILA, Philippines — Congress will have to amend existing laws before the Philippine Drug Enforcement Agency (PDEA) can proceed with its plan to conduct mandatory drug testing for students in Grade 4 and above, the Department of Education (DepEd) said.
In a statement Thursday, the DepEd noted that the Comprehensive Dangerous Drugs Act of 2002 authorizes drug testing only for secondary and tertiary level students.
It also cautioned the anti-drug agency on the cost of such a plan, noting that the population of Grade 4 to Grade 12 students in public schools is at least 14 million.
"At P200 per student for the testing fee alone, the budget will already amount to P2.8 billion. There are considerable related costs for capacity-building and mobilization for the conduct of the drug testing," the DepEd said.
Education Secretary Leonor Briones said she has requested a meeting with PDEA director general Aaron Aquino to discuss the existing DepEd program on random drug testing for high school students.
"The secretary said that it will be good to compare the objectives of the two institutions," said DepEd.
"DepEd's objective is mainly to know the prevalence so it can provide interventions compliant with its mandate and for health reasons, so proper treatment can be provided," it added.
Last year, the agency initiated its drug testing program that covers all 1,300 officials and personnel at its central office, 3,800 in the regional offices and 26,000 in schools' division offices.
"It also covers a sample population of all teachers, numbering 10,000, and a sample population of all secondary students, numbering 21,000. The sample population of secondary students and teachers is based on a sampling design to yield 95 percent statistical confidence level of the result," said DepEd.
The random drug testing aims to determine the prevalence of drug users among students and to assess the effectivity of school-based and community-based prevention programs.
It also seeks to deter the use of illegal drugs, facilitate the rehabilitation of drug users and dependents and strengthen the collaboration efforts of identified agencies against the use of illegal drugs and in the rehabilitation of drug users and dependents.
"DepEd notes that drug testing is a component of a much broader preventive drug education program. The primary mandate of DepEd is still the integration of preventive drug education in curriculum and instruction," the agency explained.
It stressed the results of its drug testing will not be used as a basis to expel or punish a student. It also gave assurance that all information will be treated as confidential.
DepEd said Briones has also ordered the review of the sufficiency and responsiveness of the current curriculum in terms of drug prevention and education.
The integration of preventive drug education in curriculum and instruction is currently found in the subjects of health and in Edukasyon sa Pagpapakatao (EsP) with respect to life skills to avoid involvement in dangerous drugs.
"Presently, DepEd has a team validating lesson plans for EsP contextualized for preventive drug education from Kindergarten to Grade 12, for use in homeroom instruction," said the agency.
Saving the children
PDEA Director General Aaron Aquino said their recommendation to conduct mandatory drug testing for students from Grade 4 and up was to "save the children."
"We do not do this to harass children and their parents, we want to save their children," he said.
Aquino though said they will heed whatever the DepEd will say on the issue, as his proposal was met with opposition by some sectors.
Aquino said sectors opposing the measure should see the drug problem from his perspective as the head of the government's anti-illegal drug campaign instead of judging his proposal outright.
The budget for the mandatory drug testing for students and their teachers could reach billions but Aquino said the government, through the Department of Health, has enough funds for the testing, especially if it would prove to be helpful in the campaign against illegal drugs.
The proposal to conduct mandatory drug testing came about as Aquino said PDEA has rescued drug offenders as young as 10 years old in their operations.
PDEA is seeking the issuance of a Dangerous Drugs Board (DDB) resolution to enforce the mandatory drug testing under the Comprehensive Dangerous Drugs Act of 2002, which only provides for surprise drug testing in secondary and tertiary levels.
Aquino said that mandatory drug testing could be better as this would cause children to feel that they might have been discriminated when they were picked for the drug testing.
Pointless
Lawmakers said the proposal is "pointless" and corruption-prone.
"I think I was able to convince them to follow the DARE (Drug Abuse Research Foundation) drug abuse resistance education program for preventive tests that focuses on Grade 6 and up," Senate President Vicente Sotto III told reporters after meeting with PDEA officials yesterday.
"Guidelines have to be drawn out so as not to violate any laws or rights," he said.
Sotto suggested to PDEA officials to make the drug testing a combination of random and mandatory.
"Generally random but mandatory if they believe the school is reportedly notorious for illegal drugs," he said.
Sen. Panfilo Lacson, chairman of the Senate committee on public order and dangerous drugs, said the PDEA's reported plan to implement mandatory drug tests for teachers and students in Grade 4 and up is legal and constitutional as ruled by the Supreme Court.
"Aside from helping the government's prioritized efforts to curb drug addiction and trade, there is sufficient legal basis and jurisprudence in the conduct of random drug testing among junior and high school students," he said.
Sen. Joseph Victor Ejercito backed the plan but warned Grade 4 students "might be too young" to be subjected to drug testing.
"Another consideration will be the cost as it is quite expensive to have a drug test, just imagine how many billions is needed if kids from Grade 4 onwards are to have mandatory drug testing," Ejercito said.
Sen. Aquilino Pimentel III described the PDEA's plan as "pointless" and also expensive.
"That is pointless because what is the use of the test result? If positive, then what? And how many false or wrong positives and even negatives will our system produce?" Pimentel said.
"That's just going to be a huge expense. Hence, I'm interested to know who came up with such a 'brilliant' idea. It was just made mandatory to justify the expense," he said.
Assuming a person was found positive for drug abuse, authorities will be at a loss on what to put in the charge sheet, Pimentel said.
"What will you put there? When did he take the drug? Where? What kind of drug? What quantity? We cannot force the person concerned to supply all of these essential information," he said.
The Teachers' Dignity Coalition (TDC) yesterday opposed the PDEA proposal, saying Grade 4 students are too young to undergo drug testing.
"These kids are too young and it is not proper for us adults to assume that they are into drug use. At that stage of life, they are just starting their social lives with their school activities and games. These are just mere babies," TDC chair Benjo Basas said.
"If there are cases that 10-year-old children were caught using or peddling drugs, would it merit us to put all the 10-year-old children in drug test? How many 10-year-old kids are involved?" he added.
The TDC also cautioned DepEd in the conduct of drug testing on teachers.
"Teaching profession is considered noble and teachers should possess high level of probity, thus we believe that most, if not all, of our teachers are not involved in drug use," he said.
"But we do not oppose the random drug testing for teachers and government employees. In fact, we would also like to propose that those in higher positions in the government should be the first to undergo mandatory drug testing," added Basas.
Some public school teachers in Metro Manila yesterday wore black to protest the proposed mandatory drug testing.
Members of the Alliance of Concerned Teachers (ACT) said the funds could instead be used for other programs such as salary hike for educators.
"The proposed drug-testing is so off-tangent from the most pressing issues in schools and is a big waste of people's money," said ACT secretary-general Raymond Basilio.
Basilio questioned the basis of the drug-test proposal, saying that PDEA is "capitalizing on a handful of information about drug use among pupils and teachers to force a blanket mandatory drug test in schools."
He said the reaction of some parents in support of the proposal is understandable, as they may be afraid of teachers being drug users or having drug-using children.
Meanwhile, Quezon City Vice Mayor Joy Belmonte has asked the Philippine National Police (PNP) to further study its proposal to conduct surprise bag and locker inspections in public schools to prevent students from bringing illegal drugs.
National Capital Region Police Office director Chief Supt. Guillermo Eleazar earlier said the conduct of bag inspections would be a deterrent to the alleged proliferation of drugs in schools.
"If General Eleazar insists on doing that, there really has to be very, very clear guidelines and protocols in place to make sure, really, that the privacy of the child is not violated," said Belmonte.
The DepEd has yet to decide on the proposal of the PNP. – With Paolo Romero