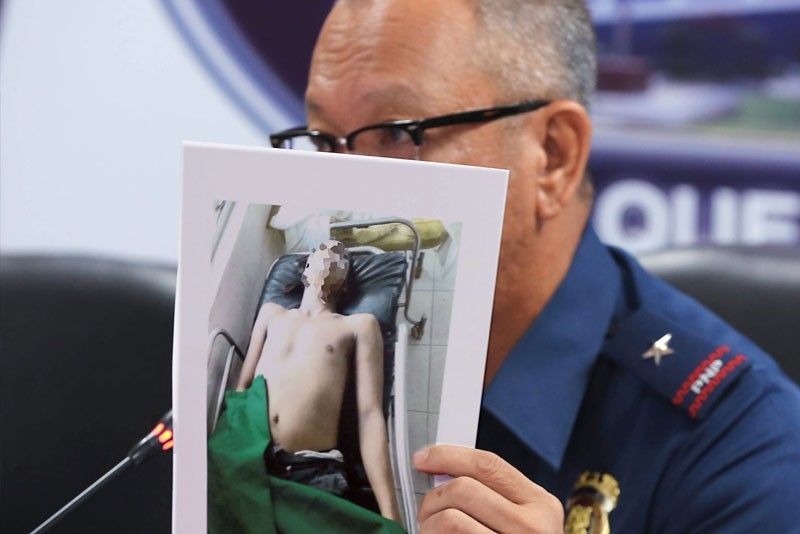 QCPD director Chief Superintendent Joselito Esquivel holds an autopsy photo of the slain detainee during a press conference at Camp Karingal yesterday.
Boy Santos
Raps filed vs 2 inmates for death of tambay
PNP station commander, jailer sacked
MANILA, Philippines — The police yesterday filed murder charges at the Quezon City Prosecutor's Office against the two detainees who allegedly beat to death Genesis Argoncillo inside the Novaliches police detention cell after the victim was nabbed in an operation against tambays or vagrants last week.
The Quezon City Police District (QCPD) said Justine Mercado and Richard Bautista, both members of the Sputnik Gang, were pinpointed by three witnesses as the men who beat up 25-year-old Argoncillo.
Mercado had earlier been arrested for illegal possession of deadly weapons while Bautista is facing illegal gambling charges.
QCPD director Chief Supt. Joselito Esquivel denied there was any coverup in the case.
Chief Supt. Guillermo Eleazar, director of the National Capital Region Police Office, relieved Novaliches police station 4 chief Supt. Carlito Grijaldo, duty jailer Police Officer 3 Dennis Saño, desk officer Senior Police Officer 3 Ronald Nañola, staff duty officer Inspector Oliver dela Cruz and SPO4 Valerio Perez.
The police earlier claimed that Argoncillo's injuries were self-inflicted while officials denied allegations made by the relatives of the victim that he was beaten to death. The police later admitted that he died from injuries caused by a severe beating.
Grijaldo was earlier quoted as saying that Argoncillo's injuries were self-inflicted and the victim had mental problems. Argoncillo was allegedly causing trouble inside the cell.
The QCPD later conceded that Argoncillo died from blunt trauma to the neck, chest, head and upper extremities, based on the death certificate.
Still, Esquivel maintained that they did not change the tune of their investigation to cover up the incident.
"I was standing by the report given to me and we did not change the tune of the investigation. There was a parallel investigation ongoing while information was coming in," he said at a press briefing.
The death of Argoncillo has raised concerns over the Philippine National Police's crackdown on vagrants, following President Duterte's directive to arrest tambays and troublemakers.
Argoncillo was arrested by three policemen for not wearing a shirt outside his house, as shown by a document signed by Insp. Cyril Dagusen, commander of Novaliches Police Community Precinct 3.
However, a blotter report at the police station said that Argoncillo and five others were arrested for alarm and scandal on June 15.
Witnesses of Argoncillo's arrest denied that he was causing trouble in the area.
His neighbors said in an interview that three policemen picked up Argoncillo, also known as Tisoy, during anti-tambay operations because he was not wearing a shirt while at a store near his house in Area B Barangay Sauyo. He was at the store to buy cellphone load.
Argoncillo's wake is at the community basketball court just a few blocks from his house.
Esquivel said the various claims on what happened are part of the investigation by police for possible administrative and criminal charges against his men.
Argoncillo's elder sister Marilou said they want justice for the death of Tisoy.
She said they are ready to file charges against all those involved in the killing of her brother.
"Anong nangyari sa buhay ng kapatid ko, nawalan ng saysay dahil sa kapabayaan, obligasyon nila na bantayan. Akala naming malabas namin yung kapatid ko, yun pala malalabas na naming patay na (My brother's life was lost due to negligence of jail custodians. We thought we could get him out alive)," she told reporters.
Torture
Commission on Human Rights (CHR) commissioner Leah Armamento said charges for violating the anti-torture law could be filed against police officers over the recent death of detainees, including Argoncillo.
Armamento said they have expanded their investigation to look into other recent deaths in police detention cells in the Quezon City, including that of Jeffrey Norio on May 29, Niño Cruz on June 1, Paulo Lopez on June 4 and Alex Andaman on June 18.
The CHR official noted that deaths of inmates might be seen as a violation of the anti-torture law as the detainees are under their supervision.
"These people are under the control of the police," she said, noting that the officers cannot evade responsibility by pointing at co-detainees as perpetrators of the attacks against inmates.
House probe sought
Quezon City Rep. Jose Christopher Belmonte yesterday joined the clamor for a congressional investigation into the first casualty of President Duterte's anti-tambay campaign.
Belmonte filed Resolution No. 1968, which urged the House of Representatives to look into the death of his constituent Argoncillo.
He lamented what he described as his constituent's senseless death and condoled with his family.
Belmonte said Argoncillo went out of his home on June 15 to buy load for his mobile phone.
While waiting in front of a sari-sari store, he was arrested by Quezon City police officers for allegedly violating a city ordinance that penalizes any naked person roaming the city, he said.
After three days of detention at Police Station 4 in Novaliches, Argoncillo was rushed to the nearly district hospital, where he was pronounced dead.
Belmonte added that Argoncillo's death certificate, which was prepared by Camp Crame medico-legal officer Joseph Palermo, showed that he died due to multiple blunt force trauma to the neck, head, chest and upper extremities.
"There is an urgent need to investigate the rising number of illegal arrests and questionable detention procedures, similar to the circumstances of the death of Genesis Argoncillo, who was arrested in relation to the intensified anti-loitering drive," he said. – With Emmanuel Tupas, Janvic Mateo, Jess Diaz, Paolo Romero