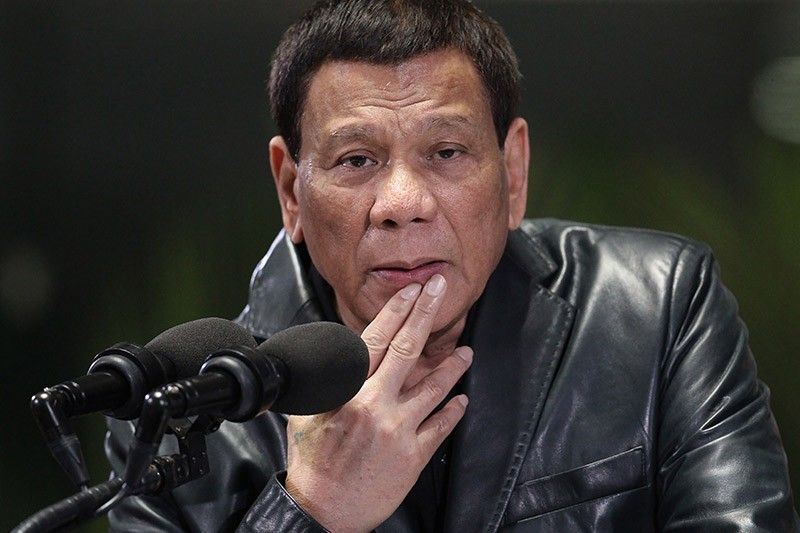 This handout photo taken on June 2, 2018, shows President Rodrigo Duterte gesturing as he gives his departure speech at the Manila International airport.
Ace Morandante/AFP
Duterte on kissing of Filipina: We enjoyed it
(Philstar.com) - June 6, 2018 - 7:30am
MANILA, Philippines — President Rodrigo Duterte brushed aside criticisms of his kissing of a married woman in public in South Korea, saying there was no malice in the act, which he claimed was enjoyed by everyone who saw it.
Duterte, who has drawn flak for his sexist remarks, said he would not have kissed the woman if there was malice on it.
"We enjoyed it (kissing). It was showbiz and everybody enjoyed it. I do not do it in public if there is malice," the president told reporters at the Ninoy Aquino International Airport Terminal 2 Tuesday night.
"I can only generate an emotion if I kiss a woman I love. Any other stranger is pure showbiz."
Duterte said kissing women has been his style since he was mayor of the southern city of Davao. He also claimed that critics who were making an issue out of the incident were just envious.
"That's my style. Find your own style. There is nothing wrong in a simple kiss. You cause an uproar. They are just envious. Tell them to change their dentures," the president said.
"During the campaign in my mayorship days, I kiss every woman there, lips to lips...Not only smack. Other women really wanted romance."
Duterte said he would also embrace women who are sick and assure them that the government is taking care of them.
"If I want women to feel important even if they are sick, those whose clothes were stained with infection wounds, I try to embrace them and calm them down, and say, 'we will look for something else,'" he said.
Duterte stirred controversy anew on Sunday after kissing a married woman on the lips during his meeting with the Filipino community in South Korea. The woman, identified as Bea Kim, has said she did not feel violated by the president's gesture. She has also claimed that meeting the president was a once in a lifetime experience.
While Kim did not find anything wrong with the kiss, women's groups and members of the opposition said the act was inappropriate and unbecoming of a president. Critics added that the kiss was demeaning and humiliating to women.
Duterte's supporters justified the kiss, saying it was consensual and was only intended to please the audience. Presidential spokesman Harry Roque has described the kiss as a "playful act" accepted in Filipino culture.
Duterte was irritated when asked how his partner Honeylet Avanceña reacted upon learning of the kiss.
"That's a question of perverts. Why do you have to dwell on kissing?... Next question," the president said.
Rody won't pick a fight with Sara
Duterte, who is known for his verbal outbursts and tough talk, admitted that his daughter, Davao City Mayor Inday Sara Duterte-Carpio would take him to task for kissing a woman in public.
The president said he would stay in Manila for a few days and let the issue pass. He usually goes home to Davao City during weekends.
"You can ask my daughter, Inday. My daughter is really the jealous type. She might put me to task," Duterte said.
"That's why I do not want to go home yet. Let's calm things down first. We cannot quarrel with our daughters," he added.
"Pa-cool off muna ako dito ng ilang araw sa Maynila (I will wait for things to calm down for a few days here in Manila)."
Carpio is one of Duterte's three children with his first wife Elizabeth Zimmerman. Duterte and Zimmerman also have two sons namely former Davao City Vice Mayor Paolo Duterte and businessman Sebastian Duterte.
Duterte urged women to help him explain that his gesture was just "natural" for a politician.
"You do not know me. I'm a small town political warlord, in politics, not in arms," he added.

Duterte said he was willing to step down from office "if all women here" sign a petition for him to resign. — Alexis Romero