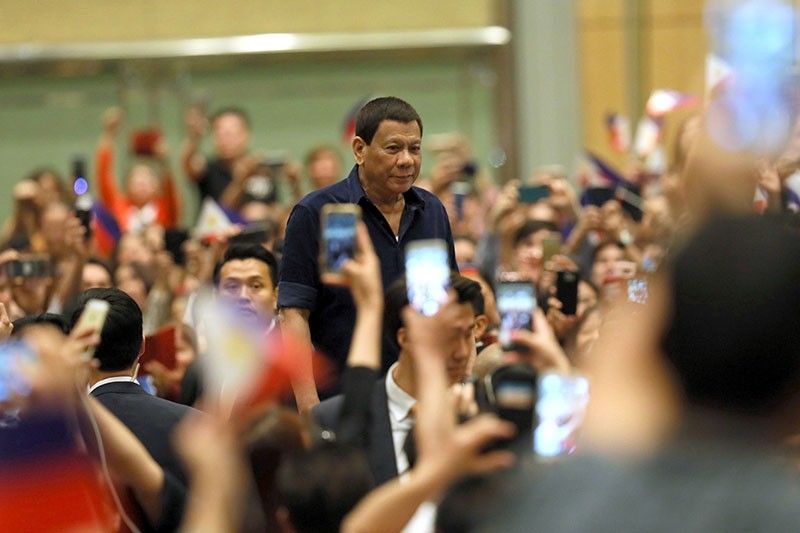 President Rodrigo Duterte is swarmed by supporters upon his arrival at the Grand Hilton Convention Center Seoul as he meets with the Filipino community based in South Korea on June 3, 2018.
Presidential Photo/Ace Morandante
Gabriela: Duterte's kissing of Filipina in South Korea a 'disgusting theatrics of a misogynist'
MANILA, Philippines — A women's group on Monday slammed President Rodrigo Duterte for kissing an overseas Filipino worker on the lips, calling it a "disgusting theatrics" of what it called a misogynistic chief executive.
During a meeting with the Filipino community in Seoul, South Korea on Sunday, Duterte kissed a Filipina on the lips and hugged her afterward. The move drew cheers from the crowd but flak on social media.
Gabriela called the act of the chief executive "a disgusting theatrics of a misogynist president who feels entitled to demean, humiliate or disrespect women according to his whim."
The women's group said that such actions of Duterte are intended to divert the attention of the public from the pressing issues in the country.
"His repeated acts of machismo are meant as entertainment to hide the reality of his rapidly slipping popularity due to the issues of extrajudicial killings, the Tax Reform for Acceleration and Inclusion law and big-time corruption scandals now plaguing his rule," it said.
Gabriela added: "It is also his own perverted way of getting back at his women critics, his way of proving he can dominate women at any time and any place he chooses. It is his way of publicly exhibiting his contempt for women."
READ: Duterte draws flak for kissing woman on stage at South Korea meet
For its part, women's advocacy group Every Woman stressed that Duterte's latest fiasco in South Korea illustrated his "increasing impunity and unbridled misuse of power."
"The man just doesn't care whether women find his physical intimacies acceptable or repulsive. He just wants everyone to know that he can do what he pleases especially to women whom he has never viewed as real people but merely as objects like all the other perks," it said.
Before ending his speech during the meeting, Duterte, in jest, said he would give the book titled "Altar of Secrets: Sex, Politics and Money in the Philippine Catholic Church" in exchange for a kiss as payment and specifically asked for women in the audience.
Before kissing the woman, who seemed happy to meet Duterte, the president asked if she is single.
"Are you single? You're not separated from him? But can you tell him that this is just a joke?" he said in Filipino.
After the kiss, Duterte asked the audience to not take what he did seriously, saying it was "just a gimmick to make the people happy.
"Do not misconstrue that as... there's nothing in it except that I want to be close to my fellowmen and my countrymen," he said.
'No malice'
In a video circulating online, the woman kissed by Duterte defended the president.
"The kiss was made to excite the audience. It means nothing to me, to him. I swear," she said.
Gabriela was saddened that the woman had to defend that the act has no malice.
"It is unfortunate that the woman found it her obligation to publicly defend the act as 'no malice,' when it is the president who is duty-bound to explain not only because it was upon his prodding but he is bound as a public official by rules of ethics to explain his unruly act," the group said.
"Consent or no consent, malice or no malice, this is outrageous, repulsive, unacceptable behavior," Every Woman stressed.
Duterte, in the past, has been called a sexist and a misogynist for his comments on women.
Just last month, Duterte said that the next ombudsman should not be a woman and that some jobs are not for women, implying that they cannot withstand threats and intimidations.
Duterte's officials and supporters usually dismiss such comments as instances of "sarcasm" or part of the president's supposed humor.
RELATED VIDEO: