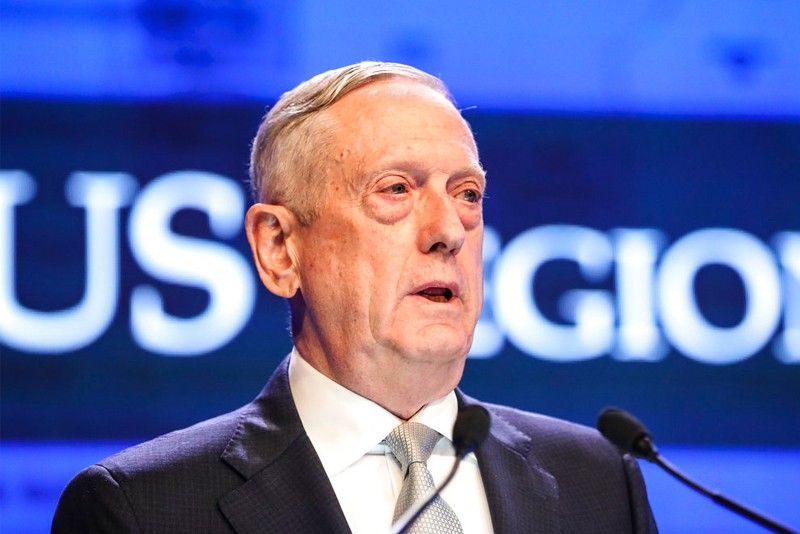 U.S. Defense Secretary Jim Mattis delivers his speech during the first plenary session of the 17th International Institute for Strategic Studies (IISS) Shangri-la Dialogue, an annual defense and security forum in Asia, in Singapore, Saturday, June 2, 2018, in Singapore.
AP/Yong Teck Lim
US commitment to defend Philippines in sea dispute uncertain
MANILA, Philippines — US Defense Secretary Jim Mattis on Saturday maintained that Washington "stands by its allies," although he remained muted on whether the US' treaty obligation to the Philippines covers Manila-occupied reefs and Filipino vessels in the contested South China Sea.
Mattis' remarks came amid doubts over Washington's commitment to come to the aid of the Philippines in case of an attack on its territory or armed forces in the disputed waters, where China has been aggressively staking its claim.
Asked if the US is bound to defend Manila-controlled features and Filipino ships in the South China Sea under the 1951 Mutual Defense Treaty, Mattis evaded the question and said Washington "maintains confidentiality at times in these efforts."
"We stand by our treaty allies but this is a discussion between the current administrations in the Manila and in Washington D.C. and it's not one that can be answered as simply as your question would indicate," Mattis said at an international security forum in Singapore.
It was not the first time that American officials dodged queries on the scope of the Mutual Defense Treaty.
During his visit to the Philippines in 2014, former US President Barack Obama gave no categorical answer on whether the 66-year-old treaty would come into play in the event of an armed confrontation in the South China Sea.
"We don't go around sending ships and threatening folks," Obama said in a joint press conference with former Philippine President Benigno Aquino III in Malacañang.
In 2011, former US Secretary of State Hillary Clinton steered clear of the same question. "I don't want to discuss hypothetical events but I want to underscore our commitment to the defense of the Philippines," Clinton said.
READ: DFA: US' obligation to Philippines covers South China Sea
Complex issues
At the same security forum, Mattis justified the US' seeming refusal to categorically answer questions about the coverage of the Mutual Defense Treaty.
"Let me tell you that when we have discussions on these matters, the reason why public figures do not want to give specific answers is that these are complex issues," Mattis explained.
"To simply turn it into a military and non-military response is a shortchanging of the issue... Diplomacy is all about taking contrary perspectives and finding common ground and we've got to try to do that in this world," he also said.
"I mean it's a free and open press here and I support that. But at the same time, you could often do most of your good work and set in the conditions for path ahead by not locking yourselves into public statements, where understandably people take each word separately apart and now pretty soon you're locked in the positions that do not allow the diplomats to find common ground," he added.
Strong detterent
The Philippines claims parts of the South China Sea within its exclusive economic zone and calls it the West Philippine Sea.
Ties between China and the Philippines soured after the previous Aquino administration filed a case in 2013 with a United Nations-backed tribunal. The ruling, which favors Manila, was handed down a few days after President Rodrigo Duterte assumed the presidency.
But China vehemently rejected the landmark decision, which Duterte put on the back burner in exchange for warmer ties and Chinese funding for his administration's ambitious infrastructure program.
Duterte has also been under fire over his apparent refusal to confront China, which recently landed nuclear-capable strategic bombers and installed missile systems on outposts in the contested waters.
Meanwhile, experts say it's high time for the US to publicly state its commitment to defend Philippine troops, ships and planes from attack under the Mutual Defense Treaty.
"That clarification would not only reassure the Duterte government that the United States would actually back the Philippines when needed but would act as a strong deterrent to Chinese aggression," Asia Maritime Transparency Initiative director Gregory Poling said in a commentary published on foreignaffairs.com last January.
READ: US think tank expert: South China Sea diplomatic breakthrough 'unlikely'
Related video: