US think tank expert: South China Sea diplomatic breakthrough 'unlikely'
January 26, 2018 | 2:25pm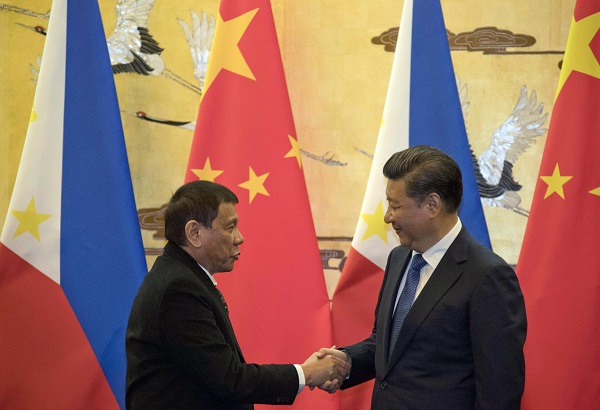 MANILA, Philippines — A South China Sea diplomatic breakthrough is unlikely to happen, an expert from a US-based think tank said, citing China's continued military buildup in the disputed waters and coercive tactics seen throughout 2017.
The Philippines claims parts of the South China Sea within its exclusive economic zone and calls it the West Philippine Sea.
As Beijing prepares for new escalations in the contested waterway, the expert also said it is time for Washington to "publicly state" its commitment to defend its traditional treaty ally the Philippines to "credibly deter" China from using force.
Manila earlier said it was relying on "China's good faith" in the face of the Asian power's maritime encroachment, which persisted while Beijing is engaging rival claimants in Southeast Asia on the framing of a binding code of conduct to hopefully manage the sea row.
"The allure of a sudden diplomatic breakthrough, however unlikely, and the willingness to bank on Chinese good faith to make it happen are understandable," Asia Maritime Transparency Initiative director Gregory Poling said in a commentary published on foreignaffairs.com.
"The alternative would be to prepare for another years-long slog of rising military tensions, sporadic clashes, and diplomatic naming and shaming, with no guarantee of successful resolution," Poling added.
In its December 14 report, AMTI identified all permanent facilities that can be used for military purposes that China completed or began work since the start of 2017.
READ: Analyst: China continues expansion in South China Sea as int'l focus 'shifts away'
AMTI added that Beijing "remains committed" to advancing the next phase of its activities in the sea, including construction of infrastructure necessary for fully-functioning air and naval bases on larger outposts.
According to Poling, the chances of concluding an effective COC in the short term "appear dim," adding that there is no indication that states are on the same page about where the COC will apply.
"The framework agreement [for the COC] amounts to a single page of generalities and ellipses," he said.
"It does not touch upon any of the most difficult issues that need to be reconciled for a COC to be effective, and China has given no indication that it is prepared to compromise on any of them," he added.
"How will states reconcile China's claim to historic rights with their own domestic and international laws? And how will disagreements over interpretation of the code be resolved?"
'Get EDCA back on track'
China and the Philippines have long sparred over the South China Sea, but relations have improved considerably under Philippine President Rodrigo Duterte, whose foreign policy had been highlighted by his animosity toward Washington after the Obama administration criticized his deadly drug war.
READ: Duterte stops building of fishers' shelters on disputed reef
In the same commentary, the AMTI director said that as a response to China's increasing power projection capabilities, the Enhanced Defense Cooperation Agreement—a pact giving US troops wide access to Philippine military bases—must be implemented.
However, Poling stressed that Washington is "doing too little" to prepare for the new wave of China's militarization, citing the Trump administration's "narrow focus" on the current crisis in North Korea.
"It is time for the US government to publicly state that its commitment to defend Philippine troops, ships, and planes from attack under Article V of the two countries' Mutual Defense Treaty applies to contested waters and islands in the South China Sea," he said.
"That clarification would not only reassure the Duterte government that the United States would actually back the Philippines when needed but would act as a strong deterrent to Chinese aggression," he added.