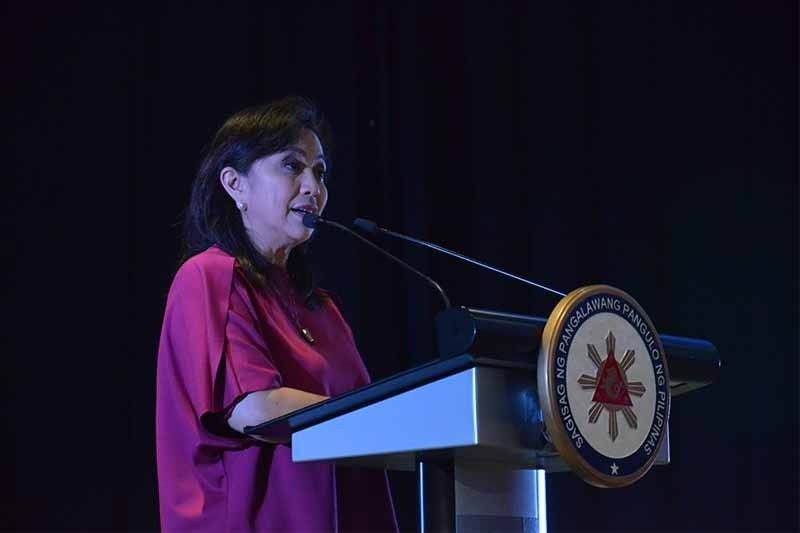 Vice President Leni Robredo spoke about the importance of the academe's contribution to nation-building during her keynote speech at Pasidungog 2018, the first Partners Appreciation Event of the Carlos Hilado Memorial State College, held at the SMX Convention Center, SM City Bacolod, in Bacolod City on Wednesday, May 9, 2018.
Office of the Vice President
Robredo debunks fake news about her, including supposed boyfriends
MANILA, Philippines — Leni Robredo has denied being in a relationship with anyone, including a married lawmaker who is supposedly her lover, as she tries to end rumors about her personal and professional life that have hounded her since she became the vice president.
In a video posted on her Facebook page, Robredo vehemently denied engaging in a romantic relationship with anyone since her husband, former Interior Secretary Jessie Robredo, died in a plane crash.
"I am reiterating that since my husband died, I've never had any boyfriend, I don't have any boyfriend, and I don't have any plans to have one," Robredo said during the interview.
Robredo debunked news about her supposed relationship with Rep. Jorge "Bolet" Banal (Quezon City, 3rd District), which recently resurfaced after a columnist insinuated in his article that the gossip was true because the vice president and the lawmaker had neither denied nor confirmed the story.
"It's not true. The stories about me and Cong. Bolet are not true," she said.
Robredo explained that Banal, together with two others, was assigned to him by the Liberal Party as a political close-in to help her court the support of politicians during the 2016 elections.
She said that when she was elected the chairperson of the LP, Banal was chosen by the party as its political liaison officer in the Office of the Vice President.
Banal is currently the one who manages her provincial trips and liaises with local politicians, according to Robredo.
The vice president also shot down insinuations that she had a relationship with Nonoy Ladines, Jonas Cabiles Soltes and a "clingy stranger" from Aklan.
Robredo said that Ladines was a staff member of a councilor from Naga City who would act as her political close-in whenever she was in the city.
The stranger meanwhile, according to the vice president, was the make-up artist sent to her by a mayor from Aklan who invited Robredo to their town feast.
The vice president explained that Soltes was her former staff member in Congress whom she brought to a World Food Programme event in Brazil.
"It's like an insult to me. I'm like his sugar mommy," Robredo said of her rumored relationship with Soltes.
If there was a rumor that really saddened Robredo, she said that it would be gossips that she had her husband killed.
"That's the saddest. Why would I have the person I love the most killed? When my husband died, my children and I went through difficult times. Why should I do that? Why should I do that to me and my children? Why should I hurt the person who loved me very much?" she said, adding that the story was very "illogical."
Robredo admitted though that she got married twice but with the same man as she and her husband had a civil wedding before a church nuptial.
Regarding rumors that she was pregnant, Robredo said that she didn't know if she would be flattered or insulted by it.
"Flatter because I'm already 53. Maybe I look like 33 that's why I can still get pregnant. Isn't my pregnancy too much considering that I have been supposedly pregnant from 2016 up to now?" she explained.
She said that though her children would sometimes get mad, they were not affected by these silly stories because they knew the truth.
She also rejected insinuations that she was living an opulent lifestyle, saying that her former and current colleagues in Congress and in Naga City know that she is very stingy.
The vice president also defended her travels, stressing that these were official and all transactions were in her office's records.
On her supposed ownership of expensive Ferragamo shoes, she said, "If I had $700 shoes, it will always be covered with plastic and I will not allow it to be muddied."
Finally, she said denied that she was not working and was just busy in photoshoots for magazine covers.
She said that many of these magazine covers were back when she was not yet the vice president.
Last month, Robredo told her staff to be more aggressive in calling out fake information about her but stressed that they should still be dignified in doing so.