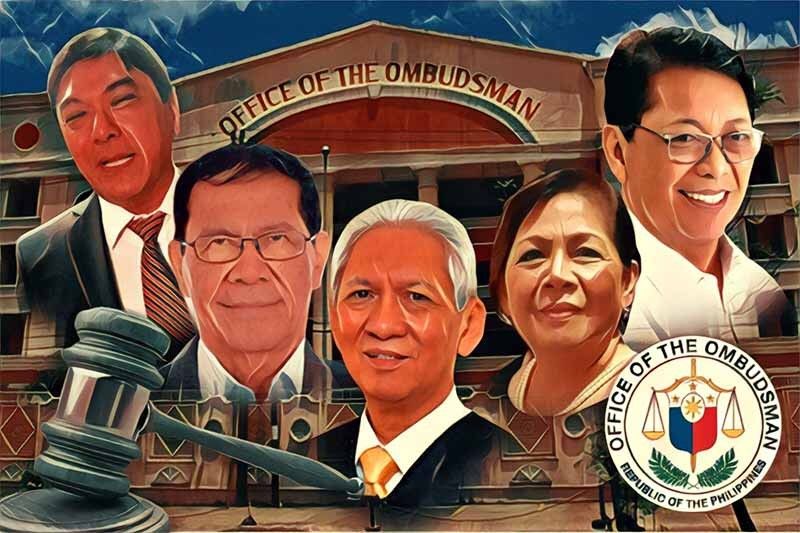 Ombudsman Conchita Carpio-Morales will hang her robes on July 26, seven years since former President Benigno Aquino III appointed her to the position.
Philstar.com/Jonathan Asuncion
Who's who: A look at candidates aspiring to be the next ombudsman
MANILA, Philippines — Ombudsman Conchita Carpio-Morales will hang her robes on July 26, 2018, seven years since she was appointed as the top justice of the Philippines' anti-graft court.
READ: JBC opens applications, recommendations for ombudsman, SC justice post
The Judicial and Bar Council had set May 15 as the deadline for candidates vying to become the next ombudsman to submit their application.
While the JBC has yet to publicize a short list of the applicants, 10 members of the bar have reportedly sent in their applications.
RELATED: Next ombudsman won't be a woman, Duterte says
Here is a brief look at the profiles of the 10 aspiring to become the ombudsman:
Supreme Court Justice Samuel Martires
Martires is Duterte's first appointee to the high court. He is set to retire in January 2019, when he reaches the mandatory retiring age of 70. Like Duterte, the SC justice is also a graduate of San Beda College of Law.
He served as an associate justice of the Sandiganbayan for more than 11 years, before he was appointed to the high court. As a justice of the anti-graft court, Martires penned the controversial Sandiganbayan decision that approved the plea bargain deal entered into by alleged plunderer and retired military official Carlos Garcia and the Office of the Ombudsman.
Labor Secretary Silvestre Bello III
Bello has had a lengthy stint in the Justice department in past administrations. A product of Ateneo de Manila University Law School, Bello was justice undersecretary in 1986 and later promoted to justice secretary in 1990 under the administration of President Corazon Aquino. He was solicitor general from Sept. 23, 1996 to Feb. 3, 1998 under the administration of President Fidel Ramos.
He became Cabinet secretary during the administration of President Gloria Macapagal Arroyo, and later ran but lost in the 2016 senatorial race.
Sandiganbayan Justice Efren de la Cruz
De la Cruz is currently the chairperson of the First Division of the anti-graft court. Pending before the said division is the plunder case of former Sen. Ramon "Bong" Revilla Jr. He was appointed to the Sandiganbayan in 2003.
Special Prosecutor Edilberto Sandoval
Sandoval, a former Sandiganbayan presiding justice, started his career in the judiciary in 1983 as a regional trial court judge of Oriental Mindoro. He was later appointed as a Manila court judge, then climbed the ranks as Associate Justice of Sandiganbayan in 1996.
Sandoval was appointed as special prosecutor of the Office of the Ombudsman in July 2017, after a 14-year stint as an anti-graft court justice. The position of special prosecutor has a fixed term of seven years.
Sandoval has a stellar academic record, as he graduated cum laude and class valedictorian of Bachelor of Laws at Far Eastern University. He also took a special post-graduate training course at Harvard University.
Judge Carlos Espero II
Espero sits as presiding judge of Davao Regional Trial Court Branch 9. His sala has been designated as a special court for drug cases.
Lawyer Edna Batacan
Batacan served as legal counsel for Davao City Mayor Rodrigo Duterte in a 2010 graft case. She was also the lawyer of former First Gentleman Jose Miguel Arroyo in the controversial ZTE national broadband network deal at the Sandiganbayan. Her expertise includes litigation.
Lawyer Rex Rico
Like Duterte, Rico is a product of San Beda College of Law, Batch 1971. He is in the same graduating batch with former Justice Secretary Vitaliano Aguirre II. He is a private lawyer of law firm Rico and Associates.
Lawyer Rey Ifurung
Ifurung is a private lawyer who sought the ouster of Morales as ombudsman. He and Al Vitangcol III, former general manager of the Metro Rail Transit Line 3, said Morales should have stepped down on November 2012 as she was merely fulfilling the unexpired term of her predecessor, Merceditas Gutierrez. The Supreme Court junked their petition on April 24.
Lawyer Rainier Madrid
Madrid served as the lawyer of presidential son and former Davao City Vice Mayor Paolo Duterte. He flanked the younger Duterte during the Senate inquiry into the latter's alleged involvement in the P6.4-billion shabu shipment case. During the said legislative probe, Madrid questioned Sen. Antonio Trillanes IV's insistence on seeing the younger Duterte's tattoo that would prove his membership with a Chinese triad involved in the smuggling of illegal drugs. He told reporters after the hearing: "Why does he want to see my client's tattoo? Is he gay?"
Lawyer Felito Ramirez
Ramirez is a private lawyer and a graduate of San Beda College. He ranked 7th in the 1972 bar examinations. He scored a rating of 84.83%.