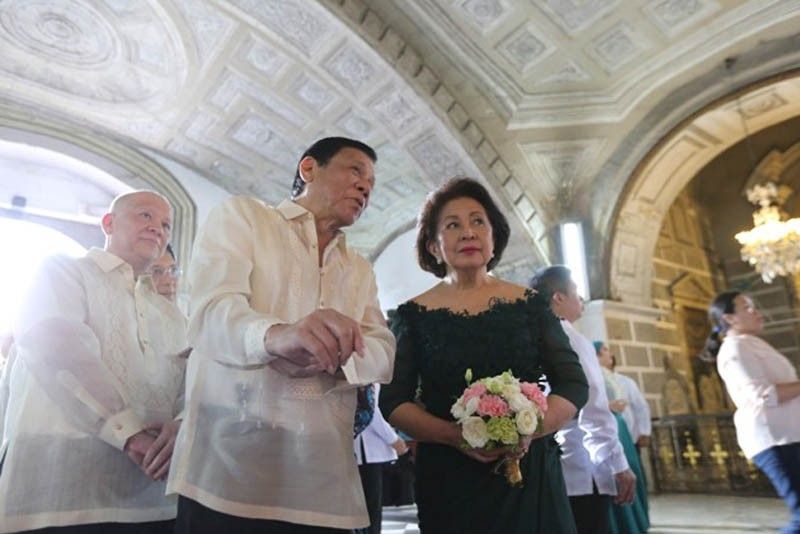 President Duterte has reaped criticisms and landed in the headlines for his anti-women remarks.
File
Next ombudsman won't be a woman, Duterte says
MANILA, Philippines — The next ombudsman will not be a woman, according to President Rodrigo Duterte.
He said this as he explained his requirements for the next head of the Office of the Ombudsman.
"[S]omeone whose integrity is admired by people. Of course, it could not be [a] politician, especially not a woman" he said while speaking with reporters late Wednesday night.
Ombudsman Conchita Carpio-Morales will hang her robes on July 26, seven years since former President Benigno Aquino III appointed her to the position.
READ: Duterte's 1st SC appointee seeks ombudsman post
The Judicial and Bar Council is tasked to screen the applicants to the bench, which includes the ombudsman and chief justice. The JBC will draw up a shortlist that will be sent to the president, who holds the authority to appoint the next member of the judiciary.
The president's remarks may mean that his lawyer, Edna Batacan, is out in the running.
Others vying for the spot are Supreme Court Justice Samuel Martires, Labor Secretary Silvestre Bello III, Sandiganbayan Justice Efren de la Cruz, Special Prosecutor and former Sandiganbayan Presiding Justice Edilberto Sandoval, Davao City Regional Trial Court judge Carlos Espero II, his law classmate Rex Rico and lawyers Rey Ifurung, Rainier Madrid and Felito Ramirez.
Last week, Morales said presidential son and former Davao City Vice Mayor Paolo Duterte is still the subject of an ongoing investigation of the ombudsman.
Consult everyone, except Morales
The chief executive added that he would be careful in picking the next ombudsman.
"I will have to consult everybody, I will even have to consult the [Office of the Ombudsman] people, not [Conchita Carpio-Morales]," Duterte said.
Last year, the president has accused Morales of having mastered "the art of selective justice." In a thinly veiled threat, he added that Morales' hold onto her office is "very, very precarious."
Duterte, since assuming the presidency nearly two years ago, has reaped criticisms and landed in the headlines for his remarks against women. The Palace usually downplays the president's remarks as mere jokes or sarcasm.
He has also exchanged tirades with women government officials such as Vice President Leni Robredo, Chief Justice Maria Lourdes Sereno—who the president called his enemy and was ousted last week—and Morales.
RELATED: Rody dares Sereno, Morales: Let's resign
The president had also vented his ire at Sister Patricia Fox, a 71-year-old Australian missionary. He ordered an investigation and told the nun, who spent the past 27 years carrying out humanitarian work in the Philippines, to leave the country.