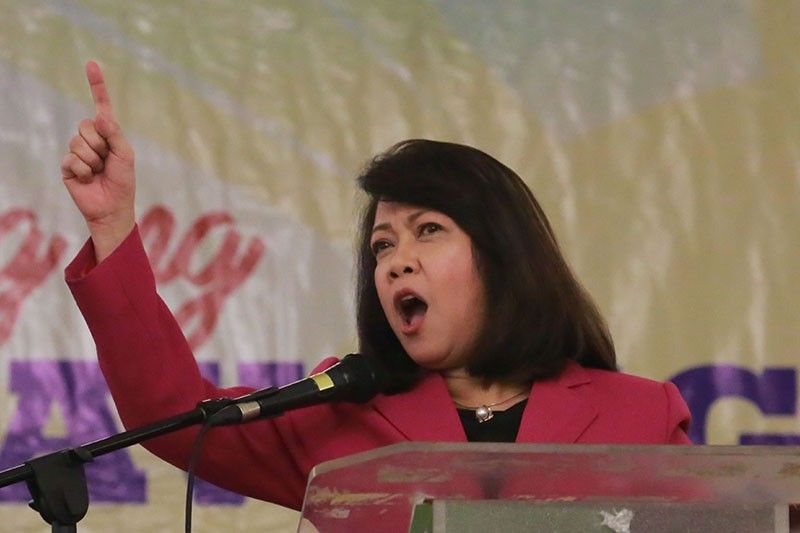 The Supreme Court will reportedly rule on Solicitor General Jose Calida's quo warranto petition against Chief Justice Maria Lourdes Sereno on May 11.
The STAR/Michael de Guzman
Sereno: Not a voting by 'friends' at SC can oust me
MANILA, Philippines — Chief Justice Maria Lourdes Sereno on Tuesday asserted that only an impeachment case—and not a voting by "barkada" at the Supreme Court—can oust her.
"The SC is not a group of friends. We are independent thinking magistrates that even with differing opinions, we can still issue a decision," Sereno said in speech in Filipino at the "Women on Fire" forum at the Adamson University.
The chief justice warned: "If this 'barkada' will ruin the Constitution, violate the rules, circumvent jurisprudence because of one person they do not think is their 'friend,' our judicial independence will be killed."
Solicitor General Jose Calida said that his quo warranto case against Sereno is already an "act of kindness," as she will be judged by her "peers" and not politicians. The chief magistrate is facing an impeachment case at the Congress, filed by lawyer Lorenzo Gadon.
The chief justice has asked six justices—she accused of having bias against her— to inhibit from the quo warranto case: Associate Justices Teresita Leonardo De Castro, Diosdado Peralta, Lucas Bersamin, Francis Jardeleza, Noel Tijam and Samuel Martires.
READ: Sereno seeks 'faith-shaming' Martires' inhibition from ouster case
The six justices have appeared as resource speakers at the House of Representatives impeachment proceeding against her.
De Castro, Peralta, Bersamin and Tijam refused to take their hands off the case. Sereno's supporters have since called on for the resignation of the said justices they dubbed as "Biased 5."
The SC will reportedly rule on the ouster petition against Sereno on Friday, May 11 in a special en banc session.
Quo warranto case a poison to every Filipino
Sereno also slammed the quo warranto case as "a deadly poison that the Filipino people are being made to drink."
"The poison of the quo warranto, it will be given to every judge, justice, official: If you will not follow, a quo warranto will be filed against you. It will be a "national ghost," Sereno added.
On Monday, Vice President Leni Robredo said that if the SC would grant Calida's quo warranto, it "can be used as a weapon to intimidation, to kill dissent." The vice president vowed: "I am your duly elected vice president and I took an oath to defend our Constitution. You can count on me to do everything in my power to right this wrong, should it ever come to pass."
READ: Robredo: Quo warranto vs Sereno also our fight
The embattled chief magistrate vowed that she will not be cowed into resigning.
Sereno has been on leave from her office since March 1.
RELATED: How the quo warranto petition vs Sereno could affect the judiciary