How the quo warranto petition vs Sereno could affect the judiciary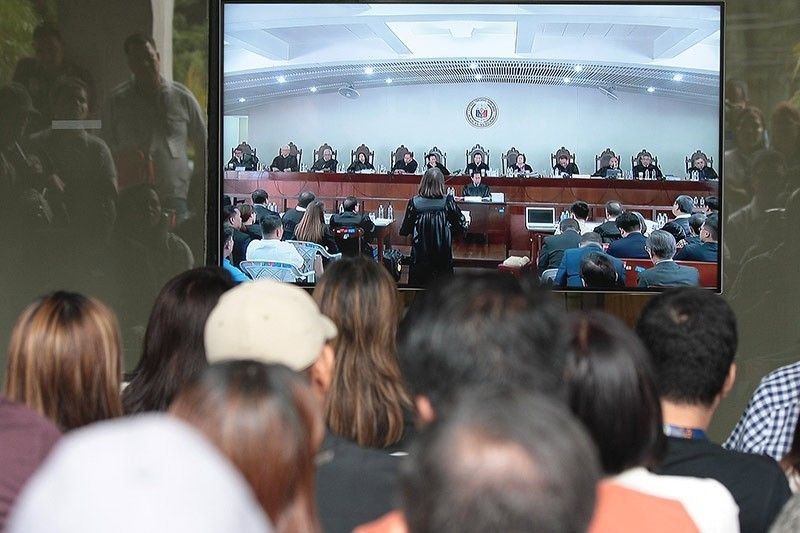 MANILA, Philippines — Acting Chief Justice Antonio Carpio in April said that the Supreme Court may rule on Solicitor General Jose Calida's quo warranto petition against Chief Justice Maria Lourdes Sereno this month.
News reports citing unnamed insiders have said that the high tribunal may actually release a decision as early as May 11 in a special en banc session, while the justices are supposedly on their writing break.
Calida's petition, which challenges the legality of Sereno's appointment to the high court, was met with at least four petitions for intervention seeking its dismissal. Echoing Sereno's defense, the petitioners said that only an impeachment can oust a chief justice.
Court observers pointed out that the oral arguments on the case—held on April 10—showed that a majority of the justices seemed inclined to vote for the removal of the head magistrate.
If granted, the SC will have two consecutive ousters of its chief magistrate: Renato Corona, who was impeached by the Congress, and Sereno whose appointment would be nullified through voting by her colleagues.
Calida's petition prays that the SC "declare as void [Sereno's] appointment on Aug. 24 as Chief Justice of the Supreme Court of the Philippines" and "oust Sereno from the position."
Here are some of the possible effects should Calida's quo warranto petition be granted:
Duterte will get to appoint more justices
Sereno may be removed from her position as early as May 11—if reports citing unnamed insiders are proven true.
Integrated Bar of the Philippines president Abdiel Fajardo told Philstar.com that the SC may rule the quo warranto petition immediately executory.
"She has to file a motion for reconsideration with the [SC]" Fajardo said, adding: "In which case, the chief justice will be out of the court in the meantime that her Motion for Reconsideration is under consideration."
Should Sereno's appointment be nullified—and the chief justice ousted from her position—it will open up a new vacancy at the high court.
Associate Justice Presbitero Velasco Jr. is scheduled to retire in August while Associate Justice Teresita De Castro is due to retire in October.
Duterte has already appointed four out of the 15 justices of the court: Samuel Maritres, Noel Tijam, Andres Reyes Jr., and Alexander Gesmundo.
Although her appointment to the court will be nullified, Sereno's past decisions will "remain as valid as a matter of equity," said Fajardo.
The IBP head however said that should the SC deny Sereno's appeal, "I'm afraid there is no other judicial recourse for the chief justice."
He said: "All other solutions would have to be political."
RELATED: Highlights: Oral arguments on Sereno ouster
Security of tenure under threat
Former SC justice Vicente Mendoza told ANC on April 30 that should Calida's quo warranto petition—filed beyond a year since Sereno's assumption of office—is granted, it will "undermine the security of tenure guaranteed by the constitution to public officers who are simply removable by impeachment."
The 1987 Constitution provides that an appointed justice to the SC is allowed to serve until reaching the mandatory retirement age of 70.
Sereno was appointed chief justice at the age of 52, and, if she hurdles the attempts to unseat her, will hang up her robes in 2030, giving her 18 years as chief justice.
Mendoza stressed: "You cannot bring a suit for quo warrant to test the validity of the title or right of a person who is impeachable by quo warranto—except by impeachment."
The retired justice also warned that a quo warranto proceeding against Sereno will "ultimately subvert the independence of the judiciary."
READ: Former SC justice: Time to file quo warranto vs Sereno lapsed in 2013
Precedent for future petitions
Sereno opened the hours-long oral arguments on April 10 with a challenge to Associate Justice Teresita De Castro: Would she, and the rest of the sitting justices, be willing to also testify under oath should a quo warranto—grounded on missing SALNs—be filed against them?
The chief justice's legal counsel, Alex Poblador, in their opening statement stressed: "If allowed to do so, what will stop the solicitor general from filing similar petitions against any sitting Justice, based on any offense, whether impeachable or not, on the theory that such offense can somehow reflect on his integrity and probity?"
Poblador stressed that if the quo warranto is granted, jurisprudence will be entered into court that will allow the bringing forward of a case, based on missing SALNs as indicator of lack of integrity.
"Since according to the petitioner the qualification attached to a member of this court not only when he applies for appointment but throughout his tenure, and since the petitioner also claims that it is exempt from the prescriptive period for quo warranto petitions, the solicitor general can file those quo warranto petitions at any time during the tenure of a sitting justice," Poblador said.
"What was designed as a procedure to remove impeachable officers that would be used sparingly only by Congress, because it is so difficult and cumbersome to undertake, can now be undertaken before this Court, the Court of Appeals, or even the Regional Trial Court, by the Solicitor General at any time," he added.
READ: Calida petition endangers separation of powers, Sereno camp says
*Philstar.com sought input from the Office of the Solicitor General for this story. The office has yet to respond as of this post.