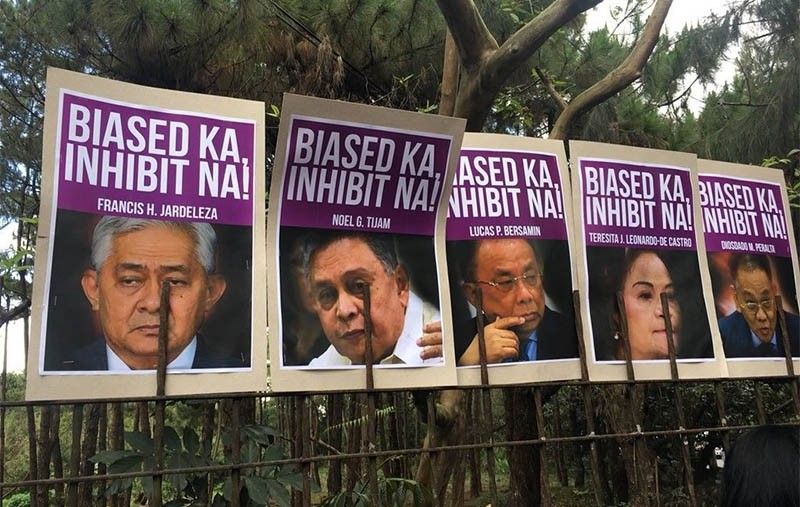 Protesters outside the Supreme Court building in Baguio City urge five justices deemed to have a conflict of interest to recuse themselves in the quo warranto case against Chief Justice Maria Lourdes Sereno.
Philstar.com/Kristine Joy Patag
Five justices refuse to inhibit from ouster petition against Sereno
BAGUIO CITY, Philippines — The five Supreme Court justices accused of "prejudice" and "bias" against Chief Justice Maria Lourdes Sereno refused to take their hands off the ouster petition against her.
Last week, Sereno filed five separate motions for inhibition against Associate Justices Teresita De Castro, Diosdado Peralta, Lucas Bersamin, Francis Jardeleza and Noel Tijam to recuse from Solicitor General Jose Calida's petition for quo warranto.
READ: Sereno seeks De Castro's 'mandatory' inhibition from ouster petition
Shortly before the high court held its oral arguments on the case, Acting Chief Justice Antonio Carpio said: "All the motions for inhibition were denied for lack of merit.
Carpio said that the justices will "explain themselves" when they issue their respective resolutions.
Reasons for the motion
The five justices appeared as resource speakers at the House of Representatives justice panel's hearing on the impeachment case against Sereno.
The chief justice, in her motions, cited several of her colleagues' testimonies and accused them of bias and prejudice. She said that the justices "cannot decide the quo warranto petition objectively and impartially."
"Due process of law requires a hearing before an impartial and disinterested tribunal, and that every litigant is entitled to nothing less than the cold neutrality of an impartial judge," she added.
The justices also participated at the so-called "Red Monday" at the SC. Reports citing unnamed sources said that employees and officials of the high court wore red on the SC's flag raising ceremony—since Sereno's leave from court—to call for her resignation.
On Monday, Sereno said in a public speech that De Castro told her: "I will never forgive you for accepting the chief justice-ship."
Sereno and Calida will face off at 2:00 p.m. at the SC Session Hall in Baguio City for oral debates.
This is the first time Sereno will address allegations against her.
She is also facing a separate impeachment complaint filed by lawyer Lorenzo Gadon, that is pending for a vote in the House plenary.
On Monday, Sereno tagged President Rodrigo Duterte as the man behind the two ouster petitions against her.
The firebrand leader, shortly after Sereno made the remark, lashed out and warned the chief justice that he is "her enemy" now. The chief executive also "ordered" the leaders of the legislative branch to hasten the impeachment of Sereno, head of the judiciary.
The legislative and judiciary branches, under the Constitution, conduct the checks and balances on the executive branch of the government.